Brickell - Miami, FL
25 SW 9th St. G100 Miami FL, 33130 (888) 507-9328
*First class free for local residents only.
Coral Gables - Miami, FL
301 Altara Ave. Suite 111, Coral Gables, FL 33146 (888) 507-9328
*First class free for local residents only.
Miami Beach - Miami, FL
1916 Bay Rd. Miami Beach FL, 33139 (888) 507-9328
*First class free for local residents only.
Miami Lakes - Miami, FL
6766-6774 Main Street Miami Lakes Fl 33014 (888) 507-9328
*First class free for local residents only.
Chelsea - New York, NY
600 6th Ave, New York, NY 10011 (888) 507-9328
*First class free for local residents only.
Financial District - New York, NY
80 John St, New York, NY 10038 (888) 507-9328
*First class free for local residents only.
Madison - Alabama
10878 County Line Rd Madison, AL 35756 (888) 507-9328
*First class free for local residents only.
Austin - Texas
110 Jacob Fontaine Ln Austin, TX 78752 (888) 507-9328
*First class free for local residents only.
No studios available near you
Unfortunately we were not able to find any studios in [geot_city_name default=""], [geot_country_name default=""].
Affordable Gym Membership Near Me With No Binding Contract
Some things are hard to get out of. Traffic, jury duty, family obligations… at times, we feel a little trapped. But there are other things that we can step away from if needed. A book club (you only read the first chapter), an awkward first date (plenty of fish in the sea), a Netflix binge (okay, that one is harder to quit!)- these are things we can simply get out of. 
Gyms should fall in that second category. While it's important to stay fit, you shouldn't be trapped in a gym you don't like. Some gyms like Planet Fitness and 24 Hour Fitness have crazy contracts that are almost impossible to get out of. They require several months' notice, a handwritten letter explaining your reason for quitting, or even fees if you end the contract. To make matters worse, many gyms require you to sign such contracts before you've had time to size the gym up.
Why to Avoid Gym Memberships With Lengthy Contracts
1. They Are Tough to Quit
Some gyms lock you into a contract before your first session, or make you commit to a year from the start. Others require you to buy classes in bulk and make you pay months in advance. Many of their contracts are so ironclad, some members have to seek legal counsel to get out. A gym membership shouldn't be a life sentence. Avoid gyms that treat it that way.
2. They Don't Value Their Members
What do sticky contracts imply about those gyms? First, they must not have confidence in their product, since they want to sign you up before you really give it a try. And second, they are more interested in income than customer satisfaction, since they prioritize you paying your dues whether you're happy there or not. Some gyms even bank on a fitness member not showing up to work out, since it costs them less money that way. 
3. They Don't Succeed
While some gyms lock members in for the long run, they actually threaten their own longevity. A gym's focus should be on its members' health and happiness, since that's what keeps people coming back for more. The goal should be for members to come to the gym willingly and excitedly, not begrudgingly, and spread the word to their friends. Gyms that bind members with crazy contracts produce unhappy customers, which is not a win for anyone. 
Sweat440 Doesn't Lock Members into Contracts
Sweat440 sees the pursuit of fitness as an individual right. The choice of where to pursue it should not be restrictive or prohibitive. Particularly since everyone's financial status fluctuates, we don't ever want our members to be in a bind. That's why Sweat440 has no contracts and offers multiple membership options. We believe that you should be in charge of your fitness, which includes when and where you work out.    
Sweat440 Has Multiple Affordable Gym Membership Options
Sweat440 designed gym memberships to work with every budget and preference. Some members like to buy in bulk to save extra, and others prefer to take things one day at a time. Most importantly, our memberships never require you to join Sweat440 without trying a class for free. 
Sweat440's memberships are completely risk free. If you need to cancel for any reason, we make it easy to do. No activation fees, cancellation fees, penalties, or crazy requirements. If you cancel within 30 days, we refund your membership costs. It's that simple. And the best part is, you'll never want to cancel! Our gyms consistently rank #1 with 5-star reviews, because, well, they're the best! 
We don't believe in selling you something without you testing it out. We want you to love working out at Sweat440, and we're confident that you will! That's why we make membership easy for everyone to join. The best "gym membership near me" is the one that prioritizes you. Find your best fit below.
Sweat440's Most Popular Membership Levels: 
Drop-In Rate

– No need to pre-book, just stop in for a class. The first one's free!

Unlimited Membership

– Literally all-you-can-sweat, come in as often as you want!

10-Pack

– Hit the gym 10 times with this rate, which doesn't expire for 3 months!
No matter which membership level you choose, you get the same stellar experience. Each of our group fitness classes includes free personal training. Our memberships are more convenient than typical card memberships, since you can book classes online, use our App, or simply stop by. The most you'll wait to join a class is a few minutes, since they start every 10 minutes! Where else will you find a personal trainer with that kind of schedule flexibility!
A Gym Membership Near Me Should Cause Joy, Not Anxiety
At Sweat440, you're joining a gym, you're not committing to it for all of eternity. It shouldn't be an anxious decision. You shouldn't have to decide today whether you'll still want to work out there in a year. People move, incomes change, things happen. While we'd hate to see you leave, Sweat440 doesn't trap our members; we joyfully welcome them into the family.
Gyms who care about their members and offer excellent equipment and instruction know that binding contracts are not only unappealing, they're also unnecessary. If people love a gym, they'll come back for more- contract or not. Come see why people love joining Sweat440 and can't stop coming back for more! Try a free class, no strings attached. If you love it, join risk-free, with no activation fees or contracts.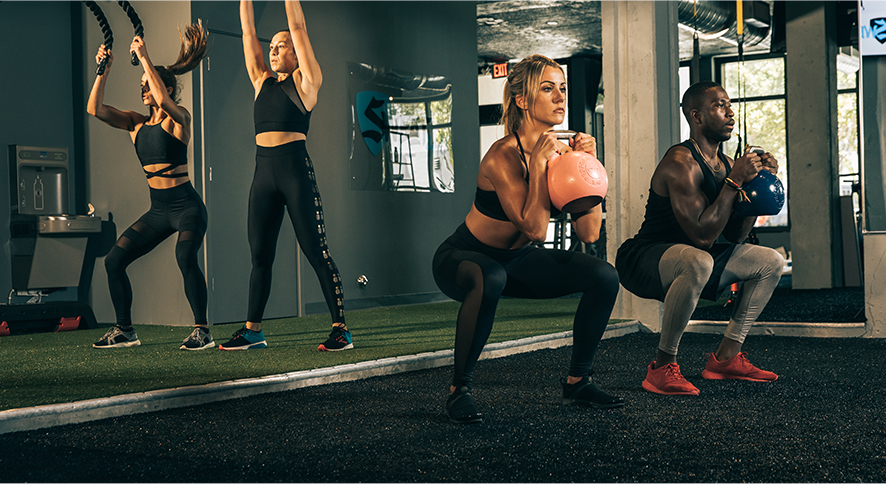 Why Contract-Free Memberships and Free Trials Matter
What a Binding Contract Says About a Gym:
Gyms with binding contracts don't value your satisfaction.

Gyms with binding contracts prioritize profitability.

Gyms with binding contracts benefit when you don't work out.

Gyms with binding contracts are at risk of going under.

Gyms with binding contracts lock you in but aren't successful.

Gyms with binding contracts result in legal disputes.

Gyms with binding contracts end up costing you extra.
What the Absence of Free Trials Says About a Gym:
Gyms without free trials don't believe in their product.

Gyms without free trials might be hiding insufficiencies.

Gyms without free trials may have other hidden fees.

Gyms without free trials want to trap you without a trial.

Gyms without free trials may be overcrowded.

Gyms without free trials don't put customers first.

Gyms without free trials produce dissatisfied members.