Orange Theory Fitness opened in Fort Lauderdale, Florida, in 2010, with a mission to deliver high-intensity interval training (HIIT) to Florida residents. Since then, they have opened over 900 studios, with no plans to slow down. The funny thing is, the larger they get, the lower they rank in reviews. In fact, Orange Theory is losing steam where fitness fans are concerned, but the corporate train just keeps churning out replicas. Orange Theory's appeal is declining for many reasons, one of them being the lack of individual attention and customized training you hope to find in a boutique fitness studio.
With new competitors like Sweat440 offering a superior fitness experience, you don't have to settle for the mass-produced Orange Theory mindset. Sweat440 offers a quicker, better HIIT workout in a more convenient, affordable package. Our method follows the most current scientific research, unlike Orange Theory's generalized, outdated approach. If you tried Orange Theory, come see why Sweat440 is the HIIT gym you've been waiting for. 
How Orange Theory and Sweat440 Workouts Differ
Orange Theory–  Both fitness companies are capable of providing an intense workout, but at Orange Theory, the intensity varies greatly. You spend the first half of your workout on a bike or treadmill, where you determine your own level of effort. Your heart rate monitor helps you target the ideal zone of exertion. But, no one holds you accountable for your efforts, pushes you past plateaus, or cautions against overexertion- it's all determined by you and your monitor.
You then move on to a rowing machine, and a series of floor exercises like sit-ups, push-ups, and assisted pull-ups, for a total of 60 minutes. Since you use all muscle groups briefly in one workout, you can't target certain groups, or repeat the workout the next day. Members are encouraged to hit the "orange zone," an arbitrary number determined by a range of stats like age.
Sweat440–  Our classes consist of four 10-minute stations, for a powerful workout in just 40 minutes. Each station has 3 different exercises that you repeat for 45 seconds before a 15-second break. Rather than spending half of your workout on a treadmill, we keep things hopping from the start. Our compound circuits combine cardio and weight training for the highest calorie burn and greatest EPOC (excess post-exercise oxygen consumption) possible. What does that mean? It means you keep burning fat and calories long after our workouts are done.
Our professional instructors circulate through every class demonstrating each exercise, correcting form, and accommodating any limitations. We don't stick with the tired Orange Theory trio of treadmill, rower, weightroom. We throw battle ropes, kettle balls, TRX, resistance bands, boxes, and weights into the equation. We target different muscle groups every day, so it's safe to make Sweat440 your daily workout. And we offer the same classes all day long, so there's always a spot for you.
Why Orange Theory Fans Will Like Sweat440 Better
Sweat440 is Quicker
Sweat440 outperforms Orange Theory in 40 minutes, and Orange Theory classes last an hour. Our potent concoction of intervals yields the highest calorie burn in the shortest amount of time. Not only are our classes quicker, but our results happen more quickly too. Research proves our compound circuit training to be the most effective method in the industry.
Sweat440 is Cheaper
Orange Theory requires you to buy their heart rate monitors and charges higher membership fees. Orange Theory also requires you to book classes weeks in advance, and sometimes you can't get a spot, so your membership comes up empty.
Sweat440 is Convenient
Rather than an overcrowded, limited class schedule, Sweat440 offers classes that start every 10 minutes. You don't have to book way in advance or get stuck on waiting lists or locked out of classes. If you miss your class, you aren't out of luck, since another one starts in 10 minutes. At Sweat440, you're #neverlate, unlike at Orange Theory, where it's often too late to sign up for a class you paid for.
Sweat440 is Customized
Our trainers don't leave you linked to a device to determine your level of exertion. At Orange Theory, you determine your own speed and intervals, which means, you might over or underperform. Sweat440's professional coaches know how to help you hit the healthiest target, and we supply the appropriate intervals. We base our approach on several individual factors, not just age and heart rate.
Sweat440 is Gimmick-Free
Orange Theory utilizes their heart monitors to help you find your "splat number," or level of effort, encouraging you to aim for the "orange" zone of highest effort. The problem is, that number is measured against a wide range and based on age, not your individual level of fitness. There's a chance the orange zone is not actually your ideal heart rate. Sweat440's trainers look at the bigger picture and take your health more seriously.
Sweat440 is Fun
Orange Theory's website claims that the "hardest part of our workouts is showing up." There are two major problems with that philosophy. First, if it's hard to drag yourself to the gym, the gym must not be a fun or rewarding place! And second, if it's harder to drive to the gym than to do the workout they provide, you aren't going to get results! Sweat440 offers a powerful workout that guarantees results. But our classes are so fun and lively, you won't believe how soon you're done! Don't plod along on a treadmill for half of your workout- it's neither enjoyable, nor effective. Jump into a Sweat440 class where we always keep you on your toes!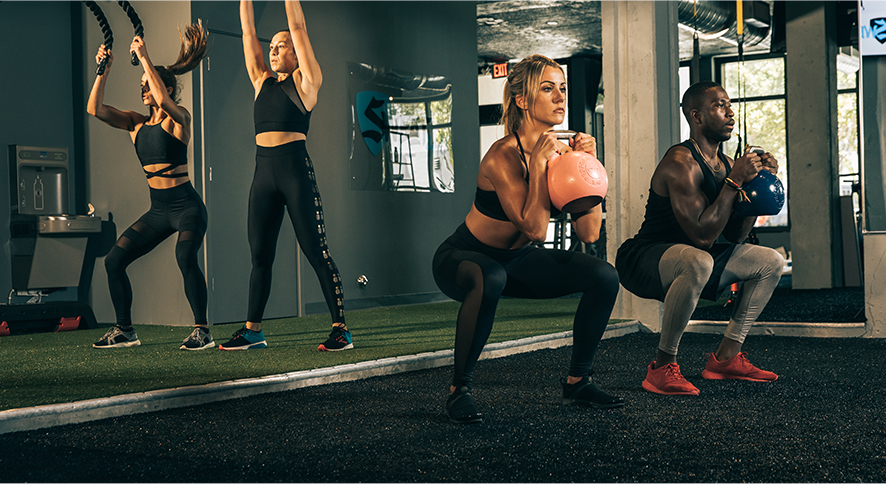 How the Reviews of Both Gyms Stack Up
Here's What People Are Saying About Orange Theory
"It's hard to get a spot in the class."
"It doesn't yield fast results."
"The 'splat number' can be demeaning."
"The treadmill portion gets boring."
"The classes are more geared to females."
"Beginners don't really know what to do."
"The routine gets repetitive."
"You can't do their workouts every day."
Here's What People Are Saying About Sweat440
"It's the best 40 minutes of my day."
"The workout never gets boring."
"The instructors are super motivating."
"The instructors are very attentive to form."
"It's a mix of super-fit, moderate, and beginner-level athletes."
"It's the first workout that led to consistency."
"This is the first gym that's actually fun- check out the selfie booth!"
"Five stars. Ten stars. One hundred stars. All the stars!!"
Orange Theory had good intentions with HIIT fitness, but their program doesn't deliver everything gym members need. Sweat440 perfected the HIIT class model with frequent classes, varied exercises, and an environment that's dynamic, upbeat, and fun. Check out Sweat440 to experience HIIT fitness on another level.