The Launch of a New HIIT Gym in Miami's Midtown: Experience the SWEAT440 Distinction
Prepare yourself, Midtown Miami – SWEAT440, an innovative HIIT and cross-training gym, is about to open in your area! SWEAT440 blends the advantages of small group training with the ease of adaptable workout schedules. Catering to both fitness novices and experienced enthusiasts, our energetic 40-minute workouts are designed to assist you in efficiently and effectively attain your goals. In this article, we'll present SWEAT440's inventive concept and provide a glimpse of what awaits when you become a member of the 440 Squad.
The Unique Features of SWEAT440: Accessibility, Encouragement, and Outcomes
SWEAT440, co-founded by seasoned Miami trainers Matthew Miller and Cody Patrick, aspires to transform the boutique fitness sector by providing:
Adaptable workout schedules: With classes commencing every 10 minutes, you can visit the gym at your convenience. No more worrying about tardiness or missing exercise sessions.

Small group training: Our courses offer an inspiring and supportive setting, aiding you in staying focused and responsible throughout your fitness journey.

Dynamic workout

composition: SWEAT440's 40-minute workouts consist of 4 fitness stations, each 10 minutes long. A new group of members joins the class every 10 minutes, ensuring a smooth and efficient workout experience.

HIIT and cross-training: Our courses combine the finest aspects of cross-training, strength training, and HIIT (High-Intensity Interval Training) to burn fat, enhance metabolism, and improve overall fitness.
Brace Yourself for an Intense Workout: A Look Inside a SWEAT440 Session
Each workout at SWEAT440 is devised to challenge and motivate you. A typical 40-minute session includes the following:
Warm-up: Initiate with a brief warm-up to elevate your heart rate and ready your body for physical activity.

Station 1: Start the first fitness station, concentrating on a specific muscle group or exercise type.

Station 2: Transition to the second station, incorporating different exercises and equipment for variety and challenge.

Station 3: Continue to the third station, focusing on another muscle group or exercise style.

Station 4: Conclude at the final station, giving it your all before cooling down and stretching.

Cool down: Finish your workout with a cool down and stretch to support recovery and prevent injuries.
Embrace the 440 Squad: Join the SWEAT440 Community
Becoming a member of SWEAT440 means more than just signing up for a gym – you're joining a supportive, inclusive group. The 440 Squad welcomes members of all fitness levels and backgrounds, united in the pursuit of becoming the best versions of themselves. Expect the same exceptional workouts, cutting-edge facilities, and dedicated trainers that have made SWEAT440 a favorite among fitness enthusiasts in Miami Beach's Sunset Harbour area at our new Midtown Miami location.
Eager to Begin? Join SWEAT440 in Midtown Miami Now
If you're tired of searching for "local gyms nearby" or struggling to find workout times that fit your busy life, SWEAT440 Midtown Miami is the solution. Our inventive approach to fitness offers accessible gym times and dynamic, results-oriented workouts in a supportive setting. To get started:
Visit our website or call to learn about membership options and pricing.
Schedule a tour of our new Midtown Miami location to experience the SWEAT440 distinction firsthand.
Sign up for a free trial class or membership and begin working towards a fitter, healthier you.
Don't miss the excitement of our new HIIT gym opening in Midtown Miami. With SWEAT440's one-of-a-kind workout structure, inspiring atmosphere, and convenient scheduling, reaching your fitness goals has never been more accessible. Become a part of the 440 Squad today and experience the SWEAT440 revolution yourself!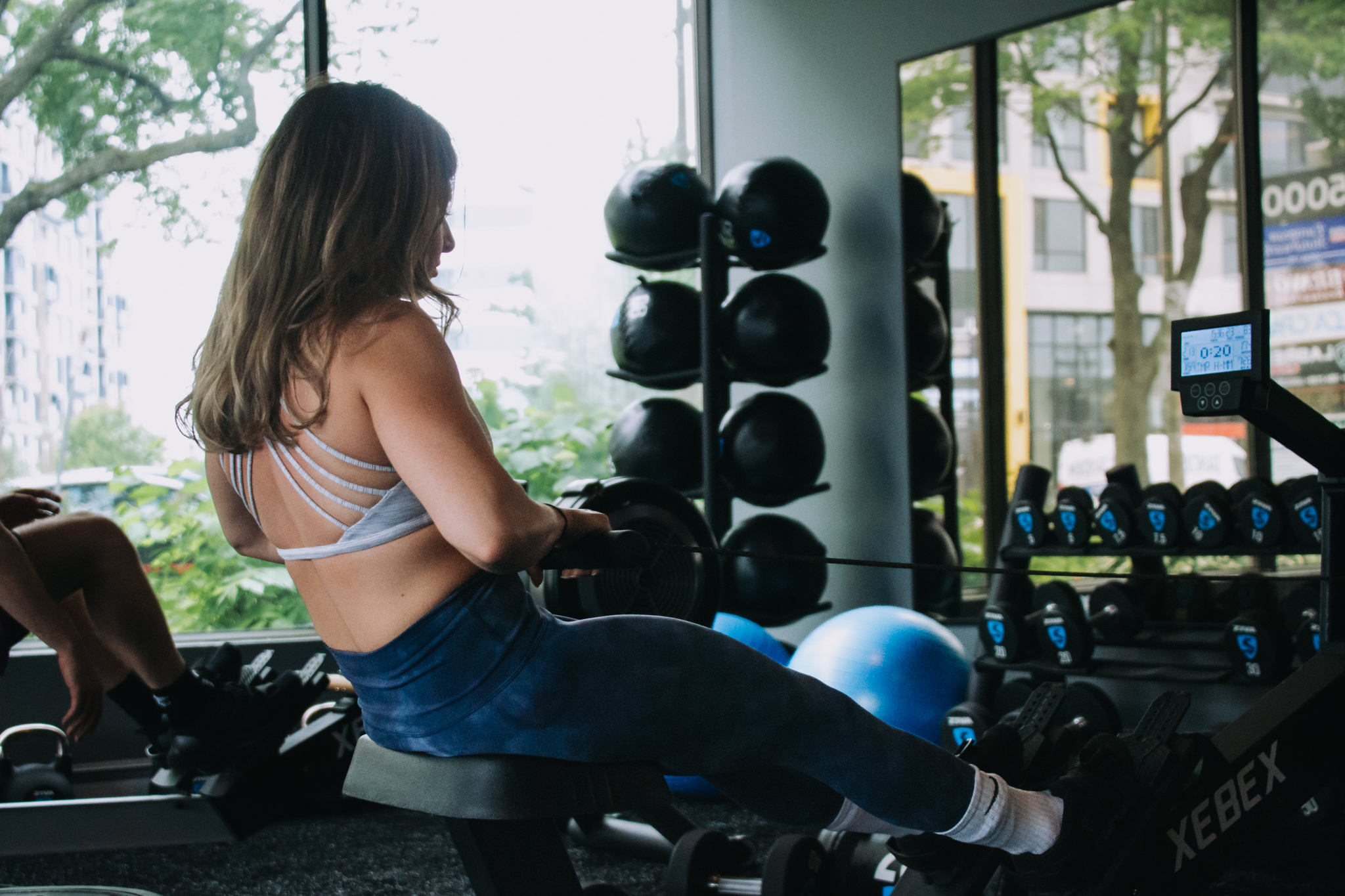 Common Questions About SWEAT440
If you're considering joining SWEAT440 in Midtown Miami, you may have some questions about our gym and workout program. Here are answers to frequently asked questions to help you make an informed decision:
Q: Is prior experience or a specific fitness level required to join SWEAT440?
A: No! SWEAT440 is designed for everyone, from beginners to experienced fitness enthusiasts. Our expert trainers will help you modify exercises and progress at your own pace.
Q: What types of equipment and facilities does SWEAT440 offer?
A: SWEAT440's top-notch facilities include a wide range of equipment, such as treadmills, rowers, dumbbells, kettlebells, resistance bands, and more. Our gyms also offer clean and comfortable locker rooms and shower facilities.
Q: How often should I attend SWEAT440 classes?
A: The ideal frequency depends on your fitness goals, schedule, and personal preferences. Generally, we recommend attending 3-5 classes per week for optimal results, with rest days in between.
Q: Can I bring a friend or family member to try a class?
A: Absolutely! We encourage you to invite friends and family members to experience SWEAT440 for themselves. Contact our Midtown Miami location for details on guest passes and trial classes.
We hope this article has provided valuable insights into what sets SWEAT440 apart and what to expect from our new HIIT gym opening in Midtown Miami. With our unique combination of accessibility, encouragement, and results-driven workouts, there's never been a better time to embark on your fitness journey.
Join the 440 Squad at our Midtown Miami location, and together, let's revolutionize the way we approach fitness. Stay connected with our blog for more news, tips, and updates, and get ready to embrace the SWEAT440 lifestyle!
Adaptable workout schedules

Small group training

Dynamic workout composition

HIIT and cross-training
Warm-up

Station 1: Start the first fitness station, concentrating on a specific muscle group or exercise type.

Station 2: Transition to the second station, incorporating different exercises and equipment for variety and challenge.

Station 3: Continue to the third station, focusing on another muscle group or exercise style.

Station 4: Conclude at the final station, giving it your all before cooling down and stretching.

Cool down