Sweat 440 HIIT Bootcamp Gym: The Ultimate Workout Destination for High-Intensity Fitness Enthusiasts
Are you a fitness enthusiast looking for a high-intensity workout destination? Look no further than Sweat 440! This state-of-the-art gym offers a wide variety of HIIT (high-intensity interval training) classes, designed to push your limits and help you reach your fitness goals. Whether you're a seasoned pro or a newcomer to the world of HIIT workouts, Sweat 440 has something to offer. We have state-of-the-art fitness centers across the United States, including New York, Florida, Texas, and Alabama. We also have a fitness center in Montreal, Canada!
The Classes
Sweat 440 offers a diverse range of classes, all led by experienced and certified instructors. Each class is designed to challenge you in a different way and target different areas of the body. Here are some of the classes you can expect to find at Sweat 440:
Shape

: This class is all about sculpting your body and toning your muscles. Expect a combination of strength-training exercises, such as dumbbell curls and leg press, along with cardio exercises to keep your heart rate up. Shape classes happen every Monday and Friday.

Shred

: This class is all about burning calories and getting lean. You'll perform a variety of high-intensity interval training exercises, such as jump squats and mountain climbers, to keep your heart rate up and burn calories. Shred classes happen every Tuesday and Thursday.

Sweat (Core & Conditioning)

: This class is designed to target your core and improve your overall conditioning. You'll perform a variety of exercises, such as planks and Russian twists, to strengthen your core and improve your overall fitness. Sweat classes happen every Wednesday.

Warrior (Full Body Workouts)

: This class is a

full-body workout

that will leave you feeling exhausted but accomplished. You'll perform a variety of exercises, such as kettlebell swings and deadlifts, in quick succession to keep your heart rate up and burn calories. Warrior classes happen on the weekends.
The Facility
Sweat 440 is not just any ordinary gym. It has all the latest equipment and amenities you need to make the most of your workout. The gym has a spacious cardio area, fully-equipped with treadmills, stationary bikes, and ellipticals. There is also a weight room with a variety of free weights and resistance machines, as well as a dedicated stretching area. The gym also has a variety of functional training equipment, such as battle ropes, kettlebells, and medicine balls. This equipment is great for HIIT workouts as it adds an extra level of intensity and challenges your muscles in new ways.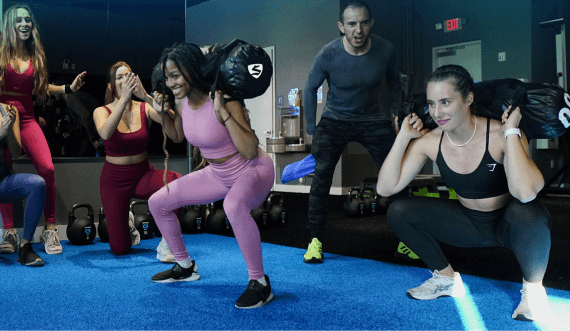 Membership and Pricing
At Sweat 440, you'll find membership options to suit your needs and budget. There are monthly, annual, and even drop-in rates. We offer a free trial membership, so you can try out the classes and see if the gym is a good fit for you. Furthermore, if you decide to join our Sweat 440 gym, you don't have to worry about inflexible, legally-binding contracts. You can pay for your membership as you go, and leave the membership whenever you want.
Location and Convenience
Sweat 440 is located in several major cities, making it easily accessible for anyone in the area. The gym has locations in Brickell, Miami Beach, Downtown Doral, Coral Gables, Coral Springs, Miami Lakes, Deerfield, Upper East Side,, Chelsea/Flatiron, Financial District in New York City, Austin, Texas, Madison and Huntsville in Alabama, Music Row in Tennesse, Toms River in New Jersey, NODA in North Carolin and Montréal, Quebec. With multiple locations, you can find a Sweat 440 nearby, no matter where you live.
The gym is open seven days a week, with early morning and late-night classes available to fit your schedule. The convenient location and hours make it easy for you to fit a workout into your busy schedule, whether you're a morning person or a night owl. In addition to its accessibility, Sweat 440 is also committed to providing a clean and safe environment for its members. The gym follows all the necessary COVID-19 protocols and guidelines to ensure the safety of its members during the pandemic
Sweat 440 is the ultimate destination for high-intensity fitness enthusiasts. With a wide variety of classes, state-of-the-art equipment, and convenient location, Sweat 440 has everything you need to reach your fitness goals. So, whether you are looking for a HIIT bootcamp gym near me, or the best HIIT bootcamp gym in the area, look no further than Sweat 440. Sign up for a membership today and experience the ultimate HIIT bootcamp gym workout!
Monday

: Shape (Lower Body)

Tuesday

: Shred (Upper Body & Core)

Wednesday

: Sweat (Core & Conditioning)

Thursday

: Shred (Lower Body & Core)

Friday

: Shape (Upper Body & Core)

Saturday

: Warrior (Total Body)

Sunday

: Warrior (Total Body)
Brickell, Florida

: 25 SW 9th St. G100 Miami FL, 33130

Miami Beach, Florida

: 1916 Bay Rd, Miami Beach, FL 33139

Downtown Doral, Florida

: 8405 NW 53rd St suite #E 104, Doral, FL 33166

Coral Gables, Florida

: 301 Altara Ave Ste 111, Coral Gables, FL 33146

Coral Springs, Florida

: 6206 W Sample Rd, Coral Springs, FL 33067

Miami Lakes, Florida

: 6766 Main St, Miami Lakes, FL 33014

Deerfield, Florida

: 248 South Federal HWY Deerfield Beach FL, 33441

Upper East Side, Florida

: 6916 Biscayne Blvd Miami, Florida, 33138

Chelsea/Flatiron, New York City

: 600 6th Ave Chelsea, New York, 10011

Financial District, New York City

: 80 John St New York, New York, 10038

Austin, Texas

: 110 Jacob Fontaine Ln Austin, Texas, 78752

Madison, Alabama

: 10878 County Line Rd Madison, Alabama, 35756

Huntsville, Alabama:

9032 Memorial Pkwy, SW Huntsville, AL 35802

Montréal, Quebec, Canada

: 5000 Rue Jean-Talon O Montréal, Quebec, H4P 1W9

Music Row, Tennesse:

1005 17th Ave South,




Nashville, TN 37212

Toms River, New Jersey:

1358 Hooper Ave, Toms River, NJ 08753

NODA:2116 N. Davidson St Unit C, Charlotte, NC 28205