HIIT 100 Workout Routine | Sweat440
HIIT (high-intensity interval training) is widely considered the most effective means of fat burning and calorie burns. With HIIT exercises, you have to keep your heart rate up and barrel through a series of movements with minimal rest periods in between. However, most people assume performing HIIT only involves cardiovascular exercises, such as running and cycling, when, in actuality, HIIT exercises also include weight training. High-intensity interval training isn't just the best style of workouts for fat burning but also for muscle development.
The HIIT 100 Workout Routine, a variation of HIIT exercise that combines HIIT exercise with weight training, is currently one of the best modalities for fat burning and muscle development. However, Sweat440's HIIT workout program is set to provide similar or better results with greater flexibility. This article compares the HIIT 100 Workout Routine with the Sweat440 HIIT Exercise Routine to help you determine the ideal HIIT exercise plan for your needs.
Introduction to High-Intensity Interval Training (HIIT)
Most people are familiar with high-intensity interval training (HIIT), but it's worth running through the basics because there are loads of misconceptions. HIIT involves alternating between high-intensity exercises at 90% of your maximum heart rate and low-intensity exercises or rest periods. Traditional exercises and steady-state cardio involve uniform periods of moderate-level exercise at 60 to 70% of your heart rate. HIIT exercises were initially developed for cardiovascular exercises, such as running, cycling, etc., but they can also be used for weight training. When performing HIIT exercise for weight training, you have to lift heavy weights for a specific period, followed by minimal rest periods.
One of the primary benefits of HIIT workouts is the massive calorie burn you experience after the workout is over. Due to the high EPOC (excess post-exercise oxygen consumption), your body continues burning fat even during the rest periods and long after you stop working out completely. That's why HIIT exercises are ideal for fat burning. However, if you combine HIIT exercises with weight training, you can also boost your muscle development capabilities to gain lean muscle mass. The workout simultaneously activates fat loss and muscle development. But only if you choose the correct HIIT exercise modality — one that targets all your muscle groups and has the ideal ratio of high-intensity workouts to rest periods.
HIIT 100 Workout Routine
The HIIT 100 Workout is a popular HIIT exercise modality that combines HIIT cardio with German Volume Training. The HIIT 100 workout routine involves doing 10 sets of 10 reps for exercise involved in the routine; that's a total of 100 reps per exercise. The HIIT exercise component comes in the form of rest periods between the sets — you have to take a rest of 10 to 20 seconds between each set of 10 exercises. After each HIIT exercise, the program requires that you finish with full-body exercises, such as a dead-curl-press or kettlebell swing. The HIIT 100 Workout Routine involves active participation for 6 days a week.
The following is the HIIT workout training schedule:
Day 1: Chest, Back, Abs
Day 2: Legs, Calves, Triceps
Day 3: Shoulder, Traps, Biceps, Forearms
Day 4: Chest, Back, Abs
Day 5: Legs, Calves, Triceps
Day 6: Shoulder, Traps, Biceps, Forearms
The biggest issue with the HIIT 100 Workout program is that it lacks versatility. Sure, the program provides specific exercises that target each muscle group, but it doesn't offer variations on those exercises. Furthermore, being an online program, you have no means of ensuring that you stay on track and perform the HIIT exercises as you're supposed to. The programs are also designed such that you need to clear a significant portion of your days, at least six days a week, to achieve all the benefits. You also need access to a wide range of equipment, including barbells and kettlebells, which you can only access through another gym membership. So, you're basically paying for the HIIT workout program and your own gym.
Sweat440 HIIT Exercise Routine
Sweat440 is one of the most innovative and advanced group fitness training gyms in the fitness industry. Sweat440 provides a unique HIIT exercise routine that involves weight training, strength training, cross-training, cardiovascular training, core training, etc. Instead of focusing on specific aspects of fitness, the Sweat440 HIIT routine focuses on holistic physical development. The Sweat440 HIIT exercise program also involves a unique "never late" philosophy that ensures you can enter a new session within 10 minutes of reaching the gym. Furthermore, each workout routine is performed to clockwork precision under the watchful eye of a certified fitness expert.
The Sweat440 HIIT exercise routine ensures maximum fat burning and calorie loss. Each 40-minute session consists of 4 fitness stations, each taking you through 3 sets of 3 exercises, each carefully chosen to target all your muscle groups. You have to perfect each set in 50 seconds, followed by 10 seconds of rest periods. You also get 1-minute rest periods after each fitness station, giving you enough time to move to the next station. This unique structure ensures that you follow through with all the exercises at your maximum capacity, maintaining your maximum heart rate.
The following is the Sweat440 HIIT exercise routine:
Monday: Lower Body
Tuesday: Upper Body/Core
Wednesday: Core/Conditioning
Thursday: Lower Body/Core
Friday: Upper Body/Core
Saturday: Total Body Conditioning
Sunday: Total Body Conditioning
Schedule a Free HIIT Exercise
Sweat440 gyms are located in New York, Florida, Texas, and Montreal (Canada). We also provide free sweat sessions for all first-timers, so you know what our HIIT exercise program involves before signing up. Please schedule a free HIIT exercise to start your fitness journey today.
HIIT is more like a method of training. As the name suggests, high intensity interval training. So the key is to keep the intensity high for a particular interval, and repeat. Which is what we do at .There is no particular exercise or rule that can be applied for HIIT. You may do any exercise or resistance training, just that it should be split into intervals of ON and OFF. Just make sure you give it your all when you are ON!! Be it crunches or sprints or squats, you can apply HIIT.. our classes.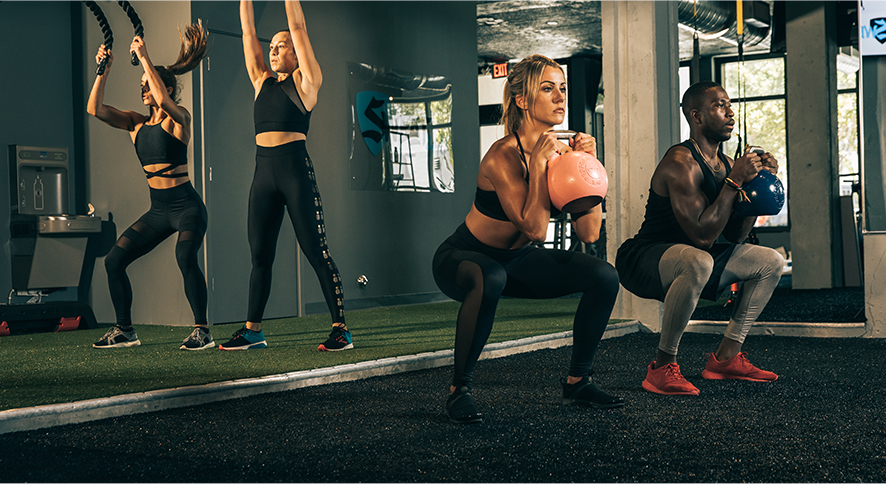 HIIT 100 Workout Routine | Sweat440
Day 1: Chest, Back, Abs
Day 2: Legs, Calves, Triceps
Day 3: Shoulder, Traps, Biceps, Forearms
Day 4: Chest, Back, Abs
Day 5: Legs, Calves, Triceps
Day 6: Shoulder, Traps, Biceps, Forearms
Sweat440 HIIT Exercise Routine
Monday: Lower Body
Tuesday: Upper Body/Core
Wednesday: Core/Conditioning
Thursday: Lower Body/Core
Friday: Upper Body/Core
Saturday: Total Body Conditioning
Sunday: Total Body Conditioning