Free Trial at a State of the Art Fitness Studio Near Chelsea
Which Fitness Studio Near Me in Chelsea Offers Free Trials?
Whether you're easing back into the gym after COVID-19, or trying a gym for the first time, you're probably concerned about making a wise selection. You want a gym with COVID-safety protocols in place and with ample space for you to safely exercise. Sweat440 Chelsea takes the guesswork out of your selection by offering free trials for all newcomers. Book online, give us a call, or stop by our Chelsea fitness studio near the Flatiron Building for a free trial!
What's Included in Sweat440's Free Club Offers?
Our club offers a totally risk-free trial with no contracts, initiation fees, or minimum purchase requirements. You get to try any of our high-intensity interval training (HIIT) classes, which are offered every 10 minutes, 7 days a week! Each of our classes strengthens your core and provides a full-body workout, however, we focus on certain areas of the body on certain days of the week, and you can choose from our full range of classes. Our sessions are divided into 4 10-minute stations, completed in your own workout pod, so you can work at your own pace in a socially distanced environment. We keep class sizes small to provide individualized instruction and minimize club capacity for your health and safety.
Are Strength Training and Personalized Training Free?
In addition to our flexible class schedule, we provide the unique advantage to our members of fusing strength training with cardio for quicker results. Our members blast fat while building muscle, so their workout takes half the time and they reach their goals in half the time. In addition, PERSONALIZED TRAINING IS FREE IN EVERY SINGLE CLASS! You get expert advice, assistance, and recommendations from personal trainers, not just in your first free class, but in every class after that too! There is no other gym that offers this tremendous bonus for free to every member. Our founders are personal trainers, so they know how crucial it is to get personalized training from a pro to achieve your goals. That's why they offer it free of charge to every member in every single class.
Is Sweat440's State of the Art Gym Fully Equipped?
Unlike the typical fitness studio near Chelsea, Sweat440 is fully equipped. We are not limited to methods like cycling, yoga, or rowing. We have state of the art equipment to suit everyone's preferences, from Assault Bikes, to Versa Climbers, to Ski Ergs, to TRX, and everything in between. We're a dedicated HIIT facility that uses cutting edge equipment and a superior workout method to elevate your fitness. We'll show you new ways to sculpt, tone, shred, and shape your body, and we promise, you'll never get bored! Into strength training? You'll love our kettlebells, dumbbells, and sleds. Crazy for cardio? Reinvent your cardio session with our innovative machines that burn more calories than you thought possible.
Are Locker Rooms and Other Amenities Included?
If you've tried other gyms near Chelsea, you know that many charge a fortune for membership, in addition to countless amenity fees. At Sweat440, we provide complimentary locker rooms, showers, water stations, and towels for our guests (when COVID regulations allow), and we don't invest our members' money in useless amenities. We invest in the best equipment and trainers and in hospital-grade sanitizing procedures for our facilities, which we keep staffed around the clock for your safety. We also offer fun freebies like a selfie station where you can celebrate your success after completing your class! In your free trial, all of these perks are available to you, so come see what we're all about!
Why Try a Fitness Studio Near Chelsea Before Joining?
There is a wide range in the quality and competency of gyms and trainers in NYC. It's important to do a trial workout before signing up, so you can make sure it meets your needs. It's not enough to go on a friend's recommendation, or a recognizable gym brand, since each person has different fitness needs and each franchise of a gym is staffed by different employees. Many gyms will lock you into a contract that's hard to exit if you don't end up liking it there. Instead, try a free class at Sweat440 Chelsea, where there are no contracts whatsoever, so you're never stuck paying for a gym you don't attend. Our member turnover rate is incredibly low because our members love Sweat440, not because they can't get out of a contract.  
Is a Gym Offering Free Trials More Trustworthy?
Be wary of gyms that don't offer a free trial, or that only offer a free training session after you join. This often signifies that they aren't confident in their program. It's also a sign that there will be more hidden fees to come, including increases in membership dues, annual fees, and cancellation fees. A gym offering a free class or personalized training with no obligation to join has nothing to hide. At Sweat440, we don't try to rope you in before you give us a try, because we want you to choose the right gym for you. Plus, we know you will love it here! Check out Sweat440 Chelsea for free today! You'll see why our loyal members trust us with their fitness.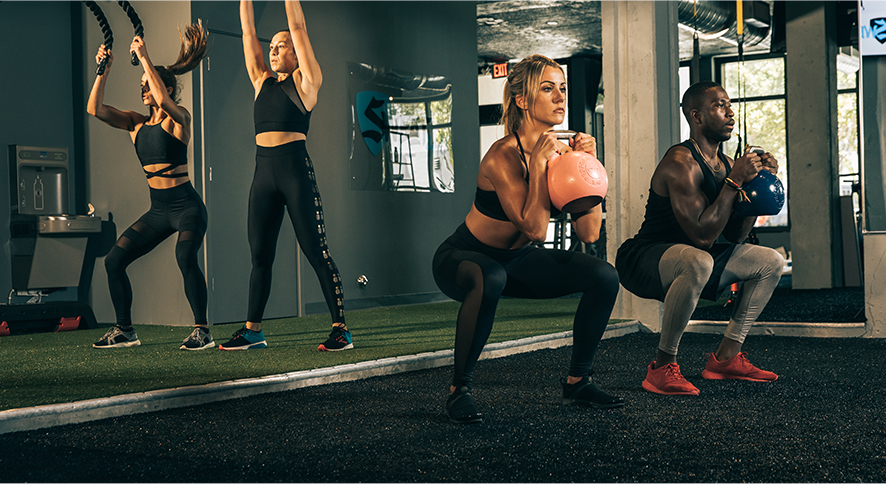 What Are the Perks of Trying a Fitness Studio Near Chelsea?
You Can Size Up the Gym Before You Join:
Determine the personalized training options
Assess the strength training equipment
Investigate COVID-safety measures
Inquire about classes and workout methods
Observe crowd level and capacity
Identify whether it's a welcoming environment
Evaluate the number of cardio options
Check for safety measures and staff oversight
You Can Enjoy Sweat440's Exclusive Perks:
Free personalized training in every session
State of the art cardio machines
Strength training tools for all fitness levels
Classes every 10 minutes
No contracts or hidden fees
No minimum purchase or cancellation fees
Showers, locker rooms, towels, water, selfie station
Small classes which vary each day