Sweat 440: Join The Best HIIT Workout in Miami
Sweat 440 is a state-of-the-art fitness center dedicated to offering high-intensity interval training classes that incorporate all elements of fitness. Our HIIT workout class is suitable for all fitness levels and is led by certified instructors who can push you to your limits. You can find our fitness centers across Florida, but if you're in Miami, you can visit your nearest Sweat 440 gyms in Coral Gables, Miami Beach, or Brickell.
Sweat 440 Coral Gables is located at 301 Altara Ave Ste 111, Coral Gables, across the street from Coral Gables High School, and within walking distance of important services like the Consulate General of Brazil. Sweat 440 Miami Beach is located at 1916 Bay Rd, Miami Beach, adjacent to the Sunset Harbour Yacht Club and within walking distance of the Maurice Gibb Memorial Park. Sweat 440 Brickell is located at 25 SW 9th St. G100 Miami, near the 8th Street Light Rail Station. Visit your nearest Sweat 440 gym for the best HIIT workout in Miami.
Below, we describe why Sweat 440 offers the best HIIT workout in Miami.
Flexible classes that start every 10 minutes
Sweat 440 offers extremely flexible classes that start every 10 minutes. We have a unique workout program that cycles individuals through four fitness stations, each lasting 10 minutes. This ensures that a new fitness station opens up every 10 minutes, allowing a new group to join. As such, you don't have to schedule your classes in advance; you can show up whenever you want, and rest assured that a class will be available within 10 minutes.
Group fitness with small groups
Sweat 440 offers the energy and excitement of group fitness classes but without the inconvenience of inflexible schedules. Furthermore, since the entire class is divided into four fitness stations, and new classes start every 10 minutes, we don't ever deal with overcrowding. Each mini-group consists of 3 to 4 individuals, so you receive personalized attention.
HIIT workouts include strength training
We offer HIIT workouts that include all elements of fitness, including strength training, weight training, resistance training, cardio, and cross-training. We also have cutting-edge equipment, such as rowing machines and strength training equipment, to help you push yourself to the limit. Our dynamic workout plan ensures that you lose weight and build muscle simultaneously.
Personalized attention from certified trainers 
Sweat 440 Miami is led by highly skilled, trained, and experienced fitness trainers who will guide you through the workout. Our certified fitness trainers can help you customize the HIIT workout according to your fitness level. They also give the guidance and support you need to meet your fitness goals.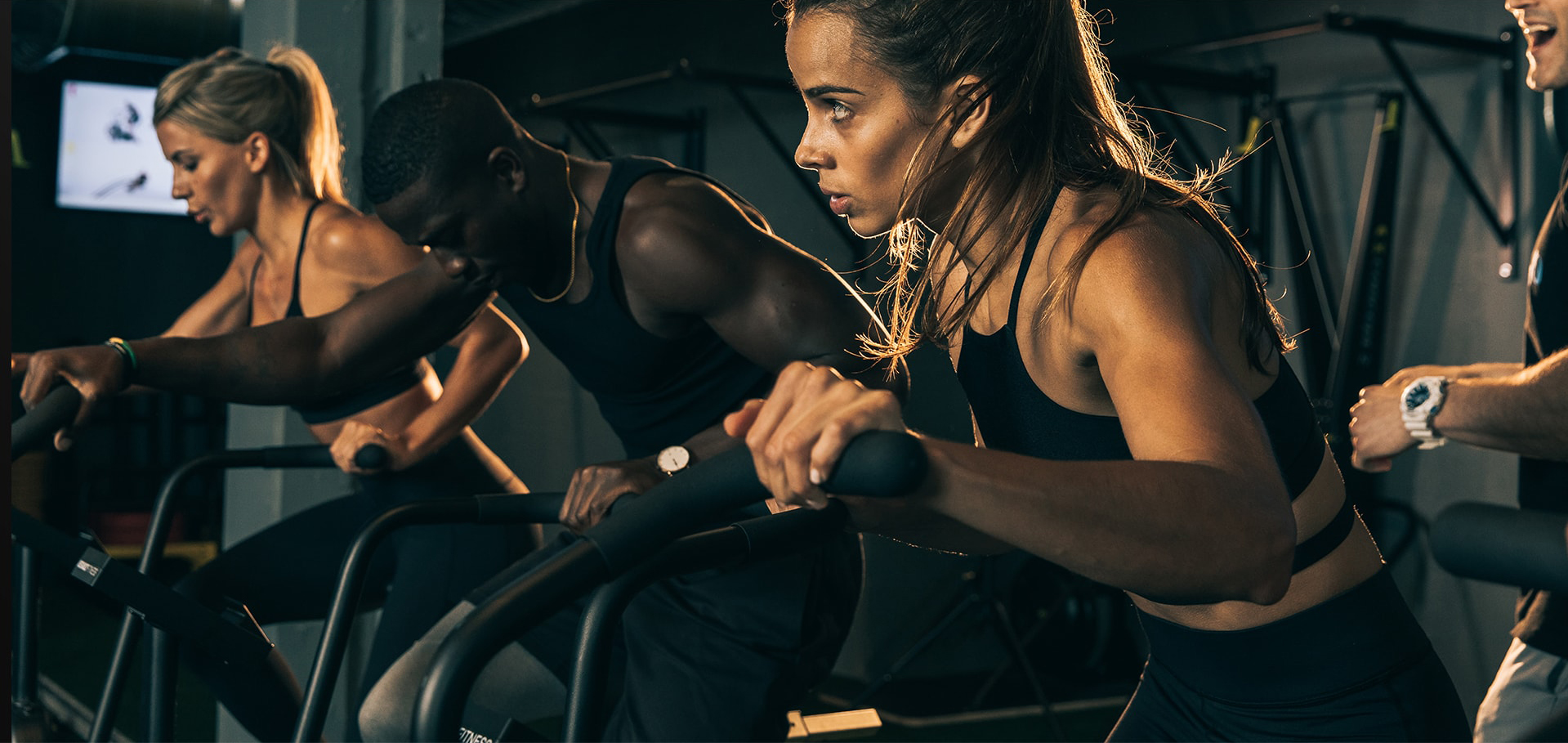 Target all muscle groups for a full-body workout
Sweat 440 offers workout plans targeting all major muscle groups throughout the week. From Monday to Friday, classes target specific body parts, such as the lower body, upper body, or core. And on Saturday and Sunday, we have Total Warrior classes that target all muscle groups, i.e., full-body exercises. You can plan your week to ensure you're engaging your entire body.
Flexible memberships without contracts
Sweat 440 offers extremely flexible memberships. You can pay for one class or a group of classes at a discounted rate or join a monthly membership that entitles you to unlimited classes. Furthermore, we don't tie you down with legally-binding contracts, so you don't have to worry about not being able to leave the membership. Our pay-as-you-go structure ensures complete flexibility. We also offer free trial classes to all new members, so you can try the class before becoming a member.
FAQs our Sweat 440 HIIT workout classes
Is it OK to do HIIT everyday?
When it comes to HIIT, more is not always better. In fact, doing HIIT every day could actually do more harm than good. HIIT, or high-intensity interval training, alternates between periods of all-out effort and active recovery. HIIT is great for burning fat and increasing cardiovascular endurance, but it is also a very demanding type of workout.
For most people, it is best to do HIIT 3 to 5 days a week, with at least one day of rest in between HIIT workouts. This allows your body to recover and prevents you from overtraining. If you are just starting out, you may want to start with 2 or 3 HIIT workouts per week. As you become more fit, you can gradually increase the frequency of your HIIT workouts.
What are 3 types of HIIT workouts?
There are a ton of different HIIT workouts, but we've narrowed it down to our top 3:
Sprint Interval

: To do this, you'll need to find a flat surface to sprint on, like a running track or a stretch of road. Start by sprinting for 30 seconds, then rest for 1-2 minutes. Repeat this cycle for a total of 10-15 minutes. 

Circuit Training

: This is a great HIIT workout if you're short on time. You'll need to set up a circuit of 8-10 exercises and complete each exercise for 30 seconds, with little to no rest in between. Once you've completed all the exercises, rest for 1-2 minutes and repeat the circuit 2-3 more times.

Tabata

: This is an intense HIIT workout for those already in good shape. To do a Tabata, you'll need to set a timer for 4 minutes and complete as many reps as possible of an exercise in 20 seconds, then rest for 10 seconds. Repeat this cycle for the entire 4 minutes.
Are 20-minute HIIT workouts effective?
Yes, 20-minute HIIT workouts are effective, especially if you are short on time. But if you're looking to get ripped, you'll need to up your game to a 40-minute session. That being said, 20 minutes of HIIT is still better than no HIIT!
Benefits of Sweat 440 HIIT Workouts:
Flexible classes that start every 10 minutes

Group fitness with small groups

HIIT workouts include strength training

Personalized attention from certified trainers

Target all muscle groups for a full-body workout

Flexible memberships without contracts

Free trial classes for all new members
Monday

: Shape (Lower Body)

Tuesday

: Shred (Upper Body & Core)

Wednesday

: Sweat (Core & Conditioning)

Thursday

: Shred (Lower Body & Core)

Friday

: Shape (Upper Body & Core)

Saturday

: Warrior (Total Body)

Sunday

: Warrior (Total Body)