Top 6 Advantages of HIIT for Sports Performance
1. The HIIT for Sports Performance Equipment Is Superior
The premise behind high intensity interval training (HIIT) is to alternate intense exercise with periods of rest to maximize your workout. This enables you to work harder for longer, increase endurance, build muscle while burning calories, and prevent plateau or injury. These are all important aspects of an athlete's fitness. 
But in order for HIIT to work like this, you need the right equipment. That's why it's essential to join a HIIT gym. Sweat440 Noda provides a wide array of cutting-edge sports performance equipment to enhance athleticism. We employ Assault Bikes, SkiErgs, VersaClimbers, rowers, sleds, TRX, sliders, kettlebells, battle ropes, and more to take your game to the next level! 
When you're an athlete, your body learns new movements quickly, so you risk slipping into muscle memory if you use the same machines. To keep your muscles guessing and optimize fitness, you need a wealth of tools. Try a free class at Sweat440 to see why HIIT equipment is superior for improving sports performance. 
2. HIIT for Sports Performance Classes Are More Dynamic
Legitimate HIIT classes are more dynamic than other fitness classes. At Sweat440, we move through four stations in 40 minutes. In each station, you do three sets of three exercises. In under an hour, you pound out 36 sets using 12 diverse exercises. That variety is hard to match with any other method. 
Sweat440 uses 45-second bursts of movement, followed by 15 seconds of rest. We have ample machines to move you through dynamic workouts that are different every day. Our trainers include exercises that target each aspect of sports. Agility, speed, endurance, flexibility, and strength are all incorporated. 
Sweat440 Montreal focuses on different muscle groups each day, so you can safely do HIIT as often as you like. We alternate between shaping or shredding the upper or lower body, with core work included daily. We also teach classes designed exclusively to make you sweat. To be fair, all of our classes do that– it's how we got our name! But they're such a blast, you won't notice how hard you work!
3. Our HIIT for Sports Performance Program Has Free Trainers
If you've been playing a sport for a while, a new trainer can jumpstart areas where you've stalled out. If you're new to a sport, they can prepare you to enter it in top form. But personal trainers are expensive, and they don't always fit into a busy athlete's schedule. Sweat440 corrects this by incorporating free training in all of our small group classes. 
Our sessions start every 10 minutes, so you can pop in when you're free. While you can book ahead of time, it's not required. You're never more than 10 minutes away from a HIIT session, no matter when you show up. At Sweat440, you're never late. We don't charge for classes if you sign up and miss them. We simply work you into the next one. 
Our trainers move throughout the class, offering tips, accommodations, and adaptations as needed. We customize our sports performance program, rather than giving universal instructions. You can work on getting cut for summer, while the person beside you works on agility. It's all done simultaneously with our trainers. We're a dedicated HIIT facility, so no matter when you arrive, you're guaranteed a HIIT workout.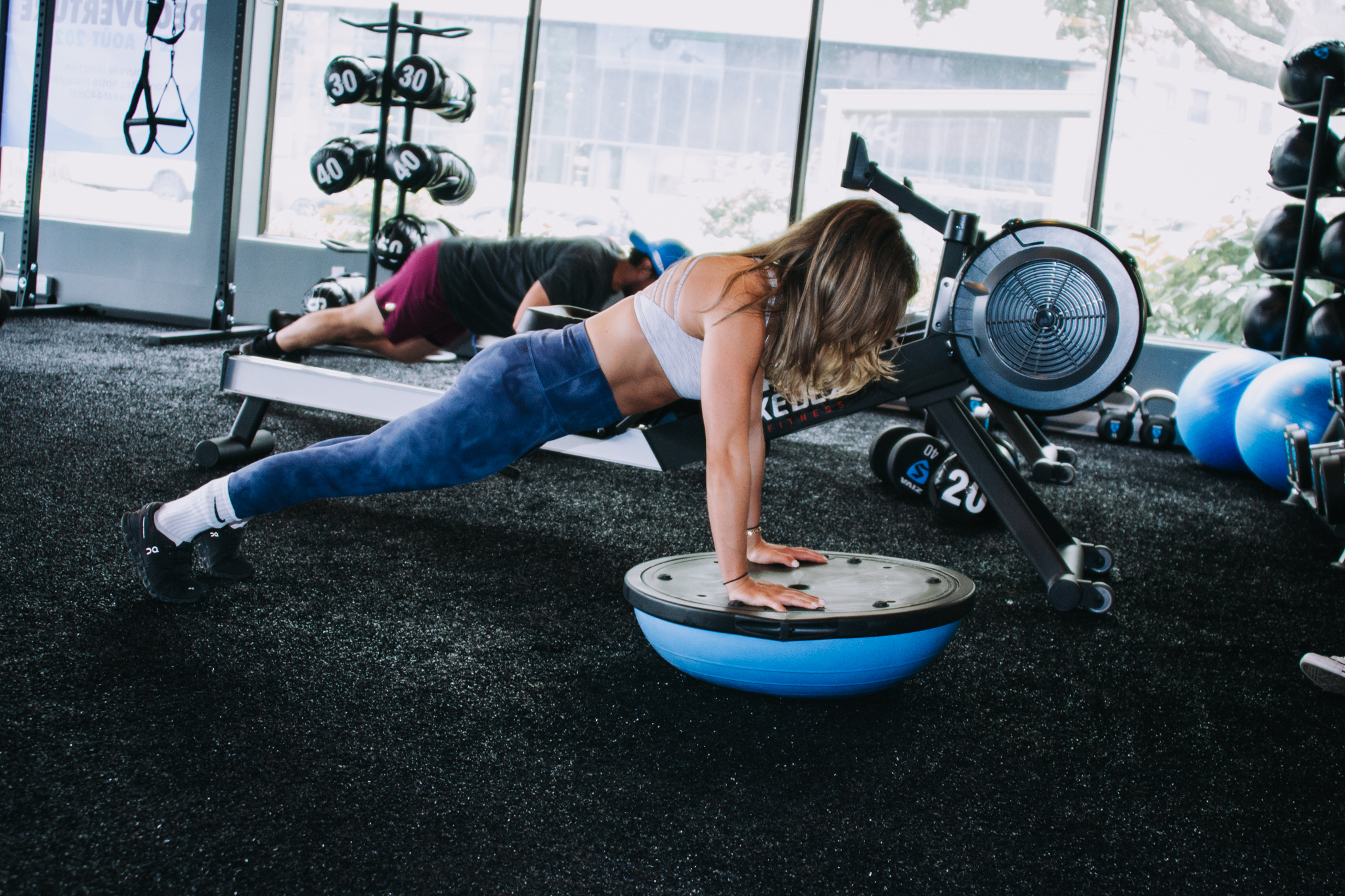 4. HIIT Athletic Training Programs Provide Inspiration
When you join a HIIT gym for athletic training programs, you benefit from your classmates. Your motivation, willpower, commitment, and endurance will grow, simply by working alongside like-minded individuals. When you do HIIT at home, workouts get repetitive. And if you do HIIT at home for weight loss, you lack the camaraderie that's beneficial to weight loss. 
At Sweat440, when you think you can't crank out another rep, you'll be inspired by those around you. Countless studies show that doing fitness together yields more rewards than going it alone. The community and accountability will accelerate your game. Sweat440 is an affordable gym with contract-free memberships, so you can try a class risk-free.  
5. HIIT Performance Enhancement Training Prevents Injury
Working with HIIT trainers isn't just advantageous for your performance. It also prevents injuries that could sideline you. HIIT is intense, and it requires the right interval variations to prevent overexertion and overuse of muscles. Trainers will pull the best out of you without pushing you past safe limits. Other intense workouts like Crossfit are notorious for injuries. Search for a "gym near me" that will max out your fitness without overtaxing your body. HIIT is even approved for cardiac rehabilitation.
6. HIIT Sports Performance Training Programs Prevent Plateau
Just as HIIT trainers prevent injury, they also prevent plateau. Many athletes have overdone it when they didn't have the proper guidance. But many have also failed to reach their potential because they underestimated themselves. Trainers keep the workouts varied, so you don't hit a lull. 
At Sweat440, our extensive fitness equipment and creative trainers multiply what you can do with HIIT at-home equipment. Visit Sweat440 Noda near Cordelia Park for your free class! Our trainers look forward to helping you exceed your athletic goals!
Which Gym Near Me Offers HIIT for Sports Performance?
How Do I Find a HIIT Gym Near Me? 
Visit Sweat440 in NODA:
2116 N. Davidson St Unit C,
Charlotte, NC 28205
(888) 507-9328
How Do I Join Athletic Training Programs?
Try a free HIIT class at Sweat440. 

Inquire about contract-free memberships.

After your free trial, purchase classes as you wish.

Book a class time or stop by for your next workout.

Tell your instructor your sports performance goals.

Join athletes of all fitness levels crushing their goals.