Anytime Fitness Class Schedule With Classes Every 10 Minutes
Are you a fan of fitness classes? Do you have a hard time getting into the ones you want? Many gyms boast extensive hours, but their class schedules don't match up. What good is an Anytime Fitness, or 24 Hour Fitness, if there are no classes scheduled for when you work out? Some gyms might have the class you want, at the time you want, but the spots are always full. Gyms like OrangeTheory and SoulCycle, for example, book up months in advance. Group fitness is the key to lasting results, so you need a gym with a class schedule that truly works anytime. 
Sweat440's classes start every 10 minutes and repeat throughout the day. So, not only can you get a spot in a class, you can even bump to a different spot if your schedule changes unexpectedly. You won't find that in other gyms with limited class schedules! In fact, many gyms even charge for classes you have to miss, or lock you out of classes if you're late. If you need an "anytime fitness" class schedule, Sweat440 is the gym you can count on.
Why Sweat440's Anytime Fitness Class Schedule Works
No matter what time you get to Sweat440, there is a class starting in 10 minutes or less! It's simply the most convenient class schedule in the fitness world! You can book a spot in a class at a moment's notice. Unlike some gyms where you have to commit to a certain day and time, you can change up your Sweat440 workout schedule to fit your changing needs. Personal trainers only offer you a specific time slot each week, and crowded gym classes require you to book well in advance of knowing your daily demands. But at Sweat440, we understand that life is dynamic, so we offer a class schedule that works with you anytime!
Our Friendly Professional Staff is Trained to Assist
How We Make Scheduling A Breeze
From the moment you walk in the door, our staff is trained to support your fitness journey. In fact, you can stop by any time, and our front desk staff will let you try a free class without contracts, memberships, or fees. Our scheduling app helps you select classes you like, but we can also work with you on the spot if you stop in with a chance to fit in a quick workout. 
How We Maximize Your Time
All of our classes utilize high-intensity interval training (HIIT), which burns the most calories in the shortest amount of time. We implement periods of high intensity interspersed with lower intensity and periods of rest to maximize health benefits while valuing your time. Our classes pack a punch in just 40 minutes, so you can always fit them into your schedule. It's no wonder the Mayo Clinic calls HIIT more enjoyable, more efficient, and applicable to all fitness levels.
How Our Training Makes a Difference
Before you sign up for a fitness class at another gym, know that teacher credentials vary widely. At some gyms, class instructors are not actually trained or certified. At others, they may be trained in one method, but scheduled to teach many different types of classes. And in many gyms, the certification process is done in 2 days, so you could take a class led by someone with virtually no experience.
At Sweat440, our certified instructors teach HIIT all day, every day. Every one of them is a specialist in the science behind our techniques, so you never learn from a rookie or an imposter. In fact, our gyms were founded by certified trainers who wanted to correct what was wrong with typical gyms, including inconvenient schedules and unequipped instructors. And our instructors circulate through every class, keeping you safe and inspired. We don't take a stationary stance where we can't see how each class member is doing. We favor smaller classes offered more frequently so we can prioritize all members and get to know each one of you.
Does it Matter How Much Support Your Classes Provide?
Sweat440's Class Schedule Promotes Safety
Some other gyms' classes are so jammed tight that you might as well be invisible. Instructors can't assist each member when there are too many at once, especially if they aren't even trained in the methodology. And many instructors at other gyms aren't trained to accommodate injuries, physical limitations, or shifts in ability like during pregnancy or after surgery. Having a supportive instructor who provides personalized training in your group classes is key to your success, as well as your health and safety.
Sweat440's Anytime Fitness Schedule Works For Beginners
Many gym's classes take a more competitive than supportive approach, sometimes to a detrimental level. Favoring elite members, putting beginners in the back of the class, or posting scores on a board for others to see, gyms like FlyWheel or OrangeTheory promote intimidation and shaming rather than support and encouragement. At Sweat440, we love our new members and we not only care about getting you acclimated and accustomed, we take it seriously.
Sweat440's Class Members Support Your Fitness Journey
It's not just the support of caring instructors that matters at Sweat440, it's also our amazing, uplifting members. We give each other high-fives between stations, pump each other up, and celebrate our successes together. We even have selfie stations to capture your post-workout glow and enjoy what you accomplished together. Whether you are new to fitness classes or a veteran looking for a better class schedule, come see why Sweat440's "anytime fitness" class schedule is the best fit for you!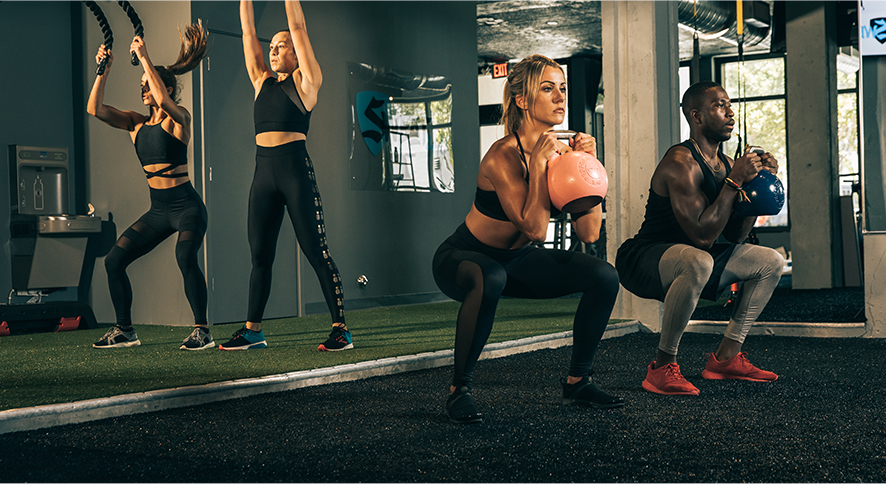 Most "Anytime Fitness" Classes Aren't Truly "Anytime"
Gyms Like Anytime Fitness Don't Offer Classes "Anytime"
Anytime Fitness only offers limited classes per day.
Anytime Fitness doesn't offer each class at multiple times a day.
Anytime Fitness' teachers' credentials vary, so you have to book certain ones.
Anytime Fitness doesn't have another class starting soon if you're late.
Anytime Fitness' most popular classes book up, so you can't get a spot.
Sweat440 Has Classes Every 10 Minutes for Fitness Anytime
Sweat440 has classes every 10 minutes, and your first one's free!
Sweat440's classes repeat all day, so you can always find your class.
Sweat440's instructors specialize in HIIT, so you get the best teacher every time.
Sweat440 never considers you "late," we just put you in the next available class.
Sweat440's classes are equally excellent, so you can confidently book any time!