7 Reasons This Nearby Gym in FIDI Gets 5-Star Reviews
If you're looking for a gym, you're probably considering the pros and cons of each one. A nearby gym in FIDI might have a big space, but also a big price tag and big waitlists for classes. Another nearby gym in FIDI might offer personal trainers, but finding a spot in their schedule and a session for less than a fortune is imposible.
What if you could join a gym with all the pros and none of the cons? Sweat440 in FIDI was designed to eliminate the hassles and downsides of NYC gyms through a member-centric platform. Our memberships are as individual as our members, and our classes are timed to your individual schedules. Sweat440 consistently ranks #1 because we do what no other gym in NYC does. We actually put our members first! Take a look at 7 reasons our members leave 5-star reviews.
1. Our Founders' Unique Perspective
One thing that sets us apart from any other nearby gym in FIDI is that our founders are highly sought-after trainers. They created Sweat440 after years of listening to their clients. They understand what was missing in other gyms, and designed Sweat440 to meet members' needs. That started with providing free training in every group class, since training is essential, yet one of the harder things for members to afford.
2. Our Free Classes & Trainers
Our founders also wanted to provide free classes for all newcomers. They know that trying something new can be intimidating, and that signing a year-long contract before trying a gym doesn't benefit the member. Not only do you receive a free class, but also free training in every class you attend! Our trainers circulate through every class correcting form and providing assistance and accommodations for limitations. You won't find such individualized instruction for free anywhere else!
3. Our Positive Environment
If you tried any other nearby gym in FIDI, you've likely encountered some negativity. Whether it's an air of elitism, intimidation, or overcrowding, newcomers don't feel welcomed in many gyms. But Sweat440 is thrilled to welcome new members, and our trainers show you the ropes from the start. We'll never put you in the back of the class or leave you to figure things out on your own. We play upbeat music, give each other high-fives, and encourage each other to reach our goals. As tough as our workouts are, they're equally uplifting. People of all fitness levels work together to reach optimal fitness.
4. Our State-of-the-Art Equipment
Tired of your treadmill? We hear you! At Sweat440, you won't find a boring piece of equipment in the gym! From Assault Bikes, to Versa Climbers, to Ski Ergs, we take cardio, infuse it with resistance, and deliver a total body workout. Our machines are versatile to accommodate any limitations or injuries. But they also offer a full range of motion to target all those trouble areas on your body. Whether you're shoving our sleds, throwing our balls, or tossing our battle ropes, boredom never enters the equation. We even have innovative animated demonstrations at each station, so you're always in the loop.
5. Our Incredible Schedule
Want to take a class whenever you feel like it? You can at Sweat440! If you planned on hitting the gym at 5:00 but traffic, a conference call, or your kid's soccer game popped up, it's no problem at Sweat440! Our classes start every 10 minutes!! Where else can you find that in NYC? And the classes repeat all day. So, if you were hoping to hit a 5:00 Shred class, you can still take one later that night. Many gyms only offer each class once or twice a week. But we offer them all day long, and our classes are different each day, so you can come as many times as you like!
6. Our Convenient Locations
If things are inconvenient in NYC, what's the point? One of the best things about living in the Big Apple is that you can walk or grab quick transit to all of your necessities. Sweat440 in FIDI is conveniently located near the Fulton Street Station, Wall Street Station, and Water Street-John Street bus stop. It's just steps away from the New York Stock Exchange and Federal Reserve Bank of New York. Whether you live or work near FIDI, Sweat440's convenient locations are just one more reason our gyms receive 5-star reviews. With another convenient location in Chelsea, Sweat440 makes fitness possible anywhere in NYC.
7. Our Free Amenities
Working out is a time commitment that you should be proud of yourself for making. It's tougher to make that commitment when it involves rushing home to shower before work or social engagements. Sweat440 has locker rooms, showers, towels, water fountains, and even a selfie station to check your look on the way out the door. With free trainers, free animated demos, and our scheduling app, we simplify fitness. Our classes pack a ton into 40 minutes, so you can reach your next appointment quickly. Members love that we are their one-stop-shop for fitness, with amenities that maximize your time.
​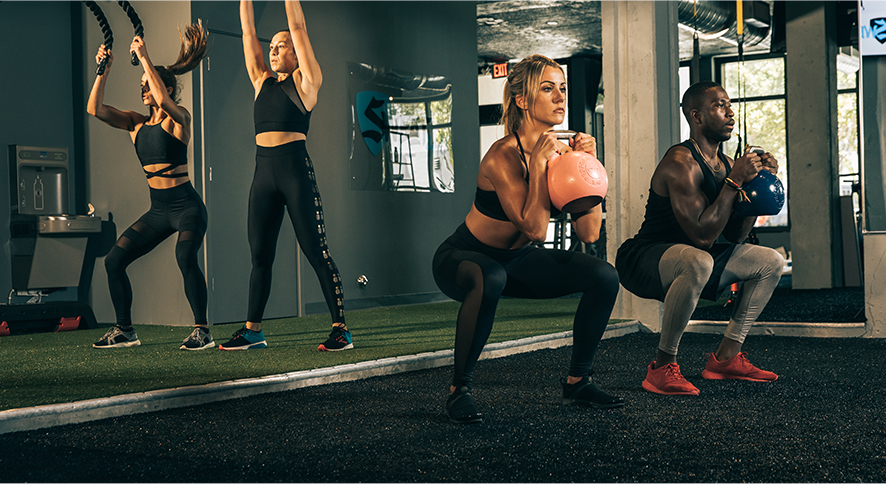 Why Our Nearby Gym in FIDI Gets 5-Star Reviews
Our founders' unique perspective
Our free classes and trainers
Our positive environment
Our state-of-the-art equipment
Our incredible schedule
Our convenient locations
Our free locker rooms and showers
No contracts or hidden fees
No overcrowded classes
No elitist or intimidating vibes
No boring, outdated equipment
No limited class schedules
No fighting traffic to get to our gym
No extra fees for amenities