The Gym Miami Beach Can't Stop Talking About: Sweat440
Sweat440
 opened in Miami Beach to such rave reviews that 3 more locations quickly filled the demand. The fresh approach to fitness includes a boutique setting with personalized instruction, complemented by innovative equipment and HIIT methodologies. The combo resulted in something Miami Beach now swears by. Our 40-minute classes burn more calories than any other class in town, and we have more fun too! But that's only the beginning. Check out 5 reasons Miami Beach and Sweat440 are made for each other.
5 Reasons Sweat440 Blows the Competition Out of the Water
1. Convenience Beyond Compare
CLASSES:
Our classes start every 10 minutes, yes, every 10 minutes! There's no other gym in Miami Beach offering a schedule like that! In fact, most are overcrowded and overbooked with waiting lists a mile long. If you're running late, you don't have to miss a class at Sweat440-  you're #neverlate! You can just pop into the next available class. Crisis averted, and penalty fees are nonexistent.
LOCATIONS:
We offer 4 convenient Florida locations in Miami Beach, Downtown Doral, Brickell, and Coral Gables so you are never more than a few steps away from the best fitness class of your life. If you travel often, we have locations in New York, and internationally too!
PROXIMITY:
Sweat440 is in walking distance to healthy lifestyle options, so you can fit errands into your workout routine. Stop into Sunset Juice Cafe or Delicious Raw Kitchen and Juice Bar for pre or post-workout fuel. Get your caffeine fix at Panther Coffee Miami Beach or pick up healthy produce at Publix or The Fresh Market, all within a block of Sweat440 Miami Beach.
2. Group Fitness Classes Beyond Compare
We provide upbeat, positive group fitness classes all day long. In fact, it's our specialty. We believe in the power of fitness together, where we support each other and spur each other onward. Group fitness provides more motivation, camaraderie, and enthusiasm than working out alone. Together, we hold each other accountable and celebrate successes.
Our classes include high-fives and awesome music that bond our members in their quest for better fitness. Our classes repeat throughout the day, so you never have to miss out. We target different body parts each day of the week, and we always torch your core. We know you want abs for South Beach! Come to Sweat440 and shred them!
3. Personal Training Beyond Compare
Every single one of our classes includes personalized training for no additional fee! Where else in Miami will you find that? Our team of certified instructors circulate through every class correcting form, assisting with limitations, and ensuring you're working at the best level. We are pros at making sure you push yourself to the best of your abilities, without pushing you too far.
You won't believe what you are capable of with our instruction. We care as much about safety as capability, and will never force you into something uncomfortable, unlike boot camps and other trainers in town. But we also know that coasting won't get results, so we help you push past perceived limits to create your best body.
4. Pricing Beyond Compare
What other gym in Miami Beach has no contracts, no initiation fees, and no minimum classes to purchase? And where else can you find classes you don't have to pay for if you cancel? Sweat440's founders know the frustration members feel at other Miami Beach gyms, because they are highly sought-after trainers themselves. They decided to create a gym that erased the shady pricing and binding contracts and make fitness affordable and accessible for all.
The most important component of getting fit is consistency, and Sweat440's founders understand that cost and undesirable contracts can prohibit consistent workouts. At Sweat440, you'll find a member-focused gym, where your fees produce an excellent return on investment- both in fitness results and a positive experience. Check out our 5-star reviews to learn more.
5. Results Beyond Compare
We know how frustrating it is to give something your all and not get the results you deserve. At Sweat440, we eliminate that possibility by providing the workout proven to produce the best results in the shortest amount of time. High-intensity interval training (HIIT) packs a powerful workout into 40 quick minutes, so you craft the physique you seek in a fraction of the time.
Experts agree, nothing compares to HIIT for burning fat, blasting calories, or building muscle. Why waste time with a longer mediocre workout when you can shred, shape, and sculpt yourself at Sweat440 in half the time? Pop into our selfie station and capture your post-workout glow. You won't believe how quickly you'll see a difference. Come see for yourself today!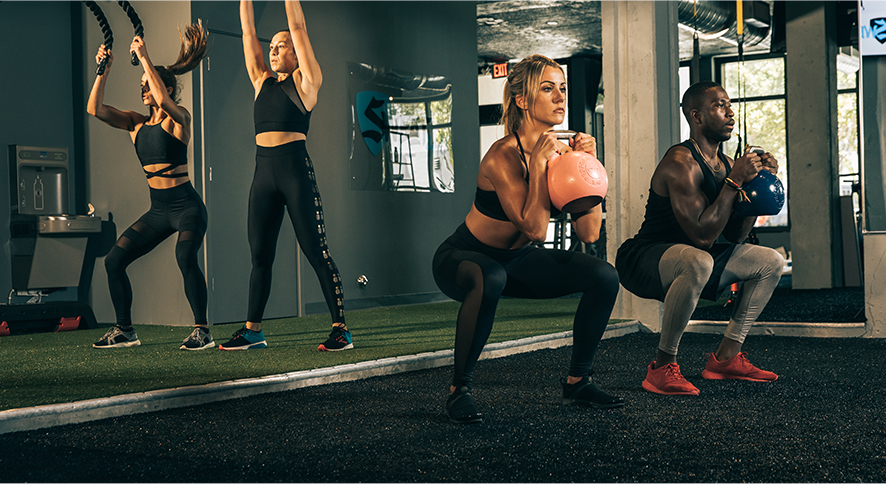 Why Miami Beach Loves Sweat440
Sweat440 Takes Care of its Members
Sweat440 puts members first: in pricing, convenience, and amenities.

Sweat440 has multiple locations in Miami Beach and other major cities.
Sweat440 is close to your favorite spots for dining, shopping, and entertaining.
Sweat440 prioritizes health over revenue with fair pricing.
Sweat440 doesn't use obnoxious contracts or hidden fees.
Sweat440 gets results like no other gym in Miami Beach.
Sweat440 has classes every 10 minutes, all of which teach HIIT.
Sweat440 includes personal training for free in every group fitness class.
Sweat440 Has a Gym Near You
In Miami Beach– 1916 Bay Rd., Miami Beach, FL (305) 902-6190
In Coral Gables– 301 Altara Ave., Suite 111, Coral Gables, FL (305) 851-6876
In Downtown Doral– 8395 NW 53rd St., Doral, FL- coming soon!
In Brickell– 25 SW 9th St., Suite G100, Miami, FL (305) 417-5026
In NYC/Chelsea- 600 Sixth Ave., New York, NY (646) 906-9649
In NYC/Financial District– 80 John St., New York, NY- coming soon!
In Montréal– 5000 Rue Jean-Talon O Montréal, QC H4P 1W9 (514) 594-0440
Worldwide- More locations coming soon to a neighborhood near you!