Sweat440 Gym Membership Prices Near Me
In recent years, there has been growing discontent over gyms employing unethical practices to trap members into legally binding contracts. Once your membership starts, it becomes all but impossible to leave the membership before the contractual period, which may be over a year long. Even after the contractual period, several gyms make it incredibly difficult to cancel your membership, necessitating complicated multi-step processes to exit the membership. Understandably, people have had enough — if a gym tries to ensnare you into their membership, they're probably not doing much to make sure you want to stay in the membership. There should only be one valid reason to remain in a gym membership — because you genuinely want to continue your fitness journey to meet your fitness goals.
Besides inflexible and legally binding contracts, you should also be wary of incredibly expensive annual fees and gym memberships. Some of the most expensive gym memberships, have you pay for a wide range of amenities that you probably won't even use, such as multiple restaurants, salons, spas, and other superfluous luxury amenities. While expensive gym memberships should be avoided, you should also avoid extremely cheap gym membership. You should generally avoid both extremes of gym membership prices. Instead, you should find gym membership prices near me that seem reasonable and affordable, preferably without legally-binding agreements.
That's why you should look into "Sweat440 gym membership prices near me". Sweat440 gyms offer flexible membership plans that you're under no obligation to renew or extend. There are no legally binding contracts, fine prints, or loopholes. Please continue reading to learn about the membership or payment structures of other gyms and fitness formats compared to Sweat440.
Personal Training Prices
Personal training refers to one-on-one training with certified personal trainers. You have the personal trainer's undivided attention, and you generally have to pay for that attention on an hourly basis. The hourly cost of personal trainers depends on several factors, but it usually ranges from $35 to $120, with the natural average cost being $55. That means you have to pay around $55 for each session — if you choose to work out five days a week, well, you can do the math. As such, personal training may give you access to highly-curated services, but they also drain your bank account. Furthermore, most people believe that they should see results faster because they're paying more, but that's not necessarily how it works — you may not see the results much sooner than you would with other effective group fitness classes.
Sweat440: The Most Affordable and Flexible Memberships
Sweat440 gyms offer flexible, affordable, and no-contract memberships that you can get out of easily. Our gyms are incredibly affordable, but that affordability doesn't come by sacrificing crucial components of fitness, such as equipment, sanitary locker rooms, structured workout plans, and on-site certified fitness experts. Our group fitness classes are always monitored by certified experts who motivate you and discuss your fitness goals to improve your efforts. Furthermore, our state-of-the-art gyms are equipped with rowers, assault bikes, sleds, battle ropes, and other cutting-edge workout equipment. Sweat440 provides three formats of memberships:
You can drop-in and pay for an individual session on-site.
You can purchase a group of 10 sessions at a go. Once the 10 sessions are over, you can extend or discontinue the membership.
You can enroll in our unlimited membership for a specific period. Once the membership period is over, you can decide if you want to continue or discontinue.
Sweat440 Free Trial Session
Sweat440 gyms are located in New York, Florida, and Montreal. All our gyms provide a free trial session to first-timers — you can find your nearest Sweat440 gym and claim your free trial session today.
​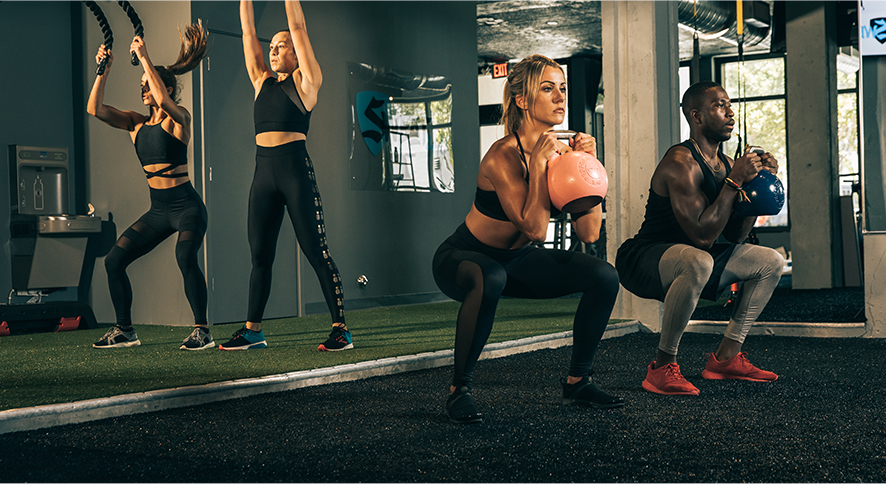 Gym Membership Prices Near Me
Sweat440 Membership Plans
Free trial session for all first-timers.
Drop-in rate for a single session.
Pack of 10 fitness sessions.
No-contract monthly memberships for a specific period.