9 Ways to Save on a Gym Membership Near South Beach
1. Try Free Group Fitness Classes
Who doesn't want to be fit in South Beach? But the cost of some Miami Beach gyms makes fitness seem financially out of reach. One of the best ways to jumpstart your fitness without breaking the bank is to try free group fitness classes. Sweat440 Miami Beach offers free classes every 10 minutes for all newcomers, with no obligation to join the gym. It doesn't cost anything to give fitness a try at Sweat440, so what are you waiting for?
2. Skip the Binding Contracts
If you're not sure how much you want to invest in a gym, skip the gyms with binding contracts. Most gyms require you to sign on for 6 months, 12 months, or more, in order to use the facility. The longer you sign on for, the lower the rate sometimes gets. But these contracts are often hard to exit, which leaves you paying even if you need to quit. Instead, choose a gym like Sweat440 in SOBE where contracts aren't used at all. We let members decide when to come and go, with no cancellation fee or waiting period to quit. It's a right that few gyms allow their members, so read the fine print closely before you join.
3. Avoid the Hidden Fees
Some gyms in South Beach charge extra for everything under the sun– from towels, to lockers, to parking, to classes, and personal trainers. Others require you to buy their heart monitors or cycling shoes, or charge for amenities you might not use. Most have fees they don't advertise, like initiation fees, annual fees, termination fees, and annual increases to their membership fees. At Sweat440, there are no hidden fees whatsoever. You only pay for the classes you actually attend, and you get to choose how many classes to buy. Our weekly and monthly rates average between $4-$5 per day, which is the best deal you'll find for high intensity interval training, led by qualified HIIT instructors.
4. Let Your Fitness Class Double as Happy Hour
Life is busy, often forcing you to choose between exercise and social life in your spare time. Sweat440 offers high-energy, group fitness classes with upbeat trainers and invigorating music. Meet your friends for a HIIT class instead of happy hour. We promise you'll leave feeling even happier. That overpriced cocktail is no match for the stress release, endorphin boost, and calorie burn you'll get at Sweat440. Grab your besties and get your sweat on before a night out on South Beach. Swapping happy hour for a Sweat440 HIIT class is a money-saving tip that pays off big time for your health.
5. Choose a Gym With Free Personal Training
If you live near South Beach, you'd probably love to have a personal trainer to keep you looking beach-ready all year long. The problem is that personal training can be super pricey and it also ties you to an inflexible workout schedule. Instead, choose a gym with free personal training in each class. Sweat440's HIIT classes are led by certified instructors who provide personalized input to customize each member's workout. From adjusting your resistance, to providing accommodations, to adapting your rep count, to improving your form, our trainers individualize each session to suit your unique fitness goals. The best part? That expertise doesn't cost a thing! It's just a perk we provide our members in every single class they take.
6. Pick a Fitness Experience Close to South Beach
Want to save even more? Choose a gym within walking distance of South Beach! Save money on Uber, parking fees, and fuel by exercising right where you plan to spend your day (or your night!) Sweat440 is just a one-mile walk to the beautiful sands of South Beach, so you can crush out a quick 40-minute class and walk to the beach in less than an hour. Or bike over to Sweat440 from your beach condo without paying Lyft or Uber to take you there. Sweat440 Miami Beach is located right near where you work, play, and live, which saves both time and money.     
7. Practice High-Intensity Interval Training
One of the best ways to save money is to choose an efficient fitness method. High-intensity interval training (HIIT) is as good for your wallet as it is for your waistline. This specific blend of high intensity movement, coupled with low intensity breaks, causes your body to reach its VO2 Max, (maximum oxygen consumption during exercise) and also to achieve EPOC (excess post-exercise oxygen consumption). What does this mean for you? Far more calories are burned both while you work out, and also afterward, than with other fitness methods. If you want quick results without paying for 7 classes a week, HIIT is your golden ticket. Sweat440's affordable memberships make frequent attendance very budget-friendly. But if you just want to dabble in exercise at first, or take one class a week, you'll love how quickly results appear with our HIIT techniques.  
8. Make Your Fitness Goals Known
Want to make those membership dollars count? Tell your trainer your fitness goals in your very first class. Some gym goers at other gyms watch years' worth of membership dues float down the drain, since they don't ever reach their goals. At Sweat440, we are a class-driven gym, which means there's an instructor involved every time you work out. You aren't left to your own devices to figure out how to get fit. Let us know what you want to achieve, and we'll customize your session to expedite that outcome. Our group fitness classes are an excellent source of motivation and inspiration to make sure you get what you paid for at Sweat440.
9. Opt for a State of the Art South Beach Gym
Some people choose the cheapest gym membership near South Beach, thinking it will save them money. However, cheap and affordable aren't the same thing when it comes to fitness centers. Broken, outdated, or insufficient equipment won't help you achieve optimal fitness, and could cost you extra if you're injured by faulty equipment or lack of trainer oversight. "Bargain" gyms often lack essentials like fitness classes, personal trainers, and enough machines for everyone to have a turn. Instead, look for a state of the art South Beach gym that's affordable without cutting corners. Sweat440 offers several membership levels so you can benefit from cutting-edge equipment and top-notch trainers at a price that's right for you. Try our innovative South Beach gym today, and enjoy a free class and new member specials!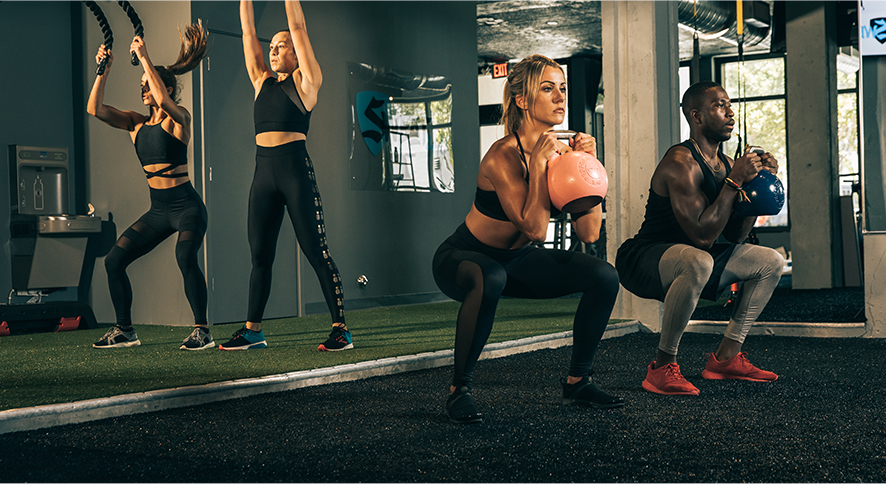 9 Ways Sweat440 in South Beach Saves You Money
Sweat440's Money-Saving Perks
Free group fitness classes
No binding contracts
No hidden fees
Happier & cheaper than happy hour
Free personal training
Walkable to South Beach
HIIT's efficiency is affordable
Trainers expedite your progress
State of the art equipment works faster
Extra Costs at Other South Beach Gyms
Classes cost extra
Contracts lock you into paying longer
Hidden, annual, initiation, & cancellation fees
Full classes = wasted membership fees
Personal training costs extra
Fuel, parking, and transit costs
Other methods work slower than HIIT (less ROI)
Customized workouts cost extra
No state of the art tools = money down the drain