What's the Best Gym Membership Near Me in NYC for Beginners?
​What Should I Look for in a Gym Membership as a Newcomer?
Whether you are new to gyms in general, or just ready to switch gyms, there are certain things to look for to ensure a smooth transition. Being new to a gym can be exciting, but also intimidating, so it's best to try a gym like Sweat440 Chelsea that makes it easy to get started. You want the essentials like locker rooms and ample equipment, but for beginners, there are other crucial elements. Here are some key things to look for before you sign up.
No Binding Contracts: If you've never joined a gym before, you might not know exactly what you want until you test the waters. Choose a gym membership that doesn't require an annual contract or initiation fees, so you're free to leave if it isn't what you had in mind. And if you have belonged to other gyms, you know what a headache it can be to get out of a contract if you need to move, take a break, or try a new fitness center. Sweat440 Chelsea doesn't lock members in, so you can freely visit our gym as many times as you like without being tied down.
No Intimidation Factor: Maybe some people like an intimidating gym, but we've never met anyone who does. It's particularly nerve-wracking for newcomers to blend into a gym where bodybuilders are throwing weights on the ground and snarling at themselves in the mirror. Likewise, joining a gym that feels like an exclusive club for the fitness elite will discourage newbies from coming back. You want a gym that offers everything you need to reach peak fitness (HIIT classes, state of the art equipment, and excellent personal trainers), but you also want an environment that welcomes new members warmly and shows them the ropes, which is exactly what you'll find at Sweat440.  
Free Classes for Beginners: Don't trust a gym that won't let you take a trial run before signing up. It's important to assess whether the environment is positive, welcoming, and conducive to safe fitness. Look for updated equipment, trainer-led classes, instructors onsite to assist you, and sanitization practices to keep you healthy. At Sweat440, we offer free classes for beginners every 10 minutes. It's the perfect way to see how our trainers work, what our HIIT classes are like, and what equipment we provide, while also meeting our awesome members of all different fitness levels.
Should I Join a Small Group Class as a Beginner?
Sweat440 offers free classes to every beginner, not just so you can see how you like our gym, but also so you can see what you're capable of. Our classes run for 40 minutes and we pack 3 sets of 12 exercises into each class, with 15-second rest periods between sets. Our HIIT fitness formula is perfect for beginners, as well as elite athletes, and it works faster than anything else. The intervals of intensity allow you to complete more reps with better form and greater resistance than you think you can. Small group fitness classes are a great way to integrate as a beginner, since you meet people immediately who join you on your quest to better fitness. You'll feed off of their energy, enthusiasm, and determination, and you'll also have more fun. Trying a free group class at Sweat440 Chelsea is the best way to determine if it's the right "gym membership near me in NYC" for you.
Should I Try a Personal Training Session as a Beginner?
Personal trainers are awesome for beginners because they can analyze your current abilities and chart the course to safely, yet quickly, achieve your goals. Personal training sessions prevent newcomers from getting injured, and also from getting overwhelmed or intimidated in the gym. But not everyone can afford personal training, nor can they commit to a certain training time each week. That's why Sweat440 offers free training in all of our small group fitness classes. We want new gym-goers to get off to a safe and productive start. We also want to help our seasoned athletes to continually reach new heights. Personal training in a group class setting provides optimal workouts for members of all fitness levels.   
Does an All-Access Membership Benefit Newcomers?
Some gyms offer a free trial, but it's limited. There might be one specific class you can try, or you might have to choose from limited time slots to meet with a personal trainer. At Sweat440, newcomers can try any of our classes, at any time of day. What to shred your lower body, shape your upper body, or sweat through a core conditioning class? Take your pick! We want you to try what appeals to you, because once you join, your all-access membership allows you to jump into any class you like. At some gyms, there are only one or two beginner-level classes to choose from each week. But at Sweat440, all of our classes work for all fitness levels, and our personal trainers guide you throughout the class.
Which New York City Gym Welcomes Newbies?
If you're a New York City resident, you've probably heard of some notorious gyms that don't treat new members very nicely. Some have extensive waitlists for members to join, while others stick newcomers in the back of the class or prioritize high-profile customers when registering for a class. Others don't offer a free trial and require you to sign up for a year before you can take a class. Intimidation in the gym is one of the surest things to deter you from coming back. So, don't join a gym where the only thing you have to show for it is a membership card. Choose the gym where new members are included, assisted, and supported, with no contractual obligation: Sweat440 in Chelsea. Located right near the Flatiron Building, we're easy to find, and also easy to join!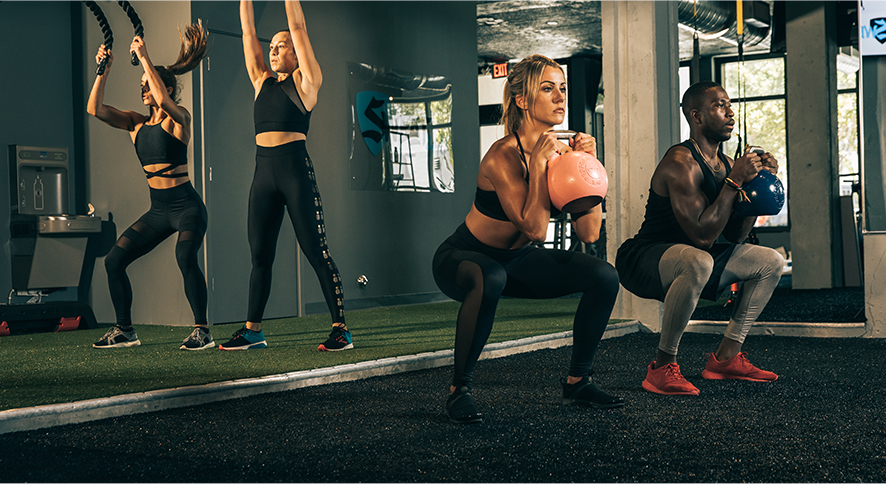 Beginners' Tips for a "Gym Membership Near Me in NYC"
Things to Look for in a New NYC Gym:
Several free classes to try
No intimidation factor
No contract to sign
No hidden fees to join or cancel
A welcoming environment
Trainer oversight for safety
Sanitized and up-to-date equipment
Things to Try at a Gym Before Joining:
Group fitness classes
Small group personal training session
A variety of different workouts
New equipment and machines
High-intensity interval training
Locker rooms and amenities
Class scheduling apps