What's the True Cost of Gym Membership Near Me in Manhattan?
What Is the Real Price of a Gym Membership Near Manhattan?
Gym pricing can be tricky for new members to understand, especially since some gyms write their contracts in ways that confuse their customers. Some fitness centers advertise low monthly fees or a free trial, but what is behind that introductory offer? Do you have to sign a year-long contract to get that free trial? Are your monthly dues compounded by initiation fees, annual fees, or cancellation fees? Are your membership dues subject to change at the discretion of the gym owner?
Sweat440's Manhattan gym makes pricing crystal clear, with no contracts or hidden fees. Being a member of our gym simply means you have access to all of the classes we offer, which you can buy in any amount you choose. Before you assume what a gym membership in Manhattan costs, determine what that membership includes.  
Does the Membership Include Fitness Classes & Trainers?
Many people with a gym membership near Manhattan pay a membership fee just to get through the door. Everything else costs extra, including fitness classes, personal trainers, and nutrition consultations. Several NYC gyms make you buy classes in bulk or buy in advance, and charge you for classes you miss. So, the membership fee is only the tip of the iceberg for what a membership truly costs at certain Manhattan gyms.
But at Sweat440, training is included for free in all of our classes, so you don't have to pay another cent for individualized instruction. Our classes are available to all members, unlike some gyms that prioritize high net worth individuals in certain classes. Our members have access to all of the equipment and are given their own workout pod to train safely, even during a pandemic. Our amenities, including showers, locker rooms, and towels, are free for our members, and we even have a selfie station for members to celebrate their successful session. Choose a gym where classes and trainers are included in the fee for the most affordable and effective workouts.
What Fees Aren't Included in NYC Gym Membership Dues?
A surprising number of things aren't included in your monthly dues at certain Manhattan gyms. Towel rentals, locker rentals, class fees, personal trainer fees, annual fees, initiation fees, cancellation fees, parking fees, accessories fees (some gyms require you to buy their heart monitors, water bottles, spin shoes, and more), and even fees to download their scheduling app all tack on to the cost of joining their gym. Many gyms charge higher fees to cover their costs for things you might not even use, like a smoothie bar, sports courts, or spa treatments.
Sweat440 doesn't charge you for anything other than the classes you actually take. We don't even charge you for classes you need to cancel. Always read the fine print on any gym membership application, and also ask questions, to determine what fees you'll incur before you agree to sign up. Joining a contract-free gym like Sweat440 is the best way to ensure you aren't surprised by unexpected fees.  
What Is the Return on Investment for a Gym Membership?
If you join a gym that you can afford and you consistently attend, the return on investment is tremendous. Regular exercise increases focus and stamina at work, improves your self-confidence, boosts your endorphins, reduces cortisol, and wards off countless injuries, ailments, and diseases. It also adds enjoyment, socialization, and a sense of accomplishment to your life. When you love your gym, there is no limit to the benefits you reap from the investment.
However, if your gym membership stretches your budget too thin, or you don't enjoy your gym, you won't reap the same return on your membership investment. If you're dissatisfied with your gym, you aren't likely to go, so you'll simply be paying fees to get nothing in return. And if your gym is too expensive, but you're stuck in a membership that's tough to get out of, it creates financial stress, rather than being money well spent. Paying extra for every little thing at a gym also isn't a wise investment. If you paid to join, you shouldn't have to also pay to exercise. Join a gym like Sweat440 where the only thing you pay for is the thing that benefits you.
Which New York City Gym Memberships Are Most Affordable?
While some people choose to blow their whole budget on a gym, most New Yorkers are more sensible than that. With all the city has to offer, most Manhattanites are looking for the best gym they can join while still having plenty left in their budget to live life to the fullest in the Big Apple. Sweat440's gym in Manhattan fits the bill, since it provides all the perks of boutique fitness at a transparent, affordable price. You won't miss out on anything at our gym in terms of equipment, classes, trainers, or amenities. But you also won't go broke getting fit with us! Try our New York City gym near Madison Square Park today!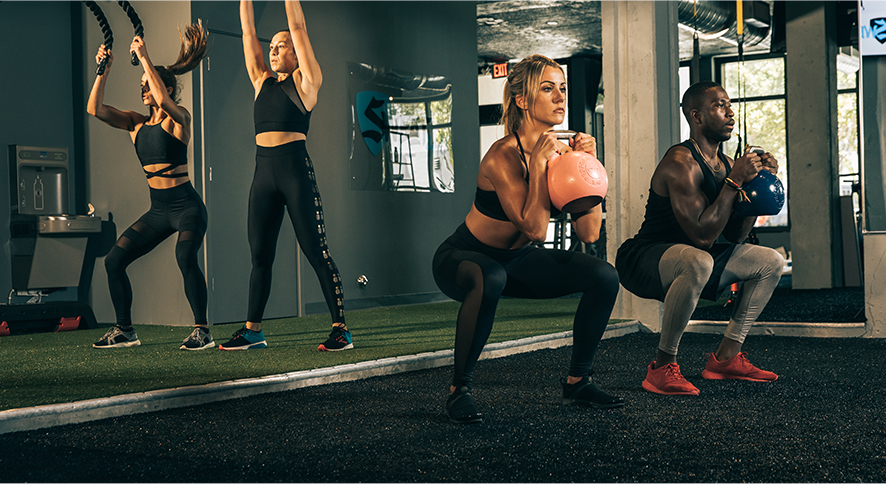 Determining the True Cost of Your Manhattan Gym
Monthly dues
Personal training fees
Cost of fitness classes
Annual fees
Initiation fees
Parking fees
Amenities fees
Hidden Costs to Watch for:
Proprietary equipment to purchase
Minimum purchase requirements
Class cancellation fees
Locker and towel rentals
Increases in membership fees
Membership termination fees
Monthly dues after cancellation request