Gym Membership Near Coral Gables With Free Personal Training
How Much Does Personal Training Cost in Coral Gables?
From luxury cars, to luxury yachts, to luxury resorts, Coral Gables boasts some of the most lavish experiences in South Florida. Personal trainers in Coral Gables often fall in the same category. The cost of hiring a personal trainer can run as high as $200 per half-hour session. Fortunately, there's a better alternative. Renowned trainers Cody Patrick and Matthew Miller created Sweat440 gyms to make personal training accessible to everyone. Click HERE to inquire about free training at Sweat440 in Coral Gables and read on to learn more!
Why Are Personal Trainers So Expensive?
Some people assume the price of a personal trainer is directly linked to their level of expertise and effectiveness. In reality, the price is often more related to the local demand. In a city like Coral Gables, with beautiful beach access year-round, everyone wants a personal trainer! Personal trainers only have so many hours in their day, and they have to reserve those hours for individual clients, which means the demand outmatches the supply. When you hire a personal trainer, you're paying a premium in South Florida, since that time slot is a precious commodity. The price is compounded by the fact that you'll be charged if you have to cancel. Since trainers reserve that spot for you, they can't fill it at a moment's notice if your meeting runs long or your child wakes up with a fever. The good news is, Sweat440 offers an affordable way to work with top-level trainers, without even committing to a specific time slot!
Is Personal Training Worth the Investment?
When you work with a qualified trainer who customizes your workout, it provides an excellent return on your investment… if you invest wisely. Trainers can charge exorbitant amounts that aren't worth it, especially since some don't individualize your workout. At Sweat440, personalized training is included for FREE in every small group HIIT class! Our instructors circulate throughout the gym, providing accommodations, suggesting ideal resistance and reps, and ensuring proper form. We adapt each exercise station as needed to meet your specific fitness goals. Rather than running you through the same routine as everyone else (like many trainers do), we observe your abilities, limitations, preferences, and potential to expedite fitness results. This expertise is included in every single class, whether you take a WARRIOR class, or a SHAPE, SWEAT, or SHRED class at Sweat440 Coral Gables.   
Will a Personal Trainer Help Me Achieve My Fitness Goals?
The right personal trainer is absolutely capable of propelling you toward your fitness goals. They'll assess your current fitness level, health issues, fitness goals, and preferred exercises to create a clear-cut path to your results. At Sweat440, our trainers are the best of the best. In addition, they're backed by a powerful secret weapon: our inspiring members! Each of our classes contains people of all fitness levels working together in a positive, upbeat environment. Our trainers give you the instruction, motivation, encouragement, and assistance you need, and our classmates add an additional measure of inspiration, enthusiasm, and camaraderie for the optimal outcome. At Sweat440, the powerful combo of personalized instruction and team spirit create unparalleled results.
How Can I Try a Personal Trainer for Free in Coral Gables?
If you're interested in the benefits of personal training, but not the hefty price tag or inflexible schedule, try Sweat440's small group training classes! Each of our classes are free for first time guests, so you can choose a day and time that works for you. With classes every 10 minutes, it's easy to find a training session that fits your schedule. Unlike other Coral Gables gyms, our gyms are entirely instructor-led. Every single workout is guided by a trainer, no matter when you arrive. You'll receive expert instruction in all of our classes at no additional cost! It's a totally risk-free way to see if you like our gym, as well as our HIIT method and personal trainers. Check out what else is free at Sweat440 below!
What Are All the Free Perks at Sweat440 Coral Gables?
Free HIIT class for every first-time visitor
Free personalized training in every class
Free of contracts or minimum purchase requirements
Free of annual, initiation, cancellation, and hidden fees
Free amenities like showers, towels, and lockers
Free of elitist or exclusive attitudes
Free of charges for missed classes
Free access to as many classes as you like
Free scheduling app
Free selfie station
Free use of individual disinfectant sprays and towels
Ready for Free Perks in a Gym Membership Near Coral Gables?
If you're ready to try a free class that includes free personalized training, check out Sweat440 in Coral Gables today! We're located right near where you work, live, and socialize, just steps away from Merrick Manor. With a continual rotation of trainer-led HIIT workouts 7 days a week, we make personal training affordable and easy to acquire.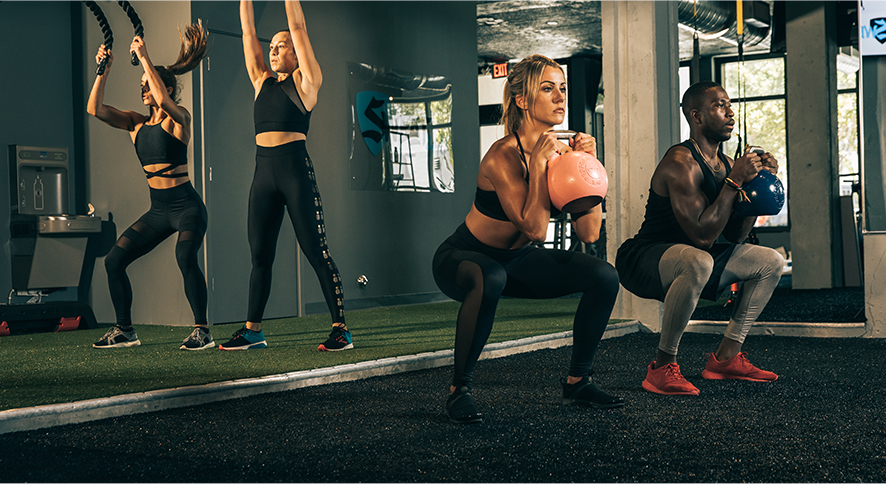 Personal Training Tips in Coral Gables
Look for a gym with a team of trainers, not just one
Look for an instructor with certification
Look for classes that include training for free
Look for evidence that workouts are customized
Look for a free trial to see if you like it
Look for a gym membership without a contract
Look for a gym that doesn't charge when you cancel
Look for small-group training for extra motivation
Avoid individual trainers- they charge when you cancel
Avoid singular trainers- no backup if they cancel on you
Avoid trainers who aren't certified
Avoid overpriced trainers- poor investment
Avoid trainers that don't offer a free trial
Avoid trainers that don't adapt the workout to suit you
Avoid trainers that require a lengthy contract
Avoid trainers that don't lead group fitness classes