We Answer Your Questions About Group Exercise Classes Near Brickell
There are a variety of group exercise classes near Brickell that cater to different fitness levels and interests. Whether you're looking for a high-intensity cardio workout, a relaxing yoga class, or something in between, there's sure to be a class that's right for you. Many gyms and fitness studios offer free trial classes, so you can try out a few different options to see what you like before committing to a membership.
Sweat 440 offers some of the best group exercise classes near Brickell. Our fitness center is at 25 SW 9th St. G100 Miami, FL, a short distance from the Brickell train station and the Navy Federal Credit Union. We offer group fitness classes with limited members, so you gain the energy of working out in a group and the personalized attention of personal training. Below, we answer your questions about group exercise classes.
What are group exercise classes?
Group exercise classes are a fantastic way to get fit and stay motivated. They provide a great opportunity to socialize and meet new people while getting a great workout. Most group exercise classes are led by a certified instructor who will provide guidance and support throughout the session. Classes typically last 40-60 minutes and can be intense or more relaxed, depending on the class type.
What are the benefits of group fitness classes?
There are many benefits to group fitness classes. They range from the social aspect of being around others who are working out to the motivation that comes from a group setting. Here are some of the benefits of group fitness classes:
Social Interaction

: Social interaction is one of the best things about group fitness classes. It's a great way to meet new people and make friends. You'll also see familiar faces, which can make working out more enjoyable. Working out with others can make the time pass quicker and the experience more enjoyable.

Motivation

: It can be hard to motivate yourself to work out, but in a group setting, you'll be more likely to push yourself. Everyone in the class is there to work out and improve their fitness, so you'll be motivated by those around you.

Variety

: With group fitness classes, you'll never get bored. There are always new classes to try and new people to meet. You'll never be doing the same workout routine twice.

Expertise

: When you take a group fitness class, you'll get the expertise of a certified instructor. They'll be able to give you tips and pointers to help you get the most out of your workout.

Accountability

: It's easy to skip a workout when you're working out on your own. But when you're in a group setting, you'll be more likely to show up and give it your all. There's a sense of accountability that comes with group fitness classes. Group fitness classes provide a supportive and enjoyable environment to help you stay on track with your goals.
Whether you're a fitness novice or a seasoned veteran, group fitness classes can provide several benefits. So, why not give it a try?
What is the most popular group exercise class?
The most popular group exercise class is most definitely HIIT training. This type of training is perfect for those looking to get their heart rate up and burn some serious calories. HIIT stands for high-intensity interval training and is a great way to get your cardio while also strength training. HIIT training is perfect for those who are short on time but still want a great workout. These classes are typically 40 minutes or less and jam-packed with intense intervals that will leave you feeling sweaty and accomplished.
How do I find gym friends?
The gym can be a great place to make friends. After all, you're all there for the same reason: to get healthy and fit. But how do you go about making friends at the gym? Here are a few tips:
Talk to people

. It may seem obvious, but the best way to make friends at the gym is to talk to people. Introduce yourself to someone new every time you go. Strike up a conversation while you're waiting for a piece of equipment. Chat with people during your workout. The more you talk to people, the more likely you are to make a friend.

Join a class

. If you're unsure where to start, try joining a group fitness class. This is a great way to meet people with similar interests. Plus, the fun environment of a class can make it easier to start a conversation.

Find a workout buddy

. If you're having trouble meeting people, try finding a workout buddy. You can look for someone at a similar fitness level or with similar goals. A workout buddy can help you stay motivated and make the gym more enjoyable.
Making friends at the gym can take some effort. But it's worth it! The friends you make at the gym can help you reach your fitness goals and make the whole experience more fun.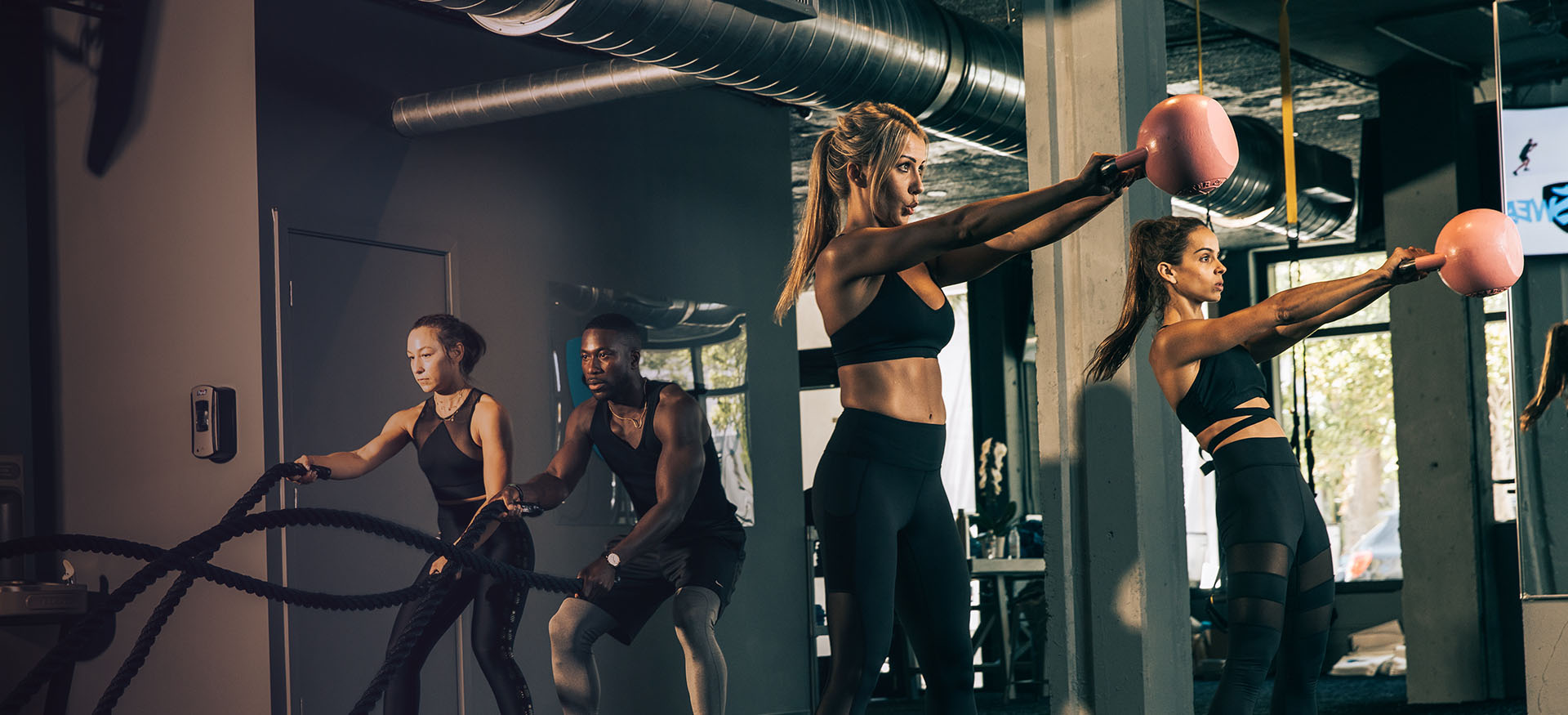 Are group fitness classes effective?
Group fitness classes can be an effective way to get in shape and improve your fitness level. They can also be a great way to meet new people and make new friends. Group fitness classes can be a fun and motivating way to get in shape, but they are not for everyone. Some people prefer to work out alone or with a personal trainer.
Sweat 440: best group exercise classes in Brickell
If you're looking for Brickell's best group exercise classes, you must check out Sweat 440 Brickell. This place has everything you could want in a workout, from great instructors to a fun and supportive community. The classes are challenging but fun, and you'll definitely see results if you stick with them. So if you're looking for a great way to get in shape, check out Sweat 440.
We offer free trial workout classes in Brickell, so you can try our classes before joining a membership. Furthermore, we offer extremely flexible memberships on a pay-as-you-go structure, so you don't have to worry about being tied down by inflexible contracts. If you're excited about initiating your fitness journey, drop in for a fitness class today!
Group Exercise Classes Near Brickell
Benefits of Group Fitness Classes:
Social interaction

Motivation to stay on track

Variety of exercises

Expertise of certified instructors

Accountability
Sweat 440 Class Schedule:
Monday

: Shape (Lower Body)

Tuesday

: Shred (Upper Body & Core)

Wednesday

: Sweat (Core & Conditioning)

Thursday

: Shred (Lower Body & Core)

Friday

: Shape (Upper Body & Core)

Saturday

: Warrior (Total Body)

Sunday

: Warrior (Total Body)