How to Get a Free Trial at SWEAT440 and Experience the High-Intensity Training for Yourself
Why Choose SWEAT440 for High-Intensity Training
At SWEAT440, we specialize in delivering high-intensity interval training (HIIT) tailored to various fitness levels, from novice enthusiasts to veteran athletes. Our unique 40-minute dynamic workouts optimize calorie burn, improve cardiovascular health, and develop strength and endurance.
We pride ourselves on our innovation, integrating cutting-edge fitness technology and equipment into our workouts to keep you engaged and challenged. Our four fitness stations, each consisting of three sets of exercises, ensure a comprehensive full-body workout.
Besides the physical aspect, SWEAT440 believes in cultivating a vibrant and supportive community to motivate every member in their personal fitness journey. Our dedicated coaches offer individual guidance, technique correction, and constant encouragement. Choosing SWEAT440 for your high-intensity training means embracing a holistic approach to fitness that appreciates your unique journey.
How to Get Your Free Trial at SWEAT440
Obtaining a free trial at SWEAT440 is a simple and straightforward process, granting you a chance to become part of our community and experience our unique workout structure without an immediate financial commitment.
To start your trial, visit our website and click on the prominently displayed 'Free Class' button. Fill out a short form with your details. This step isn't merely a formality; it's the beginning of understanding your fitness goals, ensuring we can accommodate your needs during your trial session.
Once the form is submitted, our team will be alerted of your interest, and you can schedule your first class at your convenience through our app. This way, we ensure your SWEAT440 journey starts off on a smooth note.
Your trial class is not a diluted version of our regular sessions; instead, it's the full SWEAT440 experience. You'll participate with our regular members, undergo the same dynamic workout, and receive the same attention and guidance from our coaches.
What to Expect During Your Trial Class
Starting a new fitness journey can be both exciting and daunting. At SWEAT440, we strive to make your trial class a positive, stress-free, and fulfilling experience. Here's a glimpse of what to expect.
On arriving at our facility, our friendly staff will welcome you and introduce you to your class instructor. They will guide you through the class structure, clarify the safety guidelines, and address any initial queries.
Each class comprises four 10-minute stations with a range of exercises designed to target different muscle groups. You'll transition through each station, performing three sets of high-intensity exercises with short rest periods in between.
Remember, the goal of the trial class isn't to outperform anyone but to immerse yourself in the SWEAT440 workout and community experience. So, give your best and enjoy the process.
The Benefits of High-Intensity Training at SWEAT440
High-intensity training at SWEAT440 is a game-changer for those wanting to enhance their fitness levels efficiently and effectively. Our HIIT model, with its fast, intense bursts of exercise and short recovery periods, keeps your heart rate elevated and your body working hard throughout the class.
This type of training offers numerous benefits. It boosts your metabolism, leading to increased calorie burn not only during the workout but also for hours afterward. It improves your heart's capacity and your muscles' ability to use oxygen. HIIT is also beneficial for building endurance and strength. Despite its intensity, HIIT is time-efficient, giving you a full-body workout in just 40 minutes.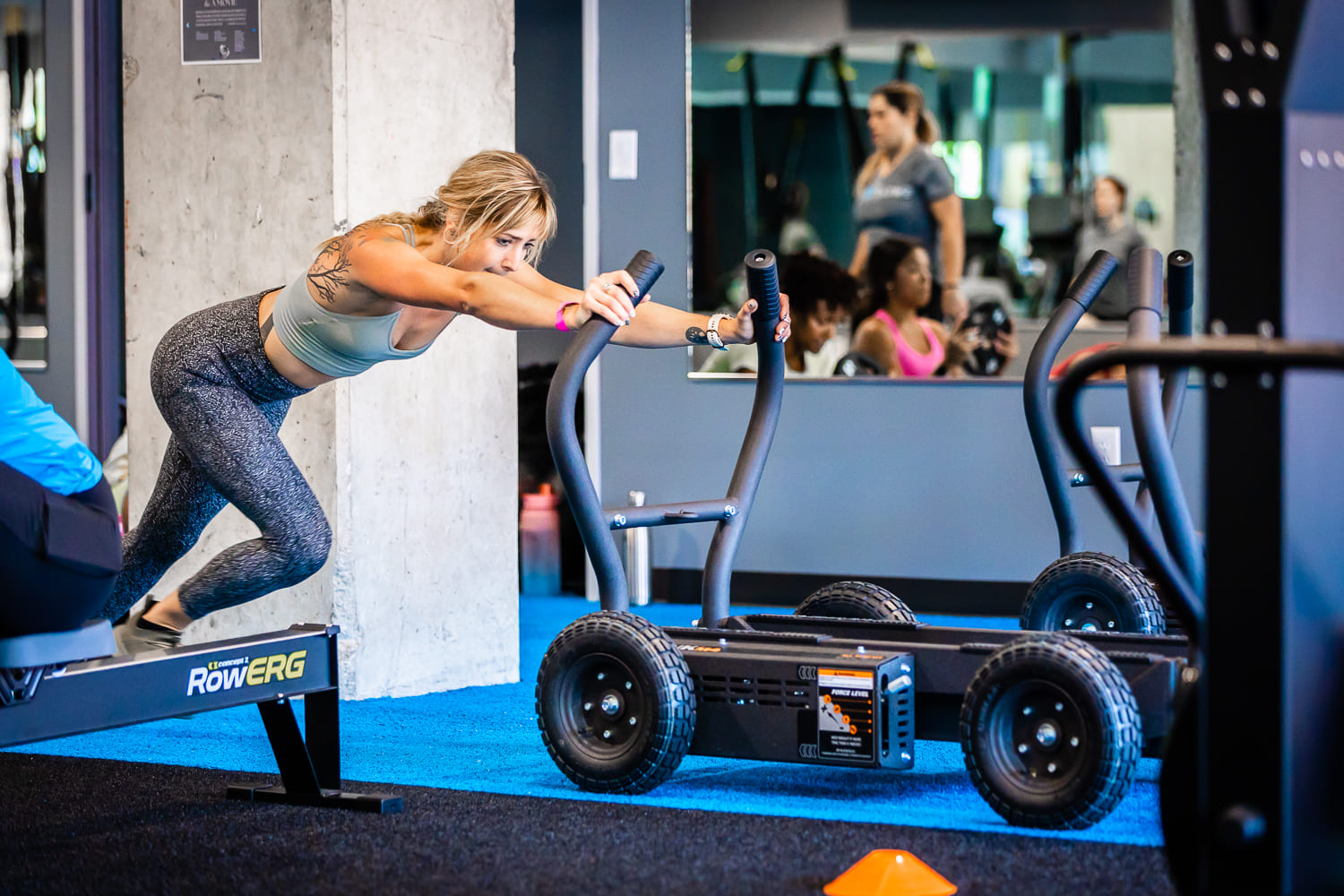 Making the Most of Your Free Trial
Capitalizing on the free trial at SWEAT440 is more than just attending a class. Here are some tips to make the most of your free trial:
Arrive early to familiarize yourself with the facility, meet the coaches, and fellow members, and prepare for the session.

Engage fully in the class, and remember that the goal is not perfection, but to do your personal best and enjoy the process.

Don't hesitate to ask questions or seek help. Our coaches are there to guide and support you.

Post-class, reflect on your experience to help decide if SWEAT440 is the right fit for you.
Sign up for a free trial at SWEAT440 and experience the thrill and benefits of high-intensity training firsthand. It's your chance to challenge yourself, boost your fitness, and become a part of our supportive community. We're conveniently located in Zilker. Visit us for a workout that you'll love, and see why so many people are switching to SWEAT440 for their fitness needs.
Time-efficient

Enhance cardiovascular health

Improve muscle strength and endurance

Aid in weight loss and fat burn.

Promotes metabolic adaptations 

Trigger the 'afterburn effect

Positive mood and psychological effects.
Claim Your Free First Class
Visit our website and locate the

ZIlker, TN Location

Choose the class time that suits you best.

Reserve your spot, and prepare to get sweaty!