Sweat 440: Join The Best HIIT Workout in Miami
Have you been looking for an intense, full-body HIIT workout in Madison, Alabama? Look no further than Sweat 440!

At Sweat 440, our HIIT workouts are designed to maximize fat burning and leave you feeling energized. Each session consists of a 40-minute, high-intensity workout with strength training exercises, cardio intervals, and core conditioning. You'll push your limits in a supportive and motivating environment that ensures proper form and injury prevention. Our trainers are certified, experienced professionals who push you and provide guidance to reach your fitness goals. We also strive to create a community atmosphere and encourage team camaraderie so you feel supported to reach your goals.

So, if you're looking for the best full-body HIIT workout in Madison, Alabama, look no further than Sweat 440. You can find our HIIT workout classes at 10878 County Line Rd Madison, Alabama. Feel free to drop in for a HIIT workout class!
Are full-body HIIT workouts effective?
Full-body HIIT (High-Intensity Interval Training) workouts are incredibly effective in increasing your heart rate, burning calories, and increasing your overall fitness level. They combine intense bursts of activity with shorter recovery periods and can be adapted to suit any fitness level. By having to work the entire body in these short bursts, not only do you get a good workout, but you also get the benefits of boosting your metabolism, which helps with weight loss. These workouts are incredibly time-efficient and can be done from the comfort of your home.
Is a 30-minute HIIT workout a day enough?
For some, a 30-minute HIIT workout a day can be enough to stay fit and healthy. It's an intense, full-body workout that can be completed quickly, saving you time for other activities or commitments. HIIT workouts also provide numerous health benefits, including improved cardiovascular fitness, metabolism, and muscle strength. However, it's important to remember that everyone has different needs and goals, so it's important to tailor your fitness routine accordingly. If you are experienced with HIIT workouts, or if your fitness goals require more intense or frequent workouts, 30 minutes may not be enough.
How often should you do full-body HIIT workouts?
HIIT workouts improve overall body fitness and strength, but it's important to strike the right balance. When it comes to full-body HIIT workouts, we suggest starting 2 to 3 times a week, with each session lasting around 20 to 40 minutes. This should give you enough time for each exercise and rest and recovery, allowing your body to reap the maximum benefits. However, as you become more experienced, you can gradually participate in 3 to 5 HIIT workout classes per week, each lasting 40 minutes.
Does full-body HIIT burn fat?
Full-body HIIT (High-Intensity Interval Training) is one of the best ways to burn fat. Research has shown that HIIT workouts can burn calories more effectively than steady-state cardio and help you build muscle and shed fat quickly. The best part is that HIIT exercises are often quick and intense and don't require special equipment, making them a great way for busy people to get fit and stay in shape. So if you're looking for an effective way to burn fat and get in shape, give full-body HIIT a try!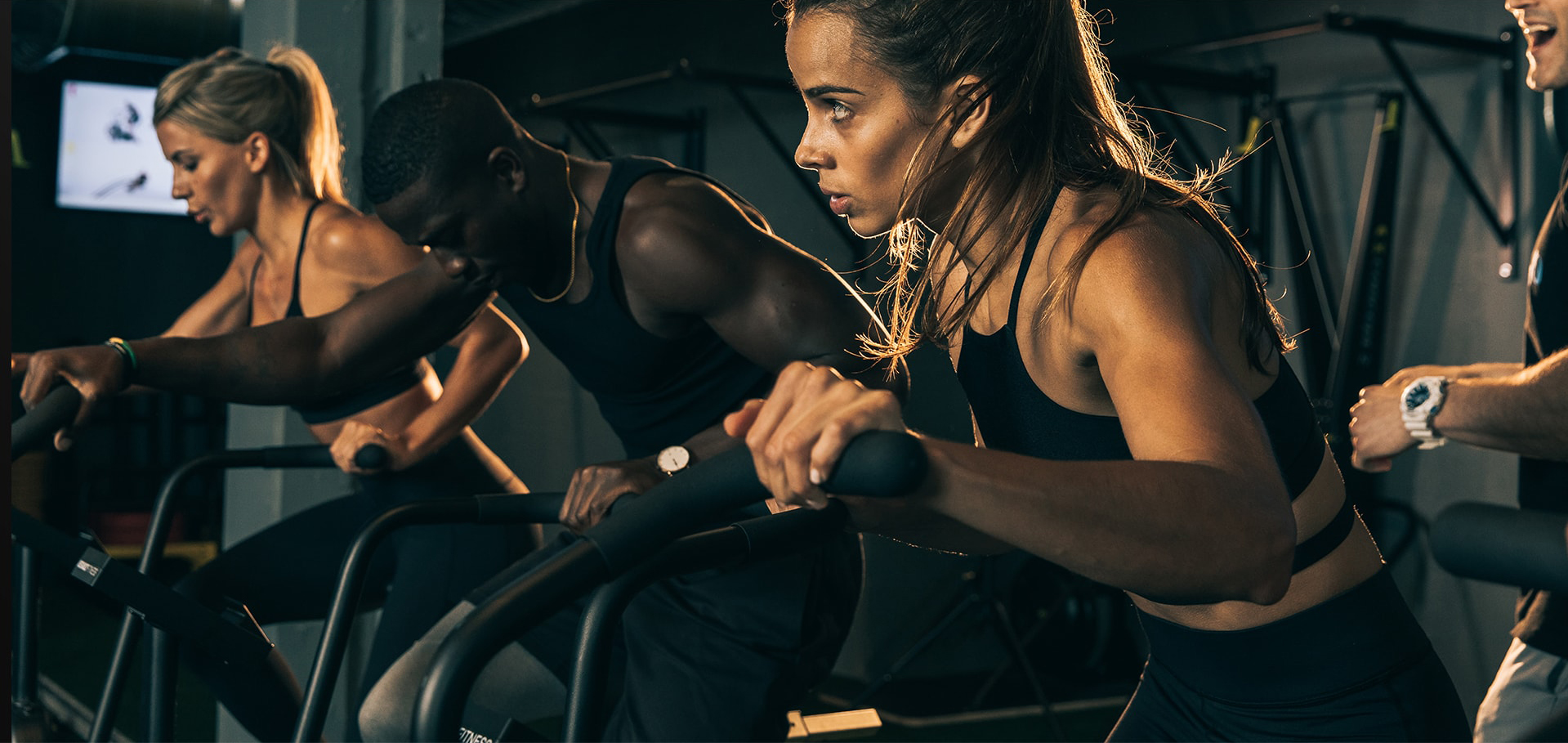 Sweat 440: Best HIIT workout program in Madison
Welcome to Sweat 440, Madison's best spot for a full-body HIIT (high-intensity interval training) workout. Sweat 440 is the premier fitness center for those who want to get the most out of their workout in the shortest amount of time. Our high-energy classes combine strength training with intense cardio bursts for an unbeatable combination of fat-burning and muscle-building.
Our instructors are certified and carefully selected to provide an optimal HIIT workout experience. With years of experience in sports and physical fitness, our instructors offer clear instruction and personal attention to ensure that everyone – from novice to advanced athletes – achieves maximum results.
At Sweat 440, we believe everyone should enjoy the health and wellness benefits of exercise. Our classes are designed to accommodate all fitness levels, allowing participants to work at their own pace. Moreover, our program is enhanced with state-of-the-art equipment, including resistance bands, medicine balls, and free weights.
When it comes to convenience, Sweat 440 is second to none. Our spacious studio has been designed to ensure plenty of room for everyone, so you can avoid the overcrowded gyms that are all too common in Madison. Furthermore, our HIIT workout classes follow a unique structure that allows new members to enter a class every 10 minutes, so you're never late! 
Sweat 440 Madison is conveniently located at 10878 County Line Rd Madison, Alabama, near the Alabama Credit Union and 820 Palmer Rd, Madison.
Join our full-body HIIT workouts classes
Sweat 440's workout classes are designed to target all muscle groups throughout the week. Our schedule specifically mentions which muscle groups we target each day. The weekends are dedicated to our Warrior full-body workouts, which include strength training, cardio, resistance training, and HIIT to help you burn fat and build muscle simultaneously. If you're looking for full-body HIIT workout classes, visit our fitness center on Saturday or Sunday!
We are currently offering free trial classes to all new members. Please visit your nearest Sweat 440 fitness center to claim your free trial class today!
Full Body HIIT Workout in Madison, Alabama
Benefits of Sweat 440 HIIT Workouts:
Flexible classes that start every 10 minutes

Group fitness with small groups

HIIT workouts include strength training

Personalized attention from certified trainers

Target all muscle groups for a full-body workout

Flexible memberships without contracts

Free trial classes for all new members
Monday

: Shape (Lower Body)

Tuesday

: Shred (Upper Body & Core)

Wednesday

: Sweat (Core & Conditioning)

Thursday

: Shred (Lower Body & Core)

Friday

: Shape (Upper Body & Core)

Saturday

: Warrior (Total Body)

Sunday

: Warrior (Total Body)