The Best Fitness Center Near Me in NYC for Stress Relief
There's no better way to eliminate stress than completing a killer sweat session! Let's face it, the gym is about more than fitness. It's also your refuge. Yes, you sweat out last night's ice cream when you exercise, but you also release endorphins, clear your mind, and relieve aggression and anxiety at the gym. So, if you're looking for the best "fitness center near me in NYC," choose the one that provides a haven for you to destress. Sweat440's NYC gyms offer all the perks of boutique fitness, without the stress of other gyms in NYC.
Sweat440's Boutique Fitness Centers Excel at Stress Relief
If the gym is the place you go to destress, why choose a gym that stresses you out? Many gyms in NYC are a hassle, with binding contracts, hefty initiation fees, crowded classes, and waitlists for machines. Some are intimidating for beginners and charge extra for every amenity. Sweat440 prevents all those hassles with our superior membership options and scheduling strategy. Take a look at 9 ways other gyms add to your stress, and how Sweat440 eliminates stress completely.
9 Ways Sweat440 Eliminates the Stress Caused by Other Gyms
Our Free Classes & Trainers Are Risk-Free
Many gyms are stressful simply because you have to sign up for a year without knowing if you'll like it. At Sweat440, everyone gets a free class with no financial obligation or initiation fees. What's more, each of our classes includes free small-group personal training, so you get to meet with a trainer for free in your first free class, as well as every class after that.
Our Schedule Accommodates Yours
Everyone knows how stressful it is to run out of time for the things you need to do. Sometimes fitness gets squeezed out for that very reason. At Sweat440, you don't have to rush to a class at one set time each day. Our classes start every 10 minutes, and you're never charged for a class you have to miss. Stop in anytime and a 40-minute HIIT circuit training class will start within minutes! Stop beating yourself up for missing a workout, life is unpredictable. Join Sweat440 where you never have to miss a session, since our schedule accommodates yours.
Our Group Classes Welcome Everyone
At some fitness centers in New York City, it's hard to fit into the atmosphere of experienced cyclists, yogis, or bodybuilders who've claimed the turf. At Sweat440, we love welcoming new members, and we're a diverse and inclusive group. Our circuit training classes are designed for all fitness levels to work at their own pace, so elite athletes and newbies can work out side by side.
Our Workouts Are Exhilarating
Have you ever worked hard at the gym and left feeling drained and defeated? Have you ever worked hard without seeing results? Sweat440 fixes both problems that are common at other gyms. Our environment fuses upbeat music with inspiring personal trainers and a killer HIIT workout, so you always leave exhilarated. You will sweat for the whole 40 minutes, (hence the name Sweat440), but each sweat droplet will be put to optimal use. You'll burn the most calories possible and sculpt muscles the fastest, all while having a blast!
Our Members Are Encouraging
One of the best things about group classes is the camaraderie. Our members are an uplifting and encouraging group who love reaching fitness goals together. We're fueled by high-fives and positivity, providing accountability and motivation for you to work out. You'll leave a Sweat440 class with new friends and a new level of enthusiasm for fitness.
Our Locations Are Convenient
Want to eliminate the stress of fighting traffic in NYC? Whether you're north, south, east, or west side, Sweat440 has convenient locations! Sweat440 Chelsea is right near the Flatiron Building and Sweat440 FIDI is close to the New York Stock Exchange. Fitness shouldn't be hindered by a stressful commute. Our gyms are just steps away from your office, apartment, favorite coffee shop, or errand locations.
Our Amenities Facilitate Your Schedule
Sweat440 provides showers, locker rooms, and even selfie stations to check your post-workout glow on your way out the door! We know how busy life can be in New York City! That's why we provide everything you need to grab a quick workout and head to work or social engagements afterwards. Our scheduling app and video demonstrations of each exercise keep things flowing at an optimal pace throughout your workout and your week.
Our Members Aren't Bound by Contracts
Imagine if a grocery store or restaurant required you to purchase from them for a year before you could try their products? What if you didn't like the food? What if you moved to a new location? At Sweat440, we don't lock you into a contract to acquire your business. We want our members to come to Sweat440 because they love to, not because they're stuck in a contract. Gyms in New York City with ironclad contracts often use them because they know their gyms are inferior. Free yourself of the stress of long-term commitment at Sweat440.
Our Memberships Are Flexible
Most gyms in New York City have pricey memberships compounded by initiation fees, cancellation fees, and hidden fees. In addition, their amenities like personal training and group classes cost extra. At Sweat440, personal trainers are free in every class, and our membership options are super flexible. Buy as many classes as you like, with no minimum purchase. Unlike other NYC gyms, you can cancel your membership at any time, without incurring penalties or waiting months for the cancellation to kick in.
Try a free class with free personal training at Sweat440's stress-free fitness center near me in NYC today! Book free group classes online, or contact us by phone at (646) 956-1479, or by email address at contact@sweat440.com to learn more!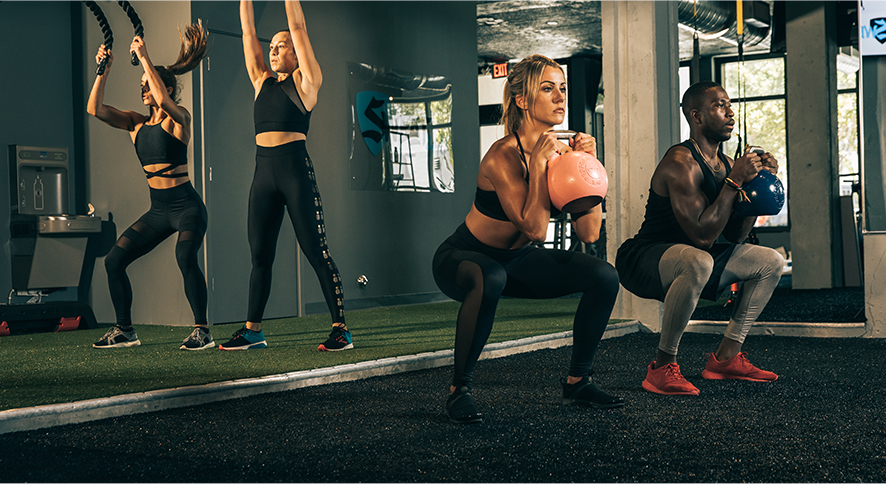 Stress-Free Personal Training and Group Classes at Sweat440
Our Stress-Free Boutique Fitness Locations:
Visit our Chelsea gym at 600 6th Ave., New York City.
Schedule by phone at (646) 956-1470 or by
email address at contact@sweat440.com.
Sweat440 Financial District
Visit our FIDI gym at 80 John St., New York City.
Schedule by phone at (917) 540-3596 or by
email address at contact@sweat440.com.
9 Ways We're Stress-Free for All Fitness Levels
Free classes & personal trainers
Accommodating schedule
Welcoming for all fitness levels
Exhilarating workouts
Encouraging environment
Convenient locations
Time-saving amenities
No annual contracts
Flexible memberships