5 Best Boutique Fitness Studios
There has been a sudden explosion of boutique fitness studios in the past decade. According to estimates, the number of boutique fitness studios in the US doubled from 21% to 42% between 2013 and 2014. That trend has continued well through the decade. But what are boutique fitness studios, exactly? What are the benefits of boutique fitness studios? And what are the best boutique fitness studios? That's what we're here to discuss!​
What are Boutique Fitness Studios?
The term "boutique" generally refers to small-scale fashionable and trendy clothing outlets with a distinct personality and specialization. Boutique gyms have borrowed that concept of small-scale chic outlets with a singular goal.
As such, boutique fitness studios are relatively small gyms that focus on one or two areas of specialties. Instead of mastering all aspects of fitness, they focus on one or two key aspects. Furthermore, boutique fitness studios also have a very distinct identity, placing a special emphasis on originality, be it a unique concept, unique aesthetic sensibility, or both.
Benefits of Boutique Fitness Studios
Boutique fitness studios are popular because they're incredibly trendy and unique. Most people associate fitness and gym with painstaking one-hour sessions that you have to plod through in the gym. However, boutique fitness studios want you to genuinely love the process of fitness, and not just the end goal. As such, boutique fitness studios are often more effective than traditional gyms. You may go to boutique fitness studios to get shredded, but you stay because you enjoy the process, and that makes them more sustainable.
Boutique fitness studios also favor a great degree of specialization. You have boutique gyms dedicated to specific activities or forms of fitness, such as treadmills, cycling, dance, rowing, or even booty workouts! Furthermore, most (not all) boutique gyms provide group fitness classes. As such, boutique fitness studios also feel like social clubs because you can engage with others participating in the same set of exercises and activities.
However, the specificity of boutique fitness classes can also be their drawback. Since most boutique gyms focus on one exercise or one aspect of fitness, most of them can't provide overall body fitness. As such, you have to schedule classes for several different types of fitness classes to achieve overall fitness. Sweat440 in New York and Florida is the one exception to that — that's one of the few boutique gyms that specialize in full-body overall fitness.
5 Best Boutique Fitness Studios
#5. OrangeTheory Fitness — Group Fitness Classes
OrangeTheory Fitness provides group fitness classes that include rowing, cardio workouts, and strength training. The group fitness classes are monitored by trainers who take you through five heart rate zones — gray, blue, green, orange, and red. The intensity of the workout and heart rate increases as you move through those stages. The goal is to maintain a specified period of time in those zones. 
#4. SoulCycle — Indoor Cycling Studio
SoulCycle is arguably one of the most popular boutique gyms. As the name suggests, SoulCycle is an indoor cycling studio in which you have to ride stationary cycles for the entire class. SoulCycle is mostly a cardio workout gym, with some strengthening benefits to your leg muscles. 
#3. Pure Barre — Barre Classes Studio
Pure Barre is one of the leading boutique fitness studios offering barre classes. Barre is a type of workout that incorporates elements of ballet, yoga, and Pilates. As such, you can expect a lot of stretching, conditioning, and other low-impact but high-intensity movements. Pure Barre is a great studio for those who want to condition their bodies, but there's a clear plateau, i.e., it can help you lose weight and build muscle only up to a certain point.
#2. Work Train Fight — Top Box Gyms
Work Train Fight is one of the top box gyms in the US. This is an intense boxing gym that packs each 55-minutes session with various boxing movements, such as shadow boxing, mitt work, bag work, and high-intensity interval training. 
#1. Sweat440 — Best Group Fitness Gym
Sweat440 is the best group fitness gym because we are extremely flexible and versatile. We have identified common issues with boutique fitness studios, and we've found a way to overcome them.
Sweat440 is based on a unique concept — we provide 40-minutes group fitness classes that take you through four fitness stations, each comprising three sets of three exercises executed like clockwork. As you progress through the various fitness stations, we incorporate different styles of exercises, including strength training, high-intensity interval training, core-training, cross-training, resistant-training, free-weight exercises, rowing, and so much more. As such, if you attend Sweat440 classes regularly, you don't have to find other gyms to satisfy other fitness needs.
Furthermore, Sweat440 is designed such that you don't have to schedule classes ahead of time or worry about overcrowded classes. As you move through the fitness stations, other groups take your place in the previous station. As such, a new group can join the class every 10 minutes. This accomplishes two things. First, it allows you to join the class whenever you want. Second, we maintain small groups of 2-4 individuals, ensuring you get the trainer's complete attention.
Sweat440 is located in Chelsea and Financial District in New York. You can find our boutique gym near the 18th St. and 14th St. Metro Stations. If you're in Florida, you can find Sweat440 boutique gyms in Brickell, Miami Beach, Downtown Doral, or Coral Gables.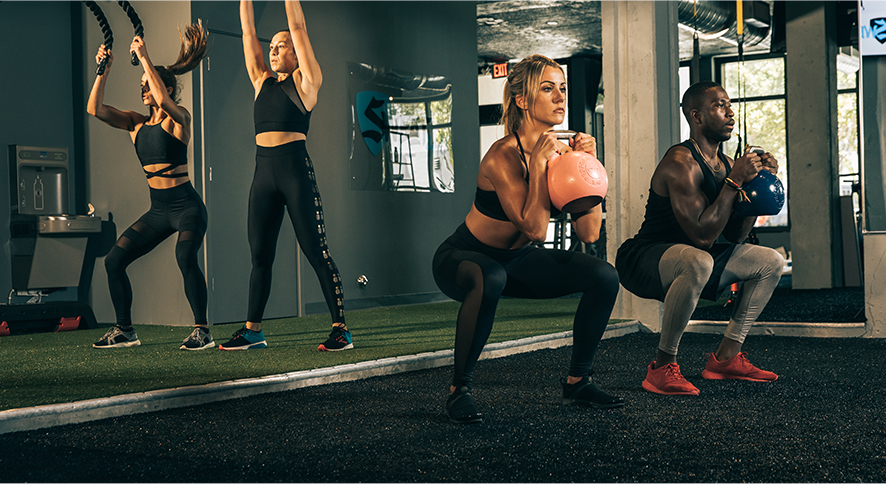 #5. OrangeTheory Fitness— Group Fitness Classes
#4. SoulCycle— Indoor Cycling Studio
#3. Pure Barre— Barre Classes Studio
#2. Work Train Fight— Top Box Gyms
#1. Sweat440— Best Group Fitness Gym
Sweat440 Training Schedule
Monday: Shape — Lower Body
Tuesday: Shred — Upper Body/Core
Wednesday: Sweat — Core/Conditioning
Thursday: Shred — Lower Body/Core
Friday: Shape — Upper Body/Core
Saturday: Warrior — Total Body Conditioning
Sunday: Warrior — Total Body Conditioning