5 Tips to Help You Fall Back Into Fitness
Are you ready to boost your journey and fall back into a healthier, fitness lifestyle? If you want to know how to start working out again, we've got you. At SWEAT440, we believe that fitness is not just about achieving the perfect body—it's about embracing a positive and empowering journey towards a stronger, healthier you.
Getting back to your fitness routine can be challenging, but don't worry; we've got your back with these five fit tips to help you get back on track, no matter where you are in your fitness journey. Our approach to high-intensity training, with 40-minute workouts and classes starting every 10 minutes, makes it easier than ever to fall back into health and wellness. 
So, let's dive into these tips and get you moving toward your fitness goals. Whether you're experienced at the gym or new to fitness, these fit tips will keep you in shape and help you succeed.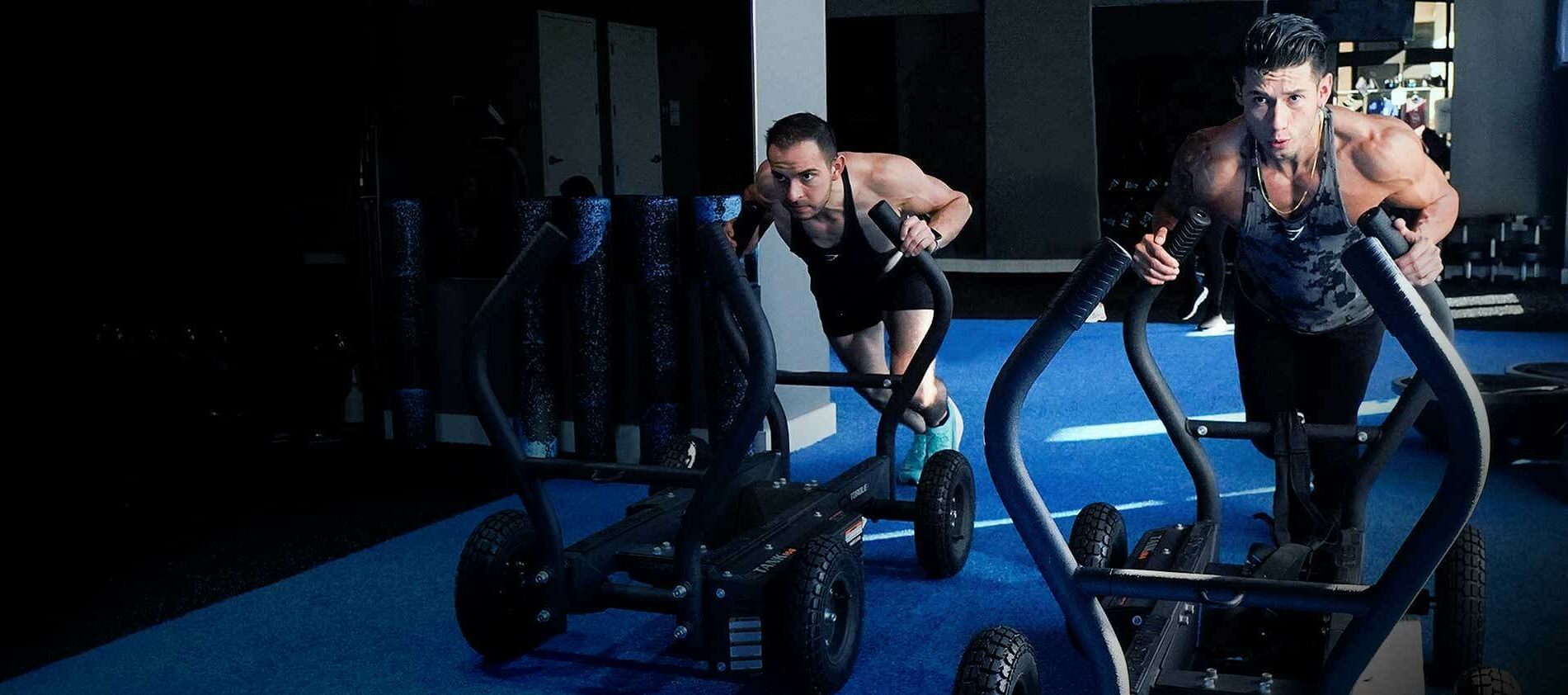 Fitness Tip #1 – Set a SMART Goal
SMART is an acronym for Specific, Measurable, Achievable, Relevant, and Time-bound. It's crucial to set a SMART goal because you need to be able to track your progress and hold yourself to a timeline. 
It's also a good idea to set your first goal in a fitness journey on actions rather than results to keep yourself motivated. For instance, you could set a goal to lose 20 pounds in 60 days, but if you only lose 10 pounds, it may be discouraging for the next step in your journey. 
Instead, consider setting a goal, such as going to the gym four days a week for 8 weeks. You can hold yourself to this goal and be able to track your progress along the way, and in the end, there will be a byproduct of results that you will be happy with either way! 
SWEAT440 makes this a little easier on you by counting your workouts! Our app will show you the complete schedule of classes so you know what you're getting into for that day and count how many workouts you have completed with us. We routinely have challenges to motivate you to come work out as much as possible!
Fitness Tip #2 – Preparation
Not preparing is preparing to fail! You can ensure you're ready for a workout in different ways: pack your gym bag the night before and leave it next to the door. Make sure you include your favorite SWEAT440 swag and a water bottle! 
Have a plan for what you will do once you get to the gym. If writing an exercise program isn't something that you're comfortable with, find your local SWEAT440 and let us handle it. We take the thinking out of the equation for you, and our coaches will be there to keep you on track to achieve your fitness goals! 
Reserve your class on the SWEAT440 app 24 hours before, and give yourself enough time to get there and change for your workout! Classes start every 10 minutes, so if you need to reschedule because you're a little behind, the app makes this possible.
Fitness Tip #3 – Accountability
Accountability is a big factor in whether or not you show up and HOW you show up. Maybe you drag yourself into the gym, do a few exercises on your own, and call it good. Having a workout partner will help ensure you show up and make a solid effort to stay fit. 
Having a coach adds a level of accountability as well. A specific class time at your gym will have its community of people who will hold you accountable for being there with them, and the coach will hold you accountable for working hard while you're there. 
At SWEAT440 you will find that our SWEAT440 Squad, from coaches to members, will help you keep on track to hold you accountable for coming to class and working towards your goals! Coaches are motivating and there to help you with form and technique. The people in your class will turn into your fitness community, high fives all around!
Fitness Tip # 4 – Consistency
Results don't come after the first day. Objects in motion stay in motion. An article on health.com suggests to see any results, you should be exercising 4-5 times a week; it's a small commitment on time for something that will pay huge dividends to your health and wellness. 
Use the SWEAT440 app to keep your tally of workouts and hold yourself to multiple sessions a week. 
Fitness Tip #5 – Tracking Nutrition
Tracking your workouts is super helpful in understanding your results and maintaining your fitness lifestyle. The same goes for tracking your calories! To know what behaviors you need to change, it's best to understand first what those behaviors are. 
You can start by learning your Basal Metabolic Rate, which is the number of calories it takes you without activity to maintain your body weight in one day. You can google "BMR calculator" and enter your information to find this number. From there, track your calories! 
Also, keeping a food journal for a week is a good way to get a snapshot of what you eat on a daily basis. Apps like MyFitnessPal, MyPlate, and Noom are an excellent way to do this. Ask your SWEAT440 coaches where they like to get their groceries and what kinds of meals and snacks they eat to help you get an idea of a healthy plate!
The Path to Your Fitness Goals
As you begin your fitness journey, remember that every drop of sweat counts. At SWEAT440, we're more than just a fitness studio; we're a squad that motivates, guides, and pushes you toward a healthier, stronger you. 
Ready to take the first step and stay fit? Join us today and experience the SWEAT440 difference for yourself with a free first-class trial. Our HIIT workouts, the amazing coaches, and the community will help you crush your fitness goals in no time!
Don't wait until it's too late—fall back into fitness and start your path to a healthier, fitter lifestyle. We can't wait to see you in class!
Biography
Sam Simpson, M.S, CSCS, CPT, has been a personal trainer/coach since 2010, helping thousands of people successfully reach their fitness goals. He was born and raised in Maine, played college basketball for the University of New England, and moved to Miami in 2013 to work with the University of Miami Hurricanes football team and earn a Master's in Kinesiology. Sam has been a fan of SWEAT440 since its inception and has known and been able to work with the founders Matt and Cody since 2014, even before the first studio opened. He is now a franchise owner of 3 locations, with more to come. Sam loves to play basketball, golf, race go-karts, and he is an obsessive fan of F1. His favorite SWEAT440 workout is Friday's Upper Body, and his favorite cheat meal is a cheesesteak.