Sweat 440: Best Group Workout Classes in Miami Lakes
Sweat 440 Miami Lakes is a great way to get in a killer workout with a great group of people. The classes are designed to be high-energy and intense, but you'll be encouraged to take the exercises at your own pace. Each class is 40 minutes long, and the instructors provide fun and challenging workouts and a variety of equipment to help you reach your fitness goals. You'll walk away feeling sweaty, energized, and motivated to keep pushing yourself.
Sweat 440 Miami Lakes is located at 6766 Main St, Miami Lakes, near NW 67 Av & Main St. bus stop and the Miami Lakes Main St Mall. We also offer free trial classes to all new members, so visit your nearest Sweat 440 fitness center to claim your free sweat session!
Get more information about our studio in Miami Lakes here
What are the benefits of group workout classes?
Group workout classes are an awesome way to get active and healthy — and have a lot of fun along the way! Not only are they incredibly motivating, but there is a multitude of benefits of working out in a group:
Increased Motivation

: One of the top benefits of a group workout class is that it provides significant motivation! When it comes to working out, it can be hard to stay motivated and on track, especially if you're working out alone. However, having multiple people around you encouraging and pushing you to keep going makes all the difference.

Variety

: Another great benefit of group workout classes is that they offer various workout options and exercises. Whether you're looking to strengthen your muscles, improve your agility, or work on your cardiovascular endurance, there's a class specifically tailored to meet your needs. As a result, it can be quite easy to mix up your routine and avoid getting bored with your workout.

Expert Guidance

: Group classes often have the added bonus of expert guidance. If you're having trouble with a certain exercise or technique, your instructor will give you tips and advice, helping you get the most out of your workout.

Social Support

: Finally, the social aspect of group workout classes is a huge plus. Sharing the experience with others going through the same journey as you can be a great way to build friendships and stay connected. Plus, having that extra support system to lean on when you're struggling can make a difference.

Benefits Beyond the Gym

. Being part of a group class can also give you a sense of community and connection. It's a great way to make new friends who share similar interests and develop networking opportunities with industry professionals.
What are the benefits of Sweat 440 classes?
Sweat 440 is the perfect fitness option for anyone looking to get fit and stay fit, no matter their experience level or fitness goals. Our group classes offer a flexible and comprehensive workout led by certified and experienced instructors and utilizing cutting-edge equipment. Our memberships are flexible, allowing you to come and go as you please.
Flexible Classes

: We understand the importance of getting your exercise in and how hard it can be when you're busy with work and other responsibilities. That's why we offer classes that don't require advanced scheduling, so you can easily fit them into your day.

Comprehensive Fitness

: Our classes include all elements of fitness – HIIT, cardio, strength training, weight training, and core training. This means that with each class, you are getting a full-body workout tailored to your fitness level.

Certified Instructors

: Our group fitness classes are led by experienced and certified fitness trainers and instructors who guide you through the workout, provide motivation and help you adjust the class according to your fitness level.

Cutting-Edge Equipment

: We work with the latest industry technologies and high-quality equipment to ensure that each participant gets the most out of every session. The kind of equipment we use is meant to challenge and improve your fitness level and provide the most enjoyable and efficient workout.

Flexible Memberships

: When you sign up for Sweat 440, you can choose from various memberships. We understand that everyone differs in their fitness needs, and so we have tailored our memberships to accommodate any lifestyle. There are no contracts to sign — you can pay for memberships as you go.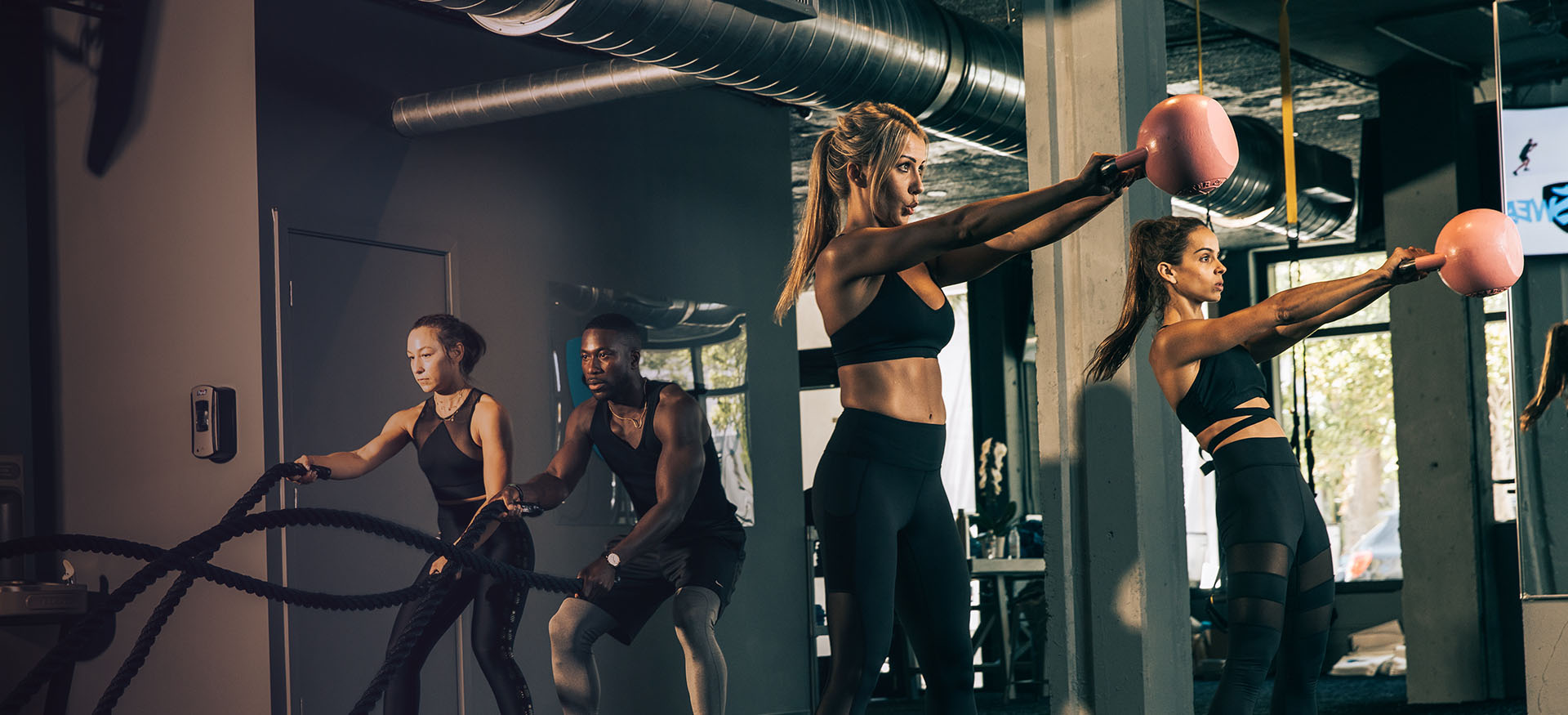 What is the most popular group exercise class?
High-intensity interval training (HIIT) is among the most popular group exercise classes. HIIT is about short bursts of intense exercise followed by rest and recovery periods. This type of group class is great for those looking to increase strength, power, and conditioning in one workout! Plus, the energetic atmosphere among a group of strangers helps to keep the intensity and motivation levels high, ensuring you get the most out of your workout.
We offer free first-time workout classes nearby
Welcome to Sweat 440! We are the premier destination for your fitness needs, offering a variety of classes to suit your workout style. As a way of introducing our services to new members, we offer free trial classes, so you can find the perfect fit for you.
Sweat 440 has numerous gyms across Florida. However, if you're in or around Miami Lakes, you can find your nearest Sweat 440 gym by the Miami Lakes Main St Mall — 6766 Main St, Miami Lakes. Come check us out and take full advantage of our first-time free workout classes nearby. You won't be disappointed!
Best Group Workout Classes Miami Lakes
Benefits of Group Workout Classes:
Increased motivation

Variety of classes

Expert guidance

Social support

Benefits beyond the gym
Benefits of Sweat 440 Group Classes:
Flexible classes

Comprehensive fitness classes

Certified fitness trainers and instructors

Cutting-edge equipment

Flexible memberships