Sweat440 is a dynamic 40-minute workout class located in Miami Beach's Sunset Harbour neighborhood. Co-founded by seasoned professional trainers, Matthew Miller and Cody Patrick, Sweat440 is designed for beginners to experienced fitness enthusiasts looking for an effective and efficient exercise routine in only 40-minutes. With HIIT and cross-training classes beginning every 10 minutes, Sweat440 is perfect for anyone with a tight schedule or a hard-to-plan calendar.
We love being a part of the Sunset Harbour neighborhood," shares Cody Patrick, Co-Founder of Sweat440. "Sweat440 has revolutionized how people train, being able to hop in a class at any time makes working out attainable for any busy schedule.
Sweat440 aims to revolutionize the boutique fitness industry by combining the motivational mindset of small group training with the convenience of workout times that best fit each individual. Sweat440 accomplishes this by offering 4 fitness stations, each lasting 10 minutes in duration, with a new set of members joining the class every 10 minutes. The 40-minute classes incorporate a quick, effective combination of cross-training, strength training, and HIIT (high-intensity interval training) aimed to burn fat and boost your metabolism. This method of training allows guests to arrive at times that are most convenient for their busy work schedules and everyday routines.
Sweat440 is designed for everyone from fitness enthusiasts to beginners of all levels," says Matthew Miller, Co-Founder of Sweat440. "Our team is available to oversee and guide participation, ensuring members are making the most of their 40-minute workout.
Sweat440 boasts a 2,700 square-foot space with state-of-the-art equipment such as rowers, assault bikes, sleds, battle ropes, TRX and more. As a fun add-on, guests are invited to capture their post-workout glow at Sweat440's photo booth featuring a halo light and one-click sharing options for easy posting across all social media platforms. Individual lockers are also available for those opting to store personal items and belongings before jumping into their session.
Members have the ability to enjoy a one-stop check-in process at an iPad-controlled kiosk before jumping in the next available class time. Those new to Sweat440 are able to easily register at the front desk before joining the next group. Sweat440 offers a complimentary introductory class to all new guests. Following their first session, members are invited to purchase single, 10-pack and monthly classes.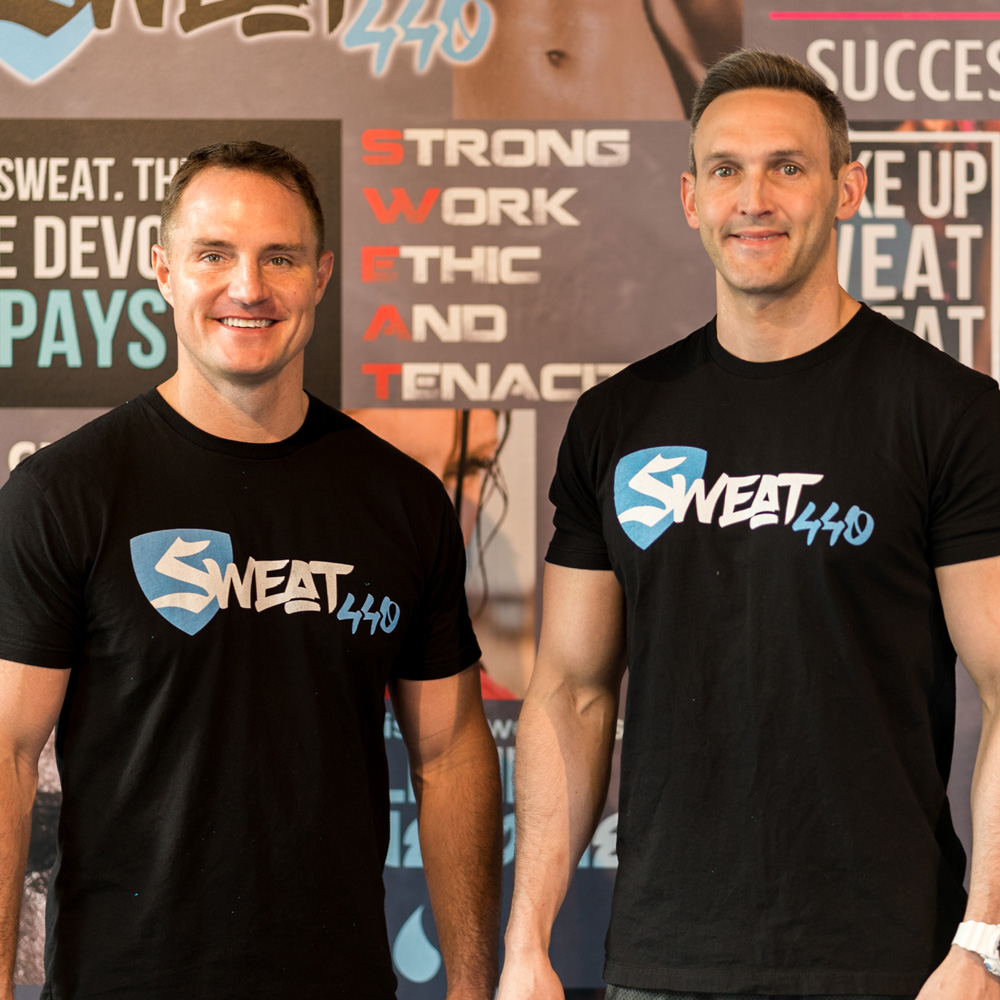 WHY YOU SHOULD SWEAT WITH US?
Just 40 minutes in one of our small group fitness classes, three days a week, can revolutionize the way you look and feel. Instead of fighting through the packed gyms in Miami, Florida, or jogging through its busy streets, our members train in a high-energy facility that combines 4 different stations, each comprising a unique kind of exercise, in order to pack the intensity of a full workout into an efficient, 40 minute regimen that is completely flexible to your schedule and athletic ability.
HIIT (High-Intensity Interval Training)
80%