How Can I Find the Best Workout Studios Nearby?
Sweat 440 is a great workout studio located near me in Jean-Talon. It offers high-intensity interval training (HIIT) classes for all fitness levels, providing a great way to torch calories and break up the monotony of a regular gym routine. It's well-equipped with top-of-the-line cardio machines and equipment, and the experienced trainers ensure you get the most out of every session.
Sweat 440's HIIT workout is a great way to burn fat, boost your endorphins, and increase your overall fitness level. If you're in Quebec, you can find our fitness center for group classes near me at 5000 Rue Jean-Talon O Montréal, a short walk from the Jean-Talon/No 5000 bus stop and the SPCA of Montréal. So come join us today and start your journey to a healthier you!
How can I find the best workout studios near me?
Finding the right workout studio for you can be a daunting task. What style of workout do you prefer? Who are the instructors? How much is it going to cost? All of these are important questions to ask. But fear not; there's no need for you to be overwhelmed by the search for your ideal workout spot! With some research and extra effort, you can find the perfect place to exercise and have fun.
Search online for workout studios near me
Start by searching online for local fitness studios. Read up on the interesting ones and make a shortlist of places to visit. Visit their websites and familiarize yourself with the offerings they provide, such as classes, instructors, amenities, and more. Make a note of any special discounts or promotions they might offer and ensure their hours of operation and location work for your lifestyle.
Ask for recommendations from friends and family
If you know anyone who attends classes at a particular studio, ask them for recommendations. Getting personal advice from someone you trust can help you make an informed decision. Ask them questions such as:
What do they like about the studio?

What are the workouts like?

What type of atmosphere do they provide?

Do they have a good selection of classes?
Ask about the gym's specials and discounts
Before you commit to joining a studio, ask around to see what specials or discounts are available. Many studios offer introductory rates for first-time customers, so it pays to check. You may be able to get a discount on a package of classes or a free trial period. Sweat 440, for example, offers free trial classes for all new members, allowing you to access a free workout without any commitments or contracts!
Finding the best workout studio for you requires effort and research, but it is worth it. These steps will ensure you get the most out of your money and the most enjoyable experience. Whether you're looking to do yoga, pilates, martial arts, HIIT, or something else, it is possible to find the perfect fit!
How much does it cost to workout in a gym?
The cost of working out at a gym can vary depending on where you live and what type of gym you choose. On average, a gym membership costs about $10-50 per month; however, some gyms offer membership discounts and specials to help keep costs down. Additionally, you may want to consider signing up for personal training sessions, which usually range from $30-150 per hour, depending on the trainer's experience. Overall, there are many ways to work out at a gym without breaking the bank.
Is joining a gym worth it?
Joining a gym can be a great way to stay active, learn new exercise techniques, and take care of yourself. Going to the gym provides a motivated and supportive atmosphere, which can help keep you motivated to stay on track with your fitness goals. With a wide variety of equipment available, you are more likely to find something you enjoy and will stick with, allowing you to reach your desired health outcomes. Regular exercise can improve your mental and physical health and help you look and feel your best.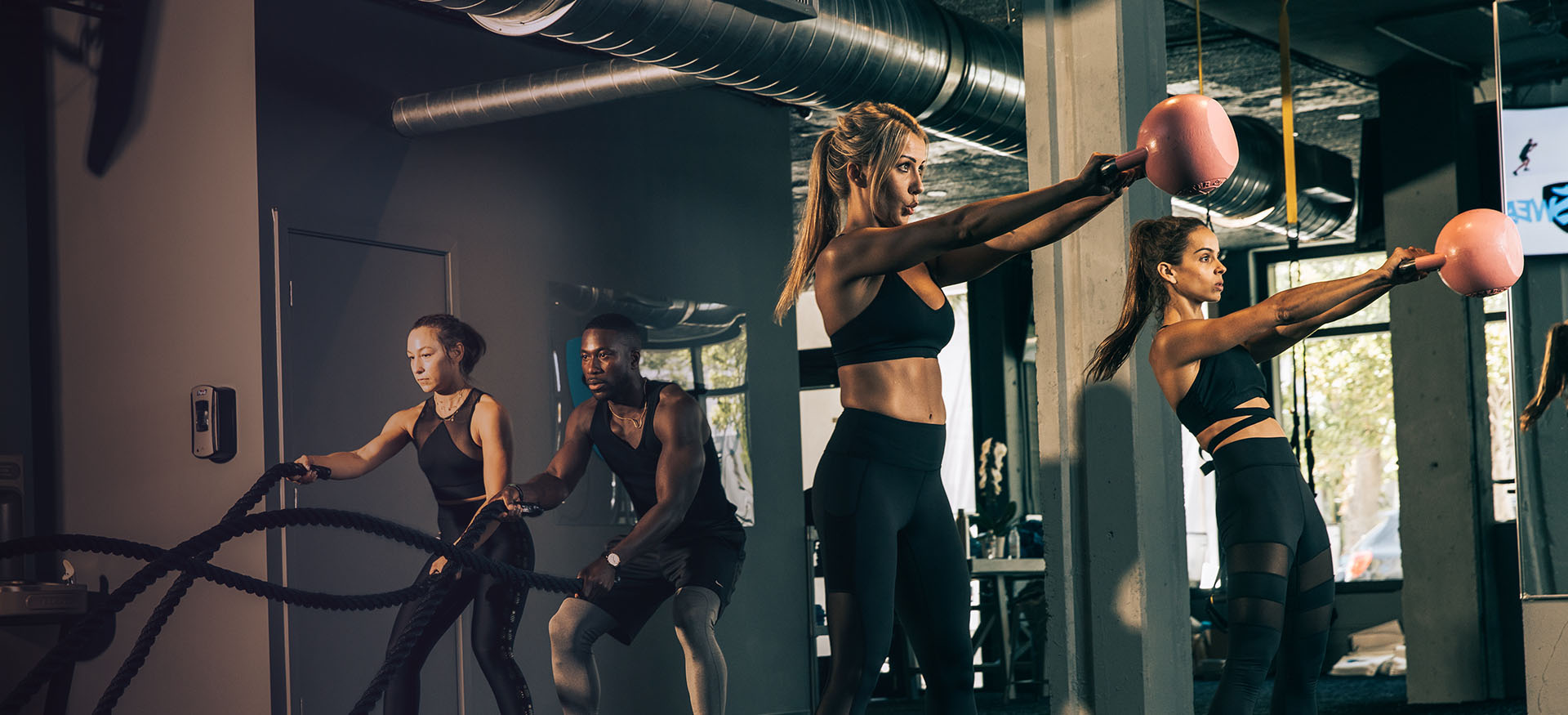 Which gym is best for bodybuilding?
Sweat 440 is the premier gym for those seeking to take their bodybuilding to the next level! With a variety of specialty strength training options, like suspension training and HIIT, Sweat 440 is the perfect choice for serious fitness enthusiasts. Sweat 440's certified trainers will help you reach your goals and motivate you along the way. Whether you're looking to add muscle or tone up, Sweat 440 has everything you need to get in shape faster and more effectively.
What is HIIT training?
HIIT (high-intensity interval training) is a type of workout where you alternate periods of intense exercise with rest periods. It's designed to boost your heart rate, increase energy expenditure, and help you reach your fitness goals quickly. HIIT is often seen as a great way to get fit fast, as you can finish a HIIT workout in much less time than other types of exercise.
Sweat 440: one of the best boutique workout studios nearby in Jean-Talon
Sweat 440 is the perfect place to get an intense workout and stay motivated. Located in the heart of Jean Talon, this boutique workout studio offers group fitness classes that cater to all fitness levels and needs – HIIT, cardio, strength training, and more. The small number of people in each class and the attentive instructors guarantee everyone an enjoyable and effective experience. Sweat 440 offers free trial classes to all new members, so please visit your nearest Sweat 440 gym at 5000 Rue Jean-Talon O Montréal, Quebec.
Tips to Find Workout Studios:
Search online and visit websites

Ask friends and family for recommendations

Look for discounts and offers for new members

Look for gyms with flexible memberships

Visit gyms that offer free trials to new members

Look for gyms that cater to your fitness goals
Benefits of Sweat 440 Gyms:
State-of-the-art equipment

Certified trainers guide the program

Quick and efficient group fitness classes

Small groups in each class

Suitable for all fitness levels

Never late for a fitness class

Located in the heart of Jean-Talon