7 Reasons Everyone Loves This Top Gym in NYC
You might assume the top gym in NYC varies depending on who's joining the gym. While some gyms are only designed for certain types of athletes, Sweat440 has something for everyone. It's the gym that members of all fitness levels unanimously rate as a 5-star fitness center. Here are 7 reasons why Sweat440 is the top gym in NYC, no matter how fit you are.  
1. Sweat440's Group Classes Are Perfect for Beginners
New York City is a bustling place where people rush in and out of the gym and often have to jockey for a spot in a class or on a machine. If you're new to the gym scene, it can be intimidating. Sweat440's group classes are the perfect solution for beginners in a busy city, since they start every 10 minutes, and they're led by instructors who show you the ropes. At a typical NYC gym, you might waste precious time trying to figure out the machines, or even finding the locker room. But Sweat440's trainers lead you through each station, and we have demos of each exercise on screens so you can see what to do right off the bat. You won't stick out as a beginner in our gyms, since our format is highly instructional and adaptable to all fitness levels.
2. Sweat440 Is Also Ideal for Elite Athletes
If you've already tried other gyms in NYC, you'll love what Sweat440 does differently. We don't leave you on your own to accelerate your fitness. Our HIIT classes use a series of customizable circuits where each class member has individualized reps and resistance. Cycling, boxing, and rowing gyms offer limited options to challenge yourself, but at Sweat440, our breadth of equipment and variety of stations mean no two workouts are ever the same. Our trainers oversee your entire workout, since they circulate through the room. They have all the expertise and tools to help you reach your full potential.
3. Sweat440's Strength Equipment Outperforms Free Weights
Most old-school gyms have a room with free weights. But the average gym member doesn't know how to use them to their best advantage. Many people lift too much, or too little, or use improper form. They might perform the wrong number of reps, at the wrong pace, to get the results they want. But Sweat440's innovative classes incorporate free weights like dumbbells and kettlebells into compound cardio circuits, so that you max out muscle definition, while leaning out your body to reveal those results. It's a one-two punch that amplifies muscle tone in half the time of other gyms. Our trainers make sure you lift safely, with the right intervals of intensity, so you can push yourself harder and longer without injury.
4. Sweat440 Was Founded by Personal Trainers
One reason Sweat440 is so popular with NYC residents is that our founders are personal trainers. Unlike the typical gym franchise, our gyms were designed to fill a void in the fitness industry, rather than simply make money. Our founders saw how many people wanted personal trainers but either couldn't afford them or couldn't commit to an inflexible training appointment. So, they created Sweat440 to offer personal trainers to everyone, at no cost, through trainer-led HIIT fitness classes. We don't waste your investment on things like juice bars or spas. We invest it directly into top-notch trainers to elevate your game.
5. Sweat440 Offers Free Personal Training
Sweat440's members get free personal training in every single class! Our group fitness classes are small, so individual attention is paid to each class member throughout the entire session. We adjust your machines, recommend your resistance, perfect your form, and encourage you when you need motivation. We make sure you exercise safely, but also that you're taking the right steps to reach your goals. You won't waste a single second in our gyms, since our classes move quickly, taking you through 4 10-minute stations with 3 sets of 12 exercises, for 36 sets in just 40 minutes!
6. Sweat440 Incorporates Functional Training
All of our cardio and strength equipment fuses athleticism with functional training, so that you're as capable in your fitness pursuits as you are in your daily activities. Since personal training is part of every class, we'll make sure you're using the proper posture and correct positioning to strengthen you for your lifestyle, whether that's sitting in front of a computer all day or loading freight onto trucks for delivery. Safety is at the heart of what we do, which is why all of our classes have a core strengthening component, since your core is involved in nearly every move you make.
7. Sweat440's Group Fitness Is All-Inclusive
Often, a top gym in NYC caters to an elite group or a certain style of exercise, like yoga, pilates, boxing or spin. But Sweat440's gyms are for everyone, and that goes for every single one of our classes. We don't have tiers of classes for certain levels of athletes, because our unique method is highly customizable for each exercise. You don't have to search for a beginner or pro level class. You can seamlessly join any of our group fitness classes, any day of the week, and get the best workout for your precise needs. Our personal trainers can adapt any exercise for you and know how to bring the best out of each member of the class. Try a free class today at our Chelsea gym near the Flatiron Building, to see why we're consistently ranked a top gym in NYC!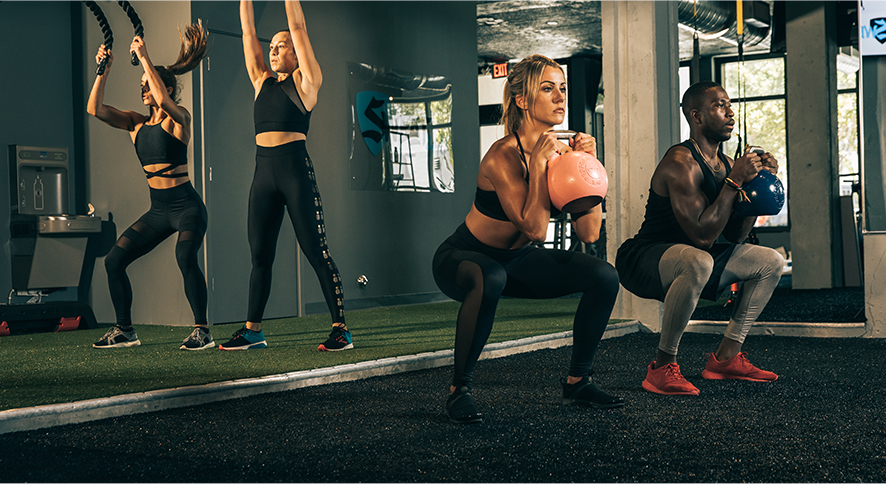 Why NYC Residents Love Sweat440
7 of Sweat440's Best Features:
Our group classes are perfect for beginners.
Our NYC gym is ideal for seasoned athletes.
Our strength equipment is superior to free weights.
Our founders are personal trainers.
Our personal training is free.
Our classes use functional training.
Our group fitness is all-inclusive.
7 Reasons to Try a Group Fitness Class:
Our group fitness classes are free.
Our HIIT classes are for everyone.
Our NYC gym doesn't use contracts.
Our members welcome newcomers.
Our group classes are motivational.
Our personal trainers ensure your safety.
Our classes create quicker results.