8 Things That Distinguish a Top Gym on Jean Talon from Others
1. The Small Group Classes Are for Everyone
Some people assume the best gyms are the most expensive ones that cater to elite athletes or the most affluent people in the community. But a gym membership is only worth it if you actually go to the gym. Some gyms are so intimidating or overcrowded that they inhibit members from attending.
At Sweat440 Montreal, our small group classes are designed to suit people of all fitness levels, with personal instruction to guide you along the way. The best gym is the one where you feel welcome, inspired, and motivated to return, which is exactly how you'll feel at Sweat440's top gym on Jean Talon.
2. The Members Don't Wait Around for Machines
No matter how impressive a gym is, if it doesn't have ample equipment or an effective scheduling system, members might end up waiting around for a machine, or finding themselves locked out of classes. If you join a gym, you shouldn't spend time on a wait list or staring anxiously at a treadmill waiting for your turn. Sweat440 on Jean Talon has extensive equipment, plus a 10-minute class rotation system that prevents you from waiting around.
Our classes last 40 minutes, but there's a new one every 10 minutes, so you're never wasting time waiting for a turn. Each of our classmates has an individual workout pod with their own equipment to use for every station. There's never an instance where you won't have what you need, so you can get in and out of the gym quickly and get on with the rest of your day.
3. The Personal Training is Affordable
Personal training is instrumental in achieving quick, yet lasting results. A professional's insight and encouragement are essential if you want to maximize your health. But personal training is out of reach for most people, due to the cost. For others, it requires a set time each week, which doesn't always work with life's unpredictability.
At Sweat440 on Jean Talon, we include personal training in every class, so it's not only affordable, it's absolutely free! Our founders are trainers who designed Sweat440 to make personal training accessible for everyone. It's a win-win, since our trainers get to know each member and see them achieve their goals, and our members get to reach goals they wouldn't achieve on their own.
4. The Amenities Are Useful, Not Wasteful
Some gyms in Montreal waste your money on square footage or amenities that don't actually serve you well. If you're not a basketball player or a swimmer, you still have to pay the elevated member dues to support those facilities in certain gyms. At Sweat440, we offer the amenities you actually want, like lockers, showers, water stations, and towels, so you have a luxury experience, without paying luxury prices. We also offer helpful technology like digital demos of exercises at each station, a scheduling app, and a selfie station to celebrate your hard work!
5. The Contracts Aren't an Issue
Contracts are a hurdle people often face with gym membership. Many gyms make it painful to get out of the contract and require 3 months or more notice before you can quit. They often charge cancellation fees and annual fees, even if you don't stay through the year. If you don't like the gym, or you have to move, or your finances change, you're stuck paying for something you no longer want.
At Sweat440, we don't use contracts at all. You're never bound to our gym, and there are no cancellation fees, waiting periods, or penalties to quit. You won't find another gym that's less constricting than Sweat440. We also have an exceptionally low rate of member turnover, since people come to Sweat440 because they love it, not because they're stuck paying for it.
6. The Schedule is Convenient
Sweat440 offers classes every 10 minutes, 7 days a week. Our small group classes repeat all day long and change every day. So, if you planned on an 8:00 am upper body SHAPE class, and you hit "snooze" a few times, there's another class waiting for you when you wake up! You aren't stuck with one or two options per week, like you are at most gyms.
Since our classes are full-body workouts that emphasize certain muscle groups each day, you can safely work out with us as many days a week as you like. SHRED your lower body one day and SWEAT through a core session the next. We build in time throughout the week for each muscle group to recover.
7. The Pricing Is Transparent
If you've belonged to a gym before, you've probably been unpleasantly surprised by hidden fees. From initiation fees, to annual fees, to sudden increases in member fees, many gyms find subtle ways to charge you extra money. They might also charge to park, rent their lockers or towels, or even to quit your membership. Don't be fooled by lower member dues at big chain gyms– the hidden fees will catch up to you, costing you more in the end.
At Sweat440, our pricing is completely transparent. You simply pay for the classes you take. You can buy one class at a time, or bundles of ten, or even an unlimited membership, to come as many times as you want. Best of all, your first class is free! So, you can come see what we're like without paying anything at all.
8. The Method Is Successful
Some gyms are large or well-stocked, but space and equipment alone won't get the job done. What's most important is that the gym uses a successful training method and teaches it to its members. Most gym-goers aren't professional athletes, and even pros need instruction from time to time.
At Sweat440, all of our classes use high-intensity interval training (HIIT) since it's the most powerful way to lose weight and build muscle. Better yet, our classes are all led by certified HIIT specialists who guide members through the entire workout. We don't just offer an introductory session or teach classes from the front of the room. We work with members throughout every single workout, circulating through the gym to provide individual instruction.
If you want to know what our members ultimately love most, it's the incomparable fitness results they achieve with our proven method and top-notch trainers. Nothing sets a gym apart from the rest like helping you reach optimal fitness. Join Sweat440's top gym on Jean Talon, near the SPCA, and see for yourself!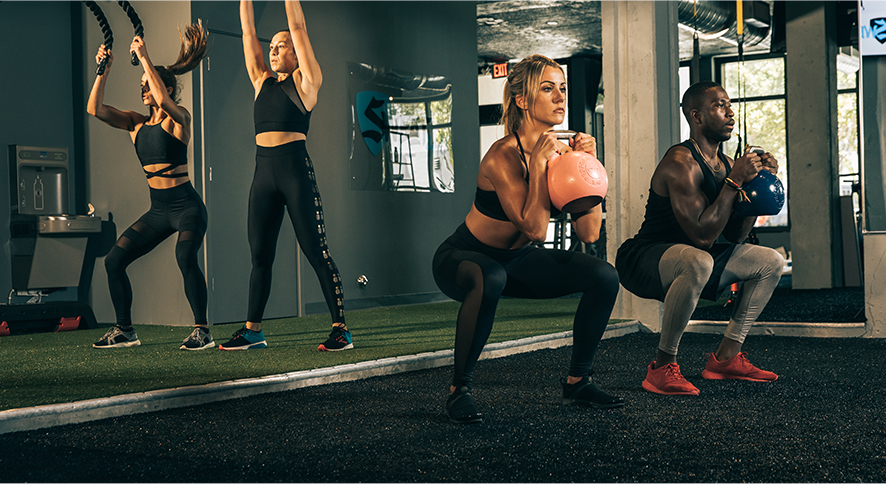 8 Features of a Top Gym on Jean Talon
8 Ways Sweat440 Is a Superior Gym
Small group classes are for everyone.
Members don't wait for machines.
Personal training is affordable (free).
Amenities are useful, not wasteful.
Contracts aren't an issue.
Schedule is convenient.
Pricing is transparent.
Method is successful.
8 Things to Try at Sweat440 on Jean Talon
SHAPE class
SHRED class
WARRIOR class
SWEAT class
Ski Ergs
VersaClimbers
Assault Bikes
Sleds, sliders, TRX