7 Free Perks at Sweat440's Top Gym in Gables
1. Free Group Fitness Classes in Coral Gables
Sweat440 Coral Gables offers a unique perk to everyone who's interested in trying our gym. Many Miami gyms require you to sign a contract before you can try the gym. Others offer a free workout, but it doesn't include personal training, fitness classes, or a fitness assessment. But Sweat440 offers free HIIT classes to every newcomer, in addition to a tour of our gym.
You can choose from any of our classes that start every 10 minutes, 7 days a week. Each class is suited to all fitness levels, so you aren't limited in your options. Best of all, you don't have to join our gym to try a free class. In fact, we don't ask members to sign contracts at all. Learn more in perk number 6 below!
2. Free Personal Training in South Miami
Every single class you take at Sweat440 includes free personal training! You don't have to pay a crazy fee for expert advice, or wait for a personal trainer to have an opening in their schedule. Nor do you have to commit to a certain time slot to get expert training. Our classes are intentionally small so that trainers can offer individual feedback to every class participant.
We don't position our instructors at the front of the class. They move throughout the stations, working with you as you go. There's no better way to get fit than personal training, and there's no more convenient or affordable way to acquire personal training than at Sweat440 in the Gables!
3. Free Total Body Strength Training Included in Cardio
Many gym goers complete their cardio and strength training separately, which might mean they belong to multiple fitness centers. Even if you do both cardio and strength training in the same gym, it takes a lot of time to do both. So, people often have to prioritize one or the other, letting their muscles weaken or their cardio endurance decline.
At Sweat440, we save you time and money by combining both through compound cardio. Our innovative machines provide both anaerobic and aerobic exercise in singular pieces of equipment. Our expert trainers create movements that engage your muscles while burning calories, to make your workout extra efficient. You don't have to pay for a strength training coach or weight lifting facility to build muscle. Our trainers incorporate it seamlessly in your cardio, paying special attention to each group of muscles on different days for a total body transformation.
4. Free Advice on Fitness Goals from a Personal Trainer
Those who are new to the gym often don't know where to begin. And those who are long-time gym devotees often don't know how to shake up their routine. The problem is, most Miami gyms charge a fortune for you to work with their fitness experts. At Sweat440 Coral Gables, we offer free tips for achieving fitness goals in every class.
We're committed to helping each member obtain optimal health in the shortest amount of time. We're always available to offer assistance, correct your form, provide adapted exercises, and consult with you about the best path to your desired destination. Our founders are actually renowned personal trainers, themselves, so personalizing workouts is what we're all about!
5. Free Health and Fitness Assessment + a Great Workout
Unlike most gyms in Coral Gables, our gyms are entirely class-based, which means you're never on your own to complete your workouts. If you have a chronic condition, are recovering from surgery, or are contending with an injury, we'll evaluate the safest way for you to exercise. Each of our stations is customizable, and members work at their own pace, aligned with their own abilities, to prevent injury or risk.
Our instructors are all certified professionals who are highly trained in the HIIT method. HIIT is not only the most effective workout, it's also deemed safe for all people when conducted correctly, even those recovering from cardiac events. We don't require appointments or collect fees for advising you on your fitness journey. It's simply a free part of what we do, every single day. Our gyms provide a great workout, complete with health and fitness evaluations for people of all capabilities.
6. Free from Contracts at Our Top Gym in Gables
At Sweat440 in the Gables, there are no contracts whatsoever. That means you aren't bound for a year, or even 6 months, and there's no hassle or waiting period to quit our gym. You can buy one class, 10 classes, or whatever amount you want, including an unlimited membership. No matter which membership level you choose, you're never locked in and aren't stuck paying if you have to move or take time off for any reason at all. That's a rare find in South Miami gyms, so take advantage of this freebie!
7. Free from Hidden Fees
If you've ever belonged to a gym before, you know some are notorious for hidden fees, like annual fees, cancellation fees, initiation fees, parking fees, locker fees, towel rental fees, and countless others, in addition to increasing member dues at their discretion. Sweat440 is completely transparent in our pricing. You'll never be charged any hidden fees.
All you pay for at Sweat440 is the classes you attend (after your first free class), and you don't even have to pay for classes you signed up for but had to miss. Our focus is on fitness, not hiding money-making tactics in the fine print of binding contracts. There's no risk to joining Sweat440, since members have total control of their membership, and know exactly what they owe. Try a free group fitness class at our Gables gym near Merrick Manor today!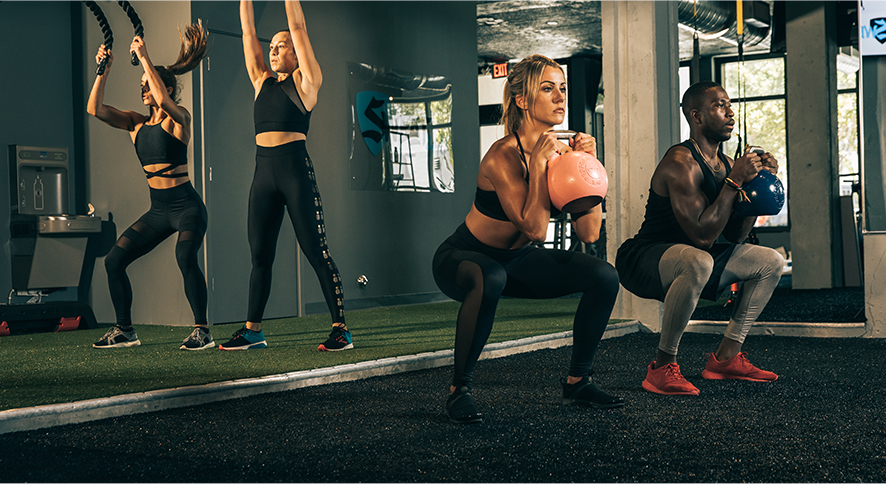 Try These Free Benefits at a Top Gym in Gables
Free Personal Training
Free Group Fitness Classes
Free Health and Fitness Assessment
Free Advice on Fitness Goals
Free Total Body Strength Training + Cardio
Free from Contracts
Free from Hidden Fees
7 Free Classes for Newcomers:
SHRED- upper body
SHRED- lower body
SWEAT- conditioning
SHAPE- upper body
SHAPE – lower body
WARRIOR- total body
OUTDOOR- varied circuits