Which Top Gym in Coral Gables Is Highly Recommended?
Which Coral Gables Fitness Club Is Highly Recommended?
If you're looking for the top gym in Coral Gables, take a hint from the countless fitness enthusiasts who recommend Sweat440 Coral Gables. Our 5-star reviews give you a glimpse of why we're the favored fitness club in the Gables. But let's take a closer look at what sets Sweat440 apart from other gyms in South Miami.
Why Is Sweat440 Recommended for Group Fitness?
Sweat440 sees group fitness as the ultimate path to reach your goals. Exercising together enhances your experience by adding incentive, inspiration, accountability, encouragement, motivation, and camaraderie to your routine. That's why our gym is entirely based on small group fitness classes led by personal trainers.
Feeling low on energy? Bored of your workout? Lacking motivation? Come see what our group fitness classes do to rev up your fitness routine. With high energy music, positivity, and top-notch trainers, you won't coast through a workout at Sweat440. The proof is evident in the rapid results our members achieve.
Why Is Sweat440 Recommended for Personal Training?
If personal training is on your wish list, add "join Sweat440" to your to-do list! Our gyms offer a unique advantage for members: personal training is free in every class! Hiring a personal trainer is no longer a huge investment or an activity you can't fit into your schedule. No matter which class you take, you'll be guided by a certified instructor who offers individual attention to each participant.
We customize your workout by adapting resistance, reps, and equipment to suit your needs. Our trainers make sure you're always working at your highest level, safely, rather than leading a generalized class that's not designed for all fitness levels.
Why Is Sweat440 Recommended for Weight Training?
Some people love weight training; others avoid it; and others are intrigued but intimidated by it. Proper weight training is actually essential to reaching your fitness goals, no matter what they are. Our instructors know how to lean you out or bulk you up. We know how to help you cut, shred, shape, and tone your physique.
Through our compound cardio circuits, we fuse weight training with cardio, so you get twice the results in half the time. Each of our stations is customizable, so you can work toward your own desired outcome. We'll help you reach peak fitness in record time, without injury or plateau. Don't try weightlifting on your own. You'll likely be frustrated by the results. Let our team of experts help you achieve your desired physique.
Why Is Sweat440 Recommended for Fitness Classes?
At many South Miami gyms, there are long wait lists or a limited number of classes per week. No matter how committed you are to your gym, if you can't find a spot in a class, it's not doing you any good. Sweat440's members agree, we have the best schedule in town, which ensures every member gets a spot! Our classes start every 10 minutes, so there's always an opening just minutes away. You can sign up in advance, or just show up, and you'll never be waiting around.  
Our members also love that our classes repeat all day, and then change each day of the week. So, you aren't stuck with a singular time slot if your schedule gets busy. Simply pop into the next one, so you never have to miss a workout. Since our classes vary throughout the week, you don't have to take a day off. You can shape your lower body one day, shred your upper body the next day, and sweat through a conditioning class after that! We keep things moving so there's always a fitness class waiting for you.
Why Is Sweat440 Recommended for All Fitness Levels?
Sweat440's classes are powerful. Members will tell you, you'll sweat for the entire class! However, we use an interval training system that switches up the intensity, so you don't overexert yourself. After each 45-second set of exercises, you get 15 seconds to catch your breath. This is just the right interval to keep your blood pumping but prevent you from slipping into poor form.
It also ensures that you'll hit your VO2 Max, so you'll burn calories long after the workout. Since our classes are divided into 4 10-minute stations with constant trainer oversight, they're easily adapted to suit any limitations or preferences you have. Work at your own pace within the station, so you achieve your personal best.
Why Do Members Rank Sweat440 the Top Gym in Coral Gables?
Our members can't get enough of Sweat440. When asked, they have a hard time choosing their favorite feature. They love the 10-minute class rotation since it simplifies their schedule. They also love the free personal training incorporated in each fitness class. They're big proponents of our HIIT method, which delivers rapid results.
Members also love that Sweat440 is a welcoming gym, where people of all fitness levels work together to reach fitness goals. We're a contract-free gym and your first class is free, so come see for yourself why we're ranked the top gym in Coral Gables! With locations throughout South Miami, there's always a Sweat440 near you. Visit our Coral Gables gym near Merrick Manor today!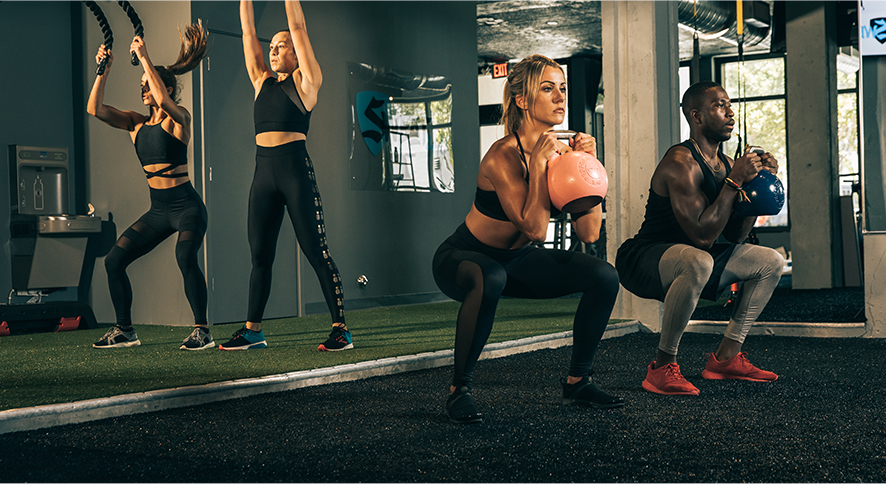 5 Reasons to Try the Top Gym in Coral Gables
Why You Should Try Sweat440:
We're a contract-free gym and the 1st class is free!
Our fitness classes are safe for all fitness levels.
Our classes include free personal training.
Our weight training method sculpts a better physique.
Our classes begin every 10 minutes.
Where You Can Try Sweat440:
Sweat440 Coral Gables- 301 Altara Ave.
Sweat440 Brickell- 25 SW 9th St.
Sweat440 Miami Beach- 1916 Bay Rd.
Sweat440 Doral- 8403 NW 53rd St.
Sweat440 other locations: click here