The Top Gym in Chelsea for Each Type of Exercise
Are You All About Personal Training?
When you think of gyms, do you picture yourself with personal trainers? If you love inspiring fitness experts guiding you through your workouts, look no further than Sweat440 in Chelsea. Our gym is not only founded by renowned personal trainers, it's also run entirely by trainers, with individual training in every small group class. In other words, no matter when you work out at Sweat440, you're always working with a trainer. The best part? Our personal training is included for free in every single class!
Do You Love a Climbing Wall?
Is rock climbing or a climbing wall your idea of the perfect workout? No need to head to an actual mountain or pay for gear to wait in line to climb at a crowded climbing center. Instead, visit Sweat440 where innovative tools like Versa Climbers simulate a climbing wall with no crowds of kids and long lines to contend with. Usage of our state of the art climbing machines is included for free in each class, and it offers a more effective workout. Our high tech equipment is better for your joints and provides the perfect resistance to burn calories while building muscle simultaneously.
Are Group Fitness Classes Your Jam?
Are group fitness classes with friends your favorite way to work out? You'll love Sweat440 in Chelsea, where every workout is a small group fitness session. Our gym has a new class starting every 10 minutes, so there's always a spot for you and your friends to jump in. Our classes repeat throughout the day, and they focus on different muscle groups each day of the week, so you can come as often as you want! Shape your lower body, shred your upper body, or torch your core, all within 40 minutes! All of our classes provide a full-body fitness experience with targeted exercises for certain parts of the body for a well-rounded approach to fitness.  
Is an Inspiring Gym Your Main Objective?
Do you love the idea of going to the gym, but need a little inspiration to make that leap? Life is busy and workouts can sometimes fall off your to-do list if they aren't a pleasant experience. Sweat440 uses upbeat music, motivational personal trainers, and an encouraging group of members to encourage your involvement. Our members can't wait to come back to class, since it's such an inspiring gym atmosphere. We're a welcoming bunch from all walks of life and all fitness levels who celebrate health together.
Are Challenging Classes Like HIIT Your Thing?
Have you belonged to multiple gyms and are still searching for the ultimate workout? Chances are, you haven't tried a legitimate HIIT gym. Some gyms offer a HIIT class or two, but Sweat440 is a dedicated HIIT facility, teaching HIIT exclusively, 7 days a week. High-intensity interval training (HIIT) burns more calories and builds more muscle in a fraction of the time you'll spend at other gyms. The varied intervals of intensity allow your body to work harder for longer, without injury or exhaustion. You won't believe how much you accomplish in the 4 stations we take you through, but you'll notice a difference in your physique right away. If you want to take your fitness to the highest level, challenging classes like HIIT are the way to do it.
Are You Looking for State of the Art Equipment?
Are you looking for a gym with the latest state of the art equipment? Today's exercise technology enables better results with less impact on your bones and joints. It's also faster and more enjoyable to achieve those results with innovative machines. Our Ski Ergs, Versa Climbers, Assault Bikes, rowers, TRX, sleds, sliders, and more provide a cutting edge workout for athletes of all levels. We provide animated demonstrations on screens at each station, scheduling apps, and even a selfie station for your post workout glow. Outdated equipment is inefficient, and sometimes downright dangerous. Join a gym like Sweat440 where state of the art equipment is a top priority.
Is Functional Training Important to You?
If you're looking for a top gym in Chelsea, you might be interested in losing weight or building muscle, but you might also be seeking relief from the toll life takes on your body. Do you have back or neck pain from working at a desk? Do you have sciatic pain from driving a bus, cab, or Uber all day? Do you have knee or ankle pain from a prior injury? At Sweat440, functional training is infused in every workout, since these strengthening and preventive exercises help you perform your daily tasks more comfortably and easily. Since each of our classes involves personal training, we customize exercises to accommodate any limitations you have and prevent future injuries.
Do You Want to Burn Extra Calories Post Workout?
Do you want a gym that maxes out the calories burned during your workout (hitting your VO2 Max) and also helps your body burn calories post workout (excess post-exercise oxygen consumption or EPOC)? Sweat440 is the key to both mid-workout and post-workout calorie burning. The variations in intensity we use at specific intervals engage fast twitch muscles, so you're always burning the most calories possible with each movement. At Sweat440, our challenging classes work double duty, making you fitter while you're there, and also while you're at rest.
Are You Into Amenities Like a Juice Bar?
Is your idea of the perfect gym one that's loaded with amenities? Think carefully before you join a gym based on its perks. Many gyms charge extra for every single thing, even lockers or towels. Certain amenities like a juice bar or café might actually detract from the time you spend exercising and result in consuming extra calories. Join a gym with the amenities you actually need to get fit, like the showers, lockers, towels, and water stations at Sweat440. Save the juice bar and spa treatments for after your workout is done. Sweat440 Chelsea is just steps away from Pressed Juicery and Juice Generation so you can get your juice bar fix without paying for it in your gym membership.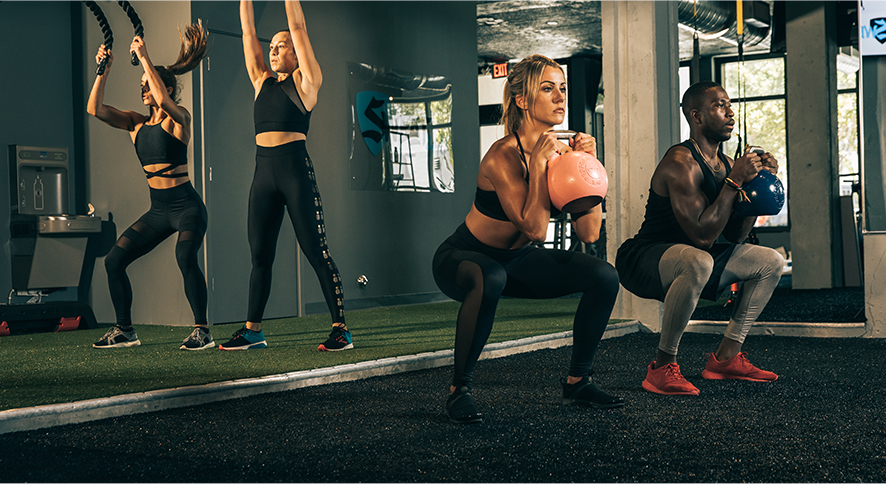 Why Sweat440 Is the Top Gym in Chelsea for Every Workout
Sweat440 Suits All Fitness Styles
All classes have personal trainers
Tools for cyclists, runners, climbers, rowers, & yogis
Equipment for weight lifting and weight loss
Functional training for total wellbeing
Maximum mid and post workout calorie burn
Inspirational environment for all fitness levels
Challenging classes designed for everyone
HIIT method for potent workouts
Group fitness classes for camaraderie
Sweat440 Has Something for Everyone
Versa Climbers for climbing wall enthusiasts
Assault Bikes for spinning enthusiasts
Rowers for rowing enthusiasts
TRX for pilates enthusiasts
Dumbbells/kettlebells for lifting enthusiasts
Sleds/sliders for crossfit enthusiasts
Compound cardio for weight loss enthusiasts
Personal trainers for personal training enthusiasts
Group fitness classes for social enthusiasts