Top Gym in Brickell for Group Fitness Classes & Weightlifting
Why Is Sweat440 the Top Gym in Brickell for Strength Training?
Some people think of strength training as an activity for body builders or those who want to bulk up. But strength training is actually essential for everyone, since it maintains our mobility, enhances our stamina, prevents injury, and burns calories even after our workout. However, strength training is not a one-size-fits-all endeavor, since each person needs different resistance, reps, and techniques to achieve their personal goals.
Sweat440 is the top gym in Brickell for weight training since we customize your routine. We use kettlebells, dumbbells, sleds, TRX, and more to provide the optimal workout for you. Whether you want to bulk up, tone up, lean out, or recover from surgery, injury, or childbirth, we have a range of techniques and tools to suit your needs. We are not a barbell-slamming, intimidating gym, but an encouraging, effective, strength training center for all fitness levels.
Why Is Sweat440 Brickell Best for Group Fitness Classes?
Some gyms with excellent strength training equipment are just that. But Sweat440 also offers exceptional group fitness classes that incorporate strength training in each session. Our classes start every 10 minutes, so you can always grab a spot. Our classes are also smaller in size, so you have ample workout space and aren't crowded while exercising or stuck waiting to use a piece of equipment. We provide individual workout pods and rotate classmates through stations every 45 seconds, so you're never waiting around.
Our group fitness classes are all led by expert HIIT trainers who move throughout the room to make sure you're on track. We'll help with form, resistance, pacing, reps, and any accommodations you need. We love answering questions and helping you learn how to max out your potential. Our classes are unique in that they provide personal training in a small group setting, free of charge. We never charge for classes you miss or make you book classes way in advance. You can book online, use our scheduling app, call ahead, or simply pop in. Our 10-minute schedule rotation means you're never more than a few minutes away from jumping into a class.
Why Is Sweat440 in Downtown Miami Best for Cardio?
Cardio is important. But some people don't do it correctly. While a steady-state stroll or single-paced run might be comfortable, it won't burn the most calories or build muscle the way interval training will. Sweat440 uses compound cardio exercises that take you through various intervals of intensity, including 15-second periods of rest, to make sure you reach your VO2 MAX, which is the maximum amount of oxygen used during a workout. This ensures that you'll burn the most calories you can, and you'll do so in half the time it would take if you stuck with a single level of intensity.
Compound cardio is not just highly effective, it's also highly efficient since you get strength training simultaneously while you do cardio. We use state of the art equipment like Versa Climbers and Ski Ergs to get your blood pumping while also toning your muscles. Our members love that they get a full body workout in just 40 minutes at Sweat440 Brickell, rather than spending 30-60 minutes on cardio, plus 30-60 minutes in the weight room.
Why Is Sweat440 the Best Total Body Workout in Miami, FL?
Sweat440's unique class structure provides a total body workout in each class, but there's also special emphasis on different muscle groups each day, so no two days are the same. We offer SHAPE, SHRED, SWEAT, and WARRIOR classes, each with a targeted focus, and all of which work your core. You can SHAPE your lower body Monday and your upper body Friday. SHRED your upper body Tuesday and your lower body Thursday. SWEAT through a conditioning class Wednesday, or complete a WARRIOR class on Saturday or Sunday.
Our Miami, FL, gym, near Brickell Heights, offers the distinct advantage of varied workouts, repeated all day long, so you can come as many times as you want each week and always do something new. Some weightlifting gyms only emphasize things like "leg day" or "arm day," but at Sweat440, every day is a full body day, with enough focus on a particular area to sculpt your best physique.
Why Is Sweat440 Brickell the Right Fitness Studio for You?
Are you a bodybuilder, marathoner, cyclist, or group fitness enthusiast? Do you love amenities like infrared saunas? Are you a yogi, HIIT fanatic, or pilates devotee? Are you brand new to the gym or decades into your love of fitness? No matter what your fitness preferences are, Sweat440 Brickell has something for you. Our state of the art fitness studio near the Brickell City Centre and Brickell Heights blends the best of all workouts into one powerful method, backed by ample, innovative equipment.
Sweat440's HIIT classes are safe for all fitness levels, since you work at your own pace, in your own space, as you move through the workout. Our trainers are there to guide you, whether you have Olympic dreams, or want to comfortably tie your shoes. Come see why our total body workouts are just the solution you need. With free classes for every newcomer, it's easy to determine if Sweat440 is the best gym in Brickell for you!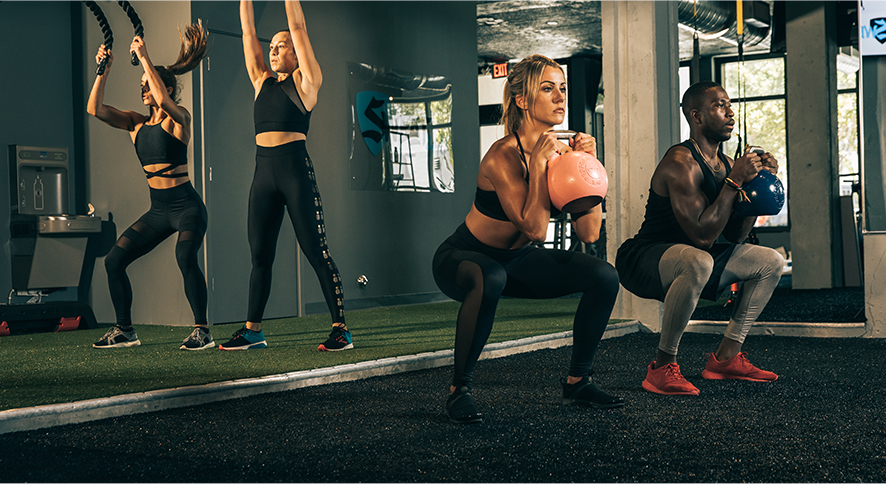 Sweat440 Brickell Is the Best Gym for Every Gym-Goer
Why Sweat 440 Brickell Is Right for You:
Varied, innovative strength equipment
Expert instructors for all fitness levels
Compound cardio for better results
Ample, welcoming group fitness classes
Total body workouts with a targeted focus
State of the art machines for better results
Sweat440's Free Trial Classes:
WARRIOR- total body conditioning
SWEAT- core/conditioning
SHAPE- upper body & core
SHAPE- lower body
SHRED- upper body/core
SHRED- lower body/core