​Top Gym to Meet Your Fitness Goals
Have you ever gone on a fitness binge? You join the top gym or a new fitness program, and a world of possibilities opens up before you. Six-pack abs, being simultaneously envied and desired, racking up those social media likes, leading your best life. Driven by those ambitions, you go on a fitness binge. You eat egg whites for all your meals, down protein shakes every chance you get, pump iron, hit the treadmill, turn your gaze away every time you so much as look at carbs. But eventually, inevitably, you crash. You don't meet your fitness goals quickly enough. You may even go on a literal food binge, stuffing yourself with pizzas until you're in a food coma. And then you quit the fitness program. Again.
You don't have to identify with that exact scenario. It is admittedly pretty extreme. But you may identify with some part of it. We all do. And every time we break, we blame ourselves for not carrying on. But that is a futile endeavor, and the blame may even be misplaced. There are a lot of reasons people quit gyms, and a lot of them have more to do with your circumstances than your resolutions. Determination and the importance of setting achievable goals can't be overstated, but that's often not enough.
So what do you do? You must identify the real reasons you give up on your fitness goals or fitness program, and then find the top gym that addresses your needs. In this article, we look at some of the common problems with most fitness programs, and how Sweat440 is the top gym to meet your fitness goals.
Common Issues with Most Fitness Programs
Cost: Gyms can be extravagantly expensive. Personal trainers in cities like New York even more so. Furthermore, some gyms like Equinox charge for all kinds of luxurious amenities that you don't really need to meet your fitness goals. You may pay a premium price expecting the world. But once the membership costs pile up, and you don't see a commensurate gain in your fitness goals, you quit.
Contracts: Most fitness programs have binding contracts that you can't simply leave in a week or month. Many of them lock you into a contract for a year or more.
Inflexibility: Group fitness programs usually necessitate that you schedule your classes well in advance. Since popular group fitness programs fill up quickly, you may even need to plan your fitness schedule a few days in advance. If your daily schedules are erratic, you may not meet those tight schedules.
Structureless: Most traditional gyms and fitness programs, such as Planet Fitness, lack structure. You have to either invest in experienced personal trainers or figure your own way around the gym. Unless you're a fitness expert, you probably have no idea how to schedule your fitness program for maximum benefits. Over time, the lack of structure will lead to boredom, stagnation, and you'll give up.
Specificity: Most fitness programs only focus on specific aspects of fitness. SoulCycle, for example, only focuses on cardiovascular fitness, paying little to no heed to strength training. Most group fitness programs don't help you achieve full-body holistic fitness goals.
Sweat440: Top Gym in New York & Florida
Sweat440 is the top gym in New York and Florida because it has been designed to address all of the problems we mentioned before. Sweat440 is a group fitness program that ensures you meet and exceed your fitness goals because it's not just effective, it's also insanely fun!
The following is an overview of why Sweat440 is the top gym in New York and Florida:
Reasonable: Sweat440 group fitness classes are far more reasonable than most other high-end fitness programs. And you get access to all of the latest fitness devices and machines. You also have the flexibility to pay per session, for a group of sessions, or get monthly subscriptions.
No Contracts: We don't believe in contracts, and we don't tie you down. You're free to stay as long as you like and leave when you want.
Flexibility: You don't have to schedule a group fitness class ahead of time. We have new groups joining the class every 10 minutes, which means you're never late!
Structure: Sweat440 has a fitness program designed by highly-skilled and certified personal trainers and experts. Our weekly fitness program ensures that we target each muscle group at least twice every week.
Variance: Sweat440 doesn't just focus on cardio, or strength, or any single quotient of fitness. We ensure you reach all your fitness goals. As such, our fitness program is divided into Sweat, Shred, Shape, and Warrior days. We have different goals on these days, either to provide conditioning, strength training, HIIT, or other forms of workouts.
Obliterate Your Fitness Goals at Sweat440!
Sweat440 is designed to ensure that you obliterate your fitness goals at Sweat440. We have the top gym locations in both New York and Florida. In New York, we have top gyms in Chelsea and Financial District, close to landmarks such as the Madison Square Park. In Florida, we have top gyms in four locations.
Top Gyms in New York
Top Gyms in Florida
​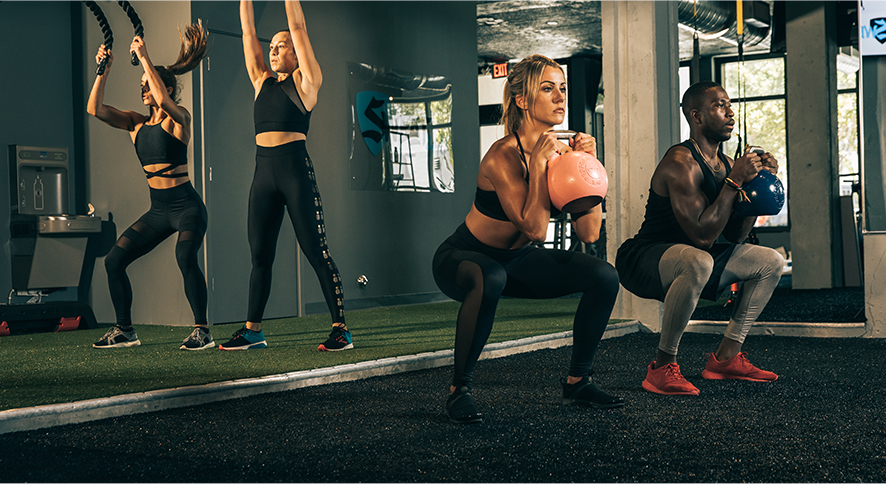 Drawbacks of Most Fitness Programs
They're expensive and unsustainable.
They bind you into strict contracts.
Most group fitness programs have an inflexible schedule.
They lack structure.
They're not conducive to meet holistic fitness goals.
Benefits of Sweat440 Top Gym
Sweat440 has reasonable memberships.
We don't believe in contracts.
Our fitness classes start every 10 minutes.
We have a structured and expertly-curated fitness program.
We cover all forms of fitness over the week.