Why the Gym or Fitness Center You Choose Can Help or Hinder
If you're ready to join a fitness center, congrats! You're making an excellent choice for your health, happiness, and longevity! Joining a gym should always be a positive thing. Unfortunately, the way some gyms are run, it's not always a pleasant experience. That's why it's so essential to join the right one, and to get a free trial before you sign up. Sweat440 is the gym and fitness center that checks all the boxes of a positive fitness experience. Check out 5 reasons your gym selection can either help or hinder fitness results and you'll see why Sweat440 excels above the rest!
​1. A Gym Either Inspires or Intimidates You
One of the quickest ways to quit exercising is to join a gym that intimidates you. If you don't know how to use the equipment or can't keep up in the class, you probably won't want to come back. Intimidating gyms either make you quit or make you try things you aren't ready for, which leads to injury. In these types of gyms, you're often doing more harm than good.
The right gyms offer free training sessions and explanations of how everything works. At Sweat440, we not only include free training in every class, but we also have video demos at each station to show you exactly what to do. While our HIIT classes are challenging, they're designed so beginners can fold in seamlessly, without looking like a rookie. Our goal is to inspire you to achieve optimal fitness, no matter what point you are starting from, and we guide you each step of the way
2. A Fitness Center Either Includes or Excludes You
It's a crazy concept to pay for a gym but not be able to use it. Yet, that's exactly what happens at some mismanaged gyms. They don't have enough cardio equipment, they don't have enough classes, or they lack sufficient instructors and trainers. If you're stuck on a waiting list for fitness classes or spend your time standing around waiting for a treadmill, your gym isn't doing you any favors.
At Sweat440, our fitness classes start every 10 minutes, so no one is left out in the cold. No matter when you arrive, there's a class beginning within minutes, so you're #neverlate. We don't prioritize certain members or shove newcomers in the back of the class. Our trainers and classmates are pumped to welcome new members, and our classes are adaptable for all fitness levels.    
3. A Gym Either Energizes or Depletes You
Some gyms have dirty facilities, old machines, and grumpy members who can't be bothered. The energy and vibrancy in certain gyms is seriously lacking. When a gym is gloomy and run-down and filled with members angrily throwing weights on the ground, you leave feeling worse than when you arrived.
Gyms like Sweat440 know that you come to the gym to get energized, to fill your depleted resources. That's why we blast upbeat music and create an environment of positivity. From high-fives between stations, to high-energy exercises, our intervals of intensity keep you on your toes. We have the latest equipment to keep you engaged and ahead of the game! You'll always leave Sweat440 invigorated and ready to face the day.
4. A Fitness Center Either Encourages or Discourages You
Another reason some people quit exercising is they're discouraged by the results. Maybe they look around the gym and see people who are thinner than them, even though they feel they're working harder. Maybe they're moving as fast as they can, but the needle on the scale isn't moving at all. Many gyms don't provide members with the info or tools to generate results. Exercising without guidance from a personal trainer yields discouraging results.
One philosophy behind Sweat440 is to provide every member with free personal training. A personal trainer circulates through each small group class correcting form, suggesting resistance, assessing exertion levels, and providing adaptations so each member gets their best outcome. If you're paying to join a gym or fitness center, choose the one with encouraging results!
5. A Gym Either Prioritizes Owners or Members
Most gyms prioritize their revenue over their members. Gyms that lock members into annual contracts that are tough to get out of are just one example. Other gyms make members pay for classes even if they have to skip for illness or emergency. Some gyms don't stay staffed around the clock, which saves them money but undermines member safety. Ask yourself if you want to invest in a gym that doesn't invest in you.
Sweat440's founders are personal trainers who designed the gym to be member-centric. We don't use contracts and don't have minimum purchase requirements. Our members can buy as many classes as they like, and use them whenever they want, which is easy with our 10-minute class rotation. You can cancel at any time with no penalties or waiting period.
Sweat440's Gyms Are the Best Choice for Health and Fitness
Sweat440's team believes that happy and healthy members are the true definition of success in a fitness center. We offer plenty of free perks like showers, lockers, towels, scheduling apps, and even a selfie station! We always prioritize health and safety and follow the strictest social distancing and sanitizing protocols. Try a free class today! It's just one more way we put members first.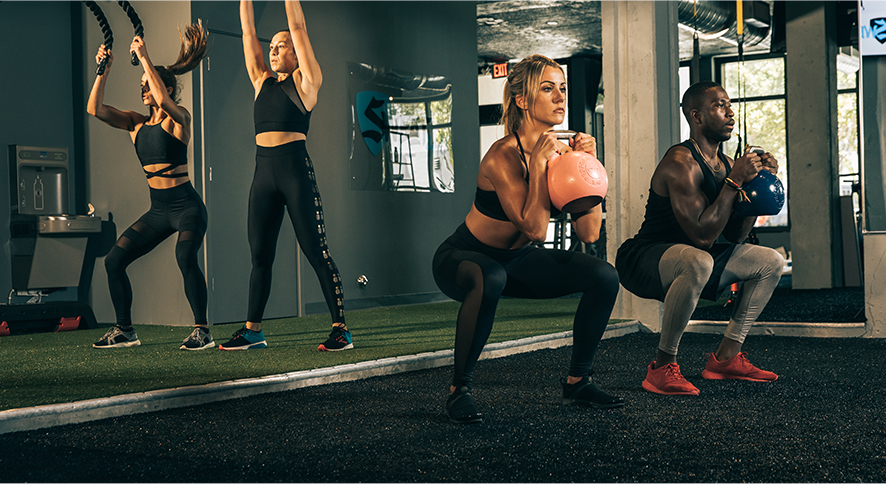 Choosing the Right Gym Determines the Outcome
How the Wrong Gyms Hinder Progress
Intimidating gyms cause quitting or injury
Overcrowded gyms waste your money
Outdated, angry gyms don't energize you
Gyms that don't train you discourage you
Gyms that prioritize revenue neglect you
How Sweat440 Inspires Progress
Sweat440 inspires all fitness levels
Sweat440 includes you with ample classes
Sweat440's new equipment & methods energize
Sweat440's upbeat environment encourages you
Sweat440's member-driven mission prioritizes you