7 Tips to Find the Best Sweat Studio Nearby
Are you searching for a "sweat studio near me?" You're in luck! Sweat440 offers the best sweat studio in multiple cities around the world. From Miami to Montréal, we're cranking up an unbeatable sweat at a gym right near you! Click HERE to find a Sweat440 in your town, and check out these 7 tips for choosing the right gym.
1. Choose a Gym That's Easy to Get to
If you're looking for a sweat studio nearby, you're already on the right track to getting fit. Experts agree that a gym's proximity is key to consistently working out. If your gym is far from your home or office, you're less likely to fit exercise into your schedule. But it's not just about the distance.
Choose one that's actually easy to get to, not just nearby. Sweat440's gyms are easily accessible by major transit and located near convenient stops. Our gyms are centrally located to neighborhoods, business districts, and schools to make fitness easier to achieve. That means we're probably close to both your home AND your office!
2. Choose a Gym with Enough Classes for Everyone
If you actually want to see a difference in your body, and not just belong to a gym, you should seriously consider fitness classes. The inspiration, motivation, competition, and accountability you get from classmates can't be replicated on your own.
But joining a gym with only a few classes or long wait lists for classes might mean you're left out of the fun. Sweat440 has classes every 10 minutes. There's no schedule on earth that can't align with our class schedule, which means everyone gets a spot in a class.
3. Choose a Studio That Only Uses Qualified Trainers
Do you have a favorite hairdresser? How about a favorite doctor? Did you have a favorite school teacher? When we find a professional who exceeds our expectations, we want to stick with them. Some gyms leave members disappointed because their instructors and trainers fail to meet their needs. Other gyms have one or two qualified trainers, but far too many members for them to work with.
At Sweat440, every trainer is highly qualified and a master of the HIIT method. So, you don't have to wait around for your favorite instructor to have an opening. All of our instructors will be your favorite! You get the same high-intensity-interval training with an expert instructor, no matter which class you take at Sweat440.   
4. Choose a Fitness Studio with Membership Options
Life is unpredictable. And 2020 made that abundantly clear. Gym goers need and deserve multiple membership options so they can roll with unexpected changes. If you get injured, change jobs, move, have a baby, or (the new obstacle) have to quarantine, you might need to pause your membership for a while.
Sweat440 understands completely. That's why we don't use contracts or annual fees. We don't penalize you for cancelling your membership or make you cancel months before we stop charging you. Simply buy classes as you need them. No need to book months in advance. If you need to leave at any time, just let us know. And if you're moving, we'll get you connected to the Sweat440 near your new locale.
5. Choose a Gym with Ample Equipment
Most gyms have a few treadmills, maybe some bikes, dumbbells, and barbells, and an elliptical machine. Yawn. Fitness is so much more than that in 2021! It's no wonder people get bored of their gym routine when they're doing the same thing they did 20 years ago. Sweat440 has state-of-the-art training equipment with innovative designs for compound cardio workouts.
Our Versa Climbers engage every muscle you've got while you crank out cardio. Our Ski Ergs are as exhilarating as hitting the slopes, and even better for your physique. Our Assault Bikes work your upper body in ways no other bike can. Our battle ropes help you work through stress while you work through all the muscles in your body. There's never a dull moment at Sweat440, and that fun is enhanced by the joy you feel when you see the results!
6. Choose a Sweat Studio That Actually Makes You Sweat
Joining a gym is one thing. Going to it is another thing. And breaking a legitimate sweat when you go is yet another thing altogether. Choose a gym that will actually cause you to break a sweat every time you show up. Otherwise, you're wasting your time and money. Sweat440's HIIT classes are designed to max out your efforts with compound circuits that fuse strength training with cardio.
We give you just enough time to catch your breath between sets, but we keep that heart pumping so you work up a healthy sweat. Our classes guarantee a productive sweat, and the proof is in your physique. Stop by our selfie station to capture that post-workout "glow." You'll see a quick transformation in those selfies when you break a real sweat in our gyms.
7. Choose a Gym That Values its Members    
Some gyms treat members like a number. They don't notice if you don't show up (in fact, it's cheaper for them if you don't). They don't offer the best amenities or keep their studios clean. They don't have enough classes, trainers, or equipment to go around. They'd rather you be locked into a contract than happy to come to the gym.
Sweat440 is the opposite of the typical gym. We offer all of your favorite perks like showers, towels, lockers, and water stations (some perks are temporarily closed due to COVID-19). In addition, we offer free classes for all new members, and we design our classes so that everyone can jump in and learn, regardless of fitness level.
We don't lock you into a contract or charge hidden fees or charge for classes you miss. Our members are important to us, because we're committed to making health and fitness affordable and convenient for everyone. We can't wait to welcome you into our fitness family!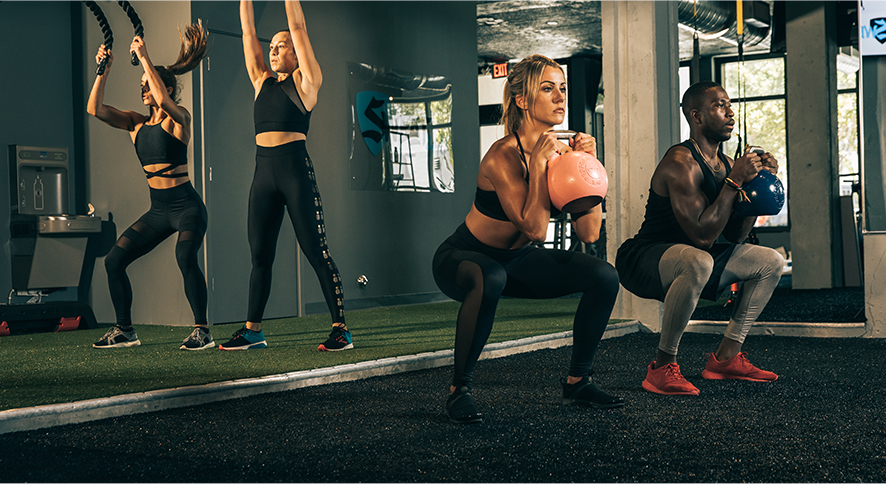 The Best Sweat Studio Nearby
Sweat440's Convenient Locations
Sweat440 Miami Beach
Sweat440 Brickell
Sweat440 Coral Gables
Sweat440 Downtown Doral
Sweat440 Chelsea
Sweat440 Austin
Sweat440 Montréal
Conveniently located to transit stops
Plenty of classes for everyone
Only the highest quality trainers
Multiple, flexible, contract-free memberships
Ample state-of-the-art equipment
HIIT method works up an incomparable sweat
Free classes and trainers, we put members first