"Sweat New York" is a common Google search for three unique reasons. In 2018, Sweat by Lynn Nottage left The Public Theater and took Broadway by storm, earning rave reviews from The New York Times, Time Out New York, and The Wall Street Journal. In June 2019, the SWEAT Bill that allows union workers to freeze employer's assets and hold them accountable for wage theft passed legislation. And in 2019, Sweat440 opened two locations for innovative training in New York City. While each of these "Sweat" titles carries a different meaning, they share a common thread for New York City, which is power to the people.
What a Broadway Play, a Senate Bill, and a Gym Have in Common
Sweat Broadway follows a group of friends working in a factory forced to fight for their existence in picket lines when owners conduct layoffs. It exposes the reality and implications of lack of autonomy for factory workers. The SWEAT Bill (Securing Wages Earned Against Theft) is a real-life attempt to obtain a balance of power in such workplaces, and claim wages from factory owners avoiding paying. Backed by 85 organizations and over 10,000 people strong, it's a fight fueled by a team of hard-working people.
The Sweat440 gym supports our hard-working city, and aligns with the same mission to put power back in the hands of the people. That includes the smallest things, like the power to control your fitness. Our philosophy is people-focused, and our gyms are designed to fit your life, whenever it's convenient for you. Our classes start every 10 minutes, so you decide when to work out, rather than being dictated by our schedule. Whether you work first, second, or third shift, or practically 24/7, we have a class to fit your schedule, and a team of people ready to cheer you on.
How Sweat440 Brings Power to the People
Sweat440 originated when two successful trainers, Matthew Miller and Cody Patrick, decided to make fitness more accessible and attainable for everyone. After years of working in the fitness industry, they heard the frustrations of people who were unhappy with their level of fitness with reasons ranging from the facility, to the cost, to the schedule, to the lack of results. They wanted to revamp the whole concept and design a fitness center through the eyes of the people. Take a look at the top 7 hurdles they heard people mention, and how they designed Sweat440 to fix them.
Sweat440 Tackles the Top 7 Fitness Hurdles You Face
Cost- Many people avoid joining a gym in NYC because of exorbitant membership fees. Others join, but get stuck paying for contracts even if they aren't happy there. For others, the cost makes it the first thing to go when money gets tight. Sweat440 offers a free class upfront, so you don't spend a penny deciding if you like it. Our classes are priced below our competitors to make fitness more accessible.
Time- Some people feel like they just don't have time to work out, at least on certain days. That's why every one of Sweat440's classes implements HIIT technology so you get in and get out with maximum impact in only 40 minutes.
Schedule- You might love a class, but if it's only offered across town on Wednesday at 2:00, that might not work. Sweat440's classes start every 10 minutes, in multiple locations, so you can hop into a class whenever you get a chance.
Crowds- Ever rushed into a gym to grab a quick workout but all the treadmills were full? How about waiting in line for a shower or being locked out of a class? Sweat440 makes our members a priority, so you always get your turn. Running late? No problem, another class starts in 10 minutes.
Motivation- We get it, traditional workouts are hard to get excited about- running to nowhere on a treadmill, without ever seeing results. Sweat440 takes motivation to a whole new level with hype music, high fives, and enthusiasm you can hear from a mile away. If you aren't feeling it today, come on in, we promise you'll catch the energy.
Boredom- Sick of curling the same dumbbells day after day, or staring at someone's back in a spin class? We hear you. That's why our classes are super dynamic, with new exercises performed every 45 seconds.
No Results– Frustrated with workouts that expend your energy but produce no visible results? Our fitness instructors will show you the perfect ratio of cardio to resistance to push your body to perfection, with sufficient rest in between. We provide personalized training in every class, without the price of a personal trainer.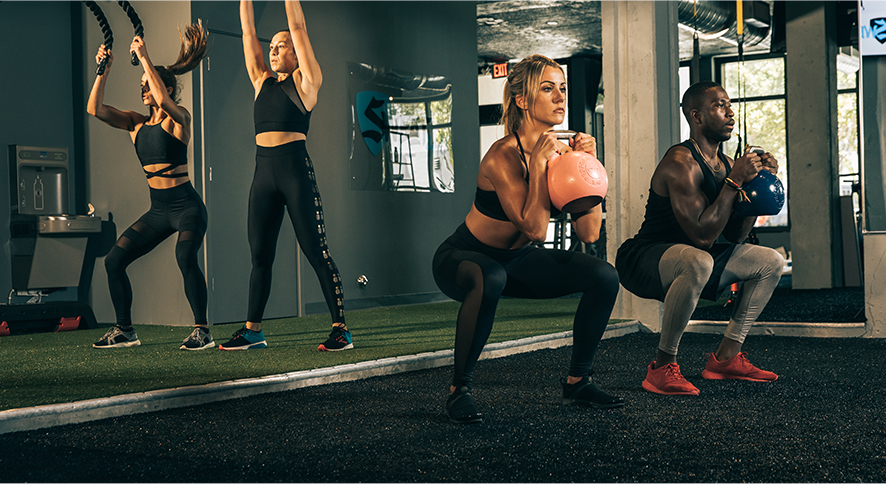 Let's Sweat, New York! Sweat440's Designed for You!
What Sweat440 Does:
Sweat440 does offer a free class to let you see what it's like.
Sweat440 does let YOU choose what time to take a class.
Sweat440 does welcome people of all fitness levels every time of day.
Sweat440 does provide a clean, positive environment for you to de-stress.
Sweat440 does offer constant coaching so you know just what to do.
Sweat440 does employ certified trainers to help with form and technique.
Sweat440 does utilize trainers who can accommodate injuries or limitations.
Sweat440 does provide an affordable workout in a gym near you.
Sweat440 does build lasting relationships and boost body positivity.
Sweat440 does provide a killer workout in less time than any gym in NYC.
What Sweat440 Doesn't Do:
Sweat440 doesn't make you commit to contracts before you give it a try.
Sweat440 doesn't charge for missed classes, just come whenever you can.
Sweat440 doesn't make you schedule way in advance or penalize you if you're late.
Sweat440 doesn't employ unskilled trainers or novice class instructors.
Sweat440 doesn't intimidate our new members, but welcomes them enthusiastically.
Sweat400 doesn't cater to a certain level of athlete but makes fitness fun for all.
Sweat440 doesn't leave you on your own, but coaches you through routines.
Sweat440 doesn't charge for personal trainers; we work training into each class.
Sweat440 doesn't have a limited schedule- we offer the class you want all day.
Sweat440 doesn't charge for real estate like big gyms- you get every dime out that you put in.
Sweat440 is a gym designed for people like you who lead busy lives and want fitness to fit in seamlessly. We provide an affordable workout in a high-impact class that doesn't waste your valuable time. People are the passion behind our mission, and it shows in our 5-star Yelp reviews. Stop in and see how we're putting the power of fitness back in the hands of the people.