Sweat Gym Hours for Your Schedule: Sweat440 Fits You In
If you have a busy life, fitness can get squeezed out. Sometimes, it's by choice- you want to spend that hour watching TV. Sometimes, it's by necessity- your meeting ran too long. And other times, it's by exclusion- all the classes were full when you found a minute to hit the gym. You might look for a gym that's open 24 hours, or offers tons of locations, to attempt to make it work. But neither of those things solve the actual problem. A gym that's just open, but not truly accessible, won't get the job done.
Why Gym Hours Don't Guarantee a Good Workout
No matter how many outposts it has, a gym being open doesn't guarantee a spot in the class, or a treadmill available when you arrive. And the bigger it is, the further in advance you have to reserve a spot in a class. So, if your meeting runs long, and you miss the class, you are out of luck. Plus, more locations don't necessarily mean more options. Many gyms charge large sums to grant you access to multiple locations, or require you to join each location.
As for the 24-hour gyms, don't expect fitness classes, trainers, childcare, or customer service at all hours of the night. Most people don't use the gym in the middle of the night, so you also risk your safety if you are there alone. There's a reason 24-hour gyms get 1-star reviews. If you work second shift, you're better off looking for a gym with tons of classes each day, so you can fit in a quick workout before work. And for third shift workers, you probably want to sleep once you've worked all night, so traditional gym hours work well for you.
In other words, just because a gym is open, doesn't mean you'll get a good workout. It's more important to look at the class schedule and membership structure to find the best fit for your lifestyle. At Sweat440, we offer classes that start every 10 minutes, so you are #neverlate. If you miss the class you planned to attend, we don't charge you. We just put you in the next available class. Chances are, that starts in under 10 minutes. And we don't require you to linger on class waiting lists for months at a time- we match our supply to demand. Some gyms bank on you not showing up– even celebrating it, since it's cheaper for them. At Sweat440, your attendance is our number one goal.
Class Availability: Why Minutes Matter More Than Hours
At Sweat440 we open early and close late to accommodate all of our members. But more importantly, our classes start often and repeat throughout the day, so there's always a spot for everyone. Some gyms boast of their operating hours but only offer each class once or twice a week. For busy people, that simply doesn't work. If your child is sick, or you get stuck in traffic, you miss out on the class completely.
But at Sweat440, you have multiple opportunities to catch the class you love each day. And our classes are different every day, so you can make it your daily routine. It's a routine that works in the real world, where you aren't pinned to a specific timeslot. The reality is, it's tough to make it to something at the exact same time every day- life rarely works that way.
That's why Sweat440's co-founders created a gym that works in the real world and offers grace for life's unexpected delays. Tight schedules mean missing your workout entirely at other sweat fitness studios, but at Sweat440, there's always another class starting soon. It's hard to predict how your whole day will go, let alone plan for exercise classes months in advance. At Sweat440, there's no need to do that, because we offer plenty of classes each day. We're happy when you show up! We care about your health and fitness, and we will always fit you in! 
How To Make Every Minute Count
So, if you find a minute to hit the gym and a spot in the class, you want to make it count, right? Sweat440 delivers a high-intensity interval training (HIIT) workout in every single one of our classes. Yes, you read that right! Some gyms offer a class they call "HIIT" once a week or so. But our HIIT is legit, and it happens all day, every day. What does that mean? It means you get the best workout humanly possible in just 40 minutes, divided into 10-minute stations.
On Mondays, you can shape your lower body and core with toning compound exercises. On Tuesdays, you can shred your upper body and abs with metabolic-conditioning circuits. On Wednesdays, you can sweat it out with heart-pounding, calorie-torching intervals. Each day of the week provides a new routine to keep your body in top form.
Blink, and it's over, and you won't believe what you just accomplished! From battle ropes, to versa climbers, to assault bikes, to ski ergs, we have the most advanced equipment available. But our trainers offer personalized instruction in every class, coupled with animated demos of each move, so even beginners know what to do. Our coaches circulate to correct form, encourage, and help you exceed your fitness goals.
At Sweat440, we provide the best of both worlds- extended operating hours and an abundance of classes on our schedule. So, you don't just get to work out with us, you get the best workout money can buy. You aren't left on your own to figure it out. We're fully staffed the whole time we're open, and we stick with you from start to finish.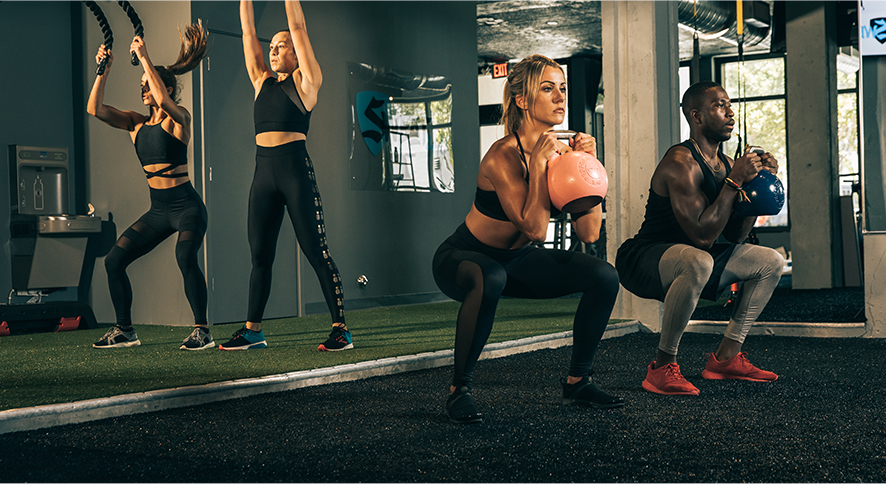 Gym Accessibility Is More Important Than Hours
How Some Sweat Gyms Block You Out
Some gyms don't have hours that match your lifestyle.
Some gyms don't have classes that repeat throughout the day.
Some gyms don't have enough spots in the class for members.
Some gyms require you to book way in advance.
Some gyms lock you out if you're late to class.
Some gyms charge you for classes you miss.
Sweat440 has extended hours for different schedules.
Sweat440 repeats the classes all day, so you don't have to miss.
Sweat440 has plenty of classes to accommodate all members.
Sweat440 doesn't require you to book months in advance.
Sweat440 believes you're #never late- our classes start every 10 minutes.
Sweat440 never charges for classes you miss; we always fit you in.