Sweat is sweat right? Not so much. In fact, when it comes to Sweat Fitness NYC, you'll perspire the most just trying to navigate their Facebook page or find out if they exist! While a Google search pulls up a Facebook page, the phone number is disconnected. If you belonged to Sweat Fitness NYC in the past, you might have sweated through your lululemons in a hot yoga class, but you didn't find the type of high-intensity interval training (HIIT) proven to change your body. The difference between Sweat440 NYC and Sweat Fitness NYC is clear. Sweat440 provides a full body workout via the HIIT method in a lively setting for the best mind/body boost in town. Oh, and we also actually exist.   
Why Sweat Fitness NYC Got 1-Star Reviews
Sweat Fitness NYC ranks pretty low when it comes to gyms, with 1-star reviews on Yelp. Complaints run the gamut from customer service, to online presence, to class availability. Even on their own Facebook page, their top fans only gave them three stars. Here are just a few gripes that members and visitors had against Sweat Fitness NYC.
Inaccessible- Patrons were frustrated by the lack of information online about the gym. Many claim no one ever answered the phone. Others wondered why their website doesn't exist, despite a Facebook link. Many disliked the inability to see a full class listing online or register for classes with ease.
Confusing- Their Facebook page lists them as a dance and night club, yet the page refers only to fitness classes. If you click on their website link from Facebook, the link takes you nowhere. Descriptions mention everything from boxing, to kid's hip-hop classes, to pole dancing. Not sure why you'd want to house kid's classes and pole dancing in the same location, but then again, who knows if they even did? Since you can't glean any info from a website, it's tough to know what they provided.
Not Customer-Friendly- They promoted an "intro special" of $19.99, but that money might have just gone down the drain, since you couldn't see what to expect. Reputable gyms offer a free class upfront and answer all questions, before you commit to paying anything.
Limited Classes- Sweat Fitness NYC claimed to teach an odd combo of boxing, yoga, Zumba, pole dancing, kid's dance classes, and classes for the elderly. But visitors said the schedules were hard to find and they had to pay before knowing what they were like. None of the classes taught the most current way to burn calories and build muscle. And forget about finding trainers or seeking support, there was no way to know who would teach the class.
Why Sweat440 NYC Gets 5-Star Reviews
Sweat440 rates at the very top of NYC gyms with 5-star reviews on Yelp and Classpass, and Facebook reviews like, "amazing," "best workout all around," and "perfect gym." If you wonder what sets Sweat440 apart, it's not one thing, but everything! That includes the pricing, location, convenience, instructors, ambience, and especially the results! Here are a few reasons thousands of satisfied members say Sweat440 is the ultimate fitness destination.
Convenient- Our classes start every 10 minutes… yes, every 10 minutes! That's unheard of in fitness centers. You don't have to come to class at the one time it's available, we have a class available whenever you come! We have multiple locations so you can find a Sweat440 near you. Our classes last just 40 minutes, so you always have time to get fit.
Affordable- We don't just outperform the competition, we come in under their pricing as well. You never pay for a class if you're late or absent. In fact, you're #neverlate. What's more, our classes pack the most punch, so you get even more than you pay for. We train you in every group class, correcting your form and cheering you on, without charging personal trainer fees.
Inviting- We welcome fitness lovers at every level. Whether you drag yourself here after a 10-year gym hiatus, or sprint in fresh off a triathlon, we want you here, and we'll make sure you learn the ropes. Our instructors circulate through every class, so you have a friend who in fitness, who also knows how to get ripped.
Exciting- Ever get tired of the gym? That's because you're at the wrong one! Our fabulous playlist and energetic instructors will keep you on your toes. Catch the contagion of classmates around you pushing for personal bests.
Effective– Study after study proves that HIIT classes are the most effective way to sculpt your body and improve cardio health in people of all fitness levels. Don't waste time on hour-long pilates classes, when HIIT transforms you in a fraction of the time. Our certified instructors are the cream of the crop- they make your goals their mission.
Freebies- Your first class is free! Personalized training comes free with every class! Enthusiasm is free here! High-fives are a free bonus! Freedom abounds in our gym, including the freedom to work at your own pace, and sing and dance along to our tunes.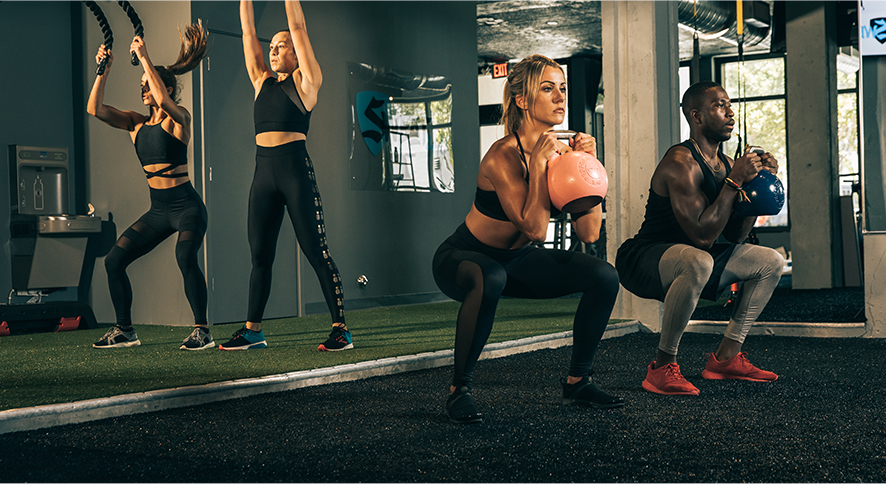 Why 5-Stars Matters With Fitness
How a 1-Star Gym Will Hurt You 
Safety- A gym that doesn't prioritize customers won't prevent poor form, accidents, or injuries.
Hygiene- Gyms that don't rank high don't retain members, so they can't afford things like cleaning crews, new equipment, or sufficient hygiene products.
Expenses- Struggling gyms often hike up their prices or overcharge and under-deliver. They also go out of business and never return member fees. Hidden costs plague low-performing gyms, so your finances are at stake.
Discouragement– When you convince yourself to turn over a new leaf, train for a race, or push past a plateau, you need a gym that supports you. You will lose motivation at a gym that doesn't seek to empower you.
How a 5-Star Gym Will Help You 
Prevention- A 5-star gym is customer-driven and wants to prevent everything from injury, to burnout, to heart disease. Sweat440 provides the best workout to do so.
Health Boost- Great workouts enhance not just the body, but also the mind. Sweat440 weaves the two seamlessly in our uplifting, positive classes that send an invigorating jolt through mind and body.
Motivation- Sometimes it's tough to prioritize fitness, or to push yourself past a hurdle. We specialize in pumping you up, overcoming your obstacles, and blasting past plateaus.
Savings- We aren't here to fatten our wallets, we're here to slim you down. We price our classes transparently so fitness is affordable and never charge for a class you miss.
If you're looking for Sweat Fitness NYC, try Sweat440 instead. We promise a free class with no hidden fees so you always know what to expect. Our highly-trained team is here around the clock to answer your calls, address your questions, and help you achieve everything you're after.