You made resolutions. You joined a gym. You even bought fabulous fitness apparel. But then, you logged on to find all the classes were full, so you decided to try again tomorrow. Then, tomorrow came, and the same thing happened again. Bummer! Unfortunately, many gyms in big cities like Miami and NYC have a common problem. They sucker in as many members as possible with the promise of awesome classes, in order to make more money. But they don't offer enough classes to actually match the membership. What you're left with is a membership card that opens a door that leads you nowhere.
What good is a membership, if they always run out of classes? You can't get fit sitting on a waiting list or being locked out of classes when you're late. At Sweat440, we believe that joining a gym means you belong in the gym, whenever you want to be there! Sweat440 created a sweat class schedule with start times every 10 minutes. There's no such thing as running late, or missing out- we always fit you in. We build fitness around your schedule, not our own agenda.
What is the Sweat440 Schedule Like?
Our schedule varies by location, but all of our gyms follow the same method. We provide a convenient, effective, affordable workout that packs a punch in just 40 minutes. We use High-Intensity Interval Training (HIIT), which is a dynamic mix of cardio and strength training that is equally adept at slashing weight and building muscle. Unlike monotonous sweat classes like sweat yoga, our classes are always changing, so your body can't get complacent. The best part is, our classes start every 10 minutes, so there's always an opening for you.
So, what do we pack into those 40 minutes? Four stations in 10-minute segments each feature 3 exercises to target various muscles. Each exercise is performed for 45 seconds, then you get 15 seconds to transition to the next exercise. The cycle is repeated 3 times, and you even get one minute of rest and hydration between stations. The rapid transition between exertion levels and different equipment triggers optimal oxygen production which blasts more fat than any other workout. That's why The New York Times calls HIIT, "the best type of exercise to burn fat."
Our classes target certain muscle groups each day, and they repeat throughout the day. So, if you miss the 8:00 am class, you can pop into one any time that day. We target different groups on different days, so it's safe to make Sweat440 your daily fitness destination. Take a look at what each day of the week might entail, and check  your location to find a class near you.
The Types of Classes Sweat440 Offers Each Week
Monday: Shape- Lower Body
Want to torch that tush and tone those thighs while blasting belly fat? Lower Body Shape Classes combine intense circuits of compound exercise that sculpt your form and create the shape you're looking for. Now you can rock swimsuit season! Which, for our Miami friends, is year-round!
Tuesday: Shred- Upper Body/Core
Does your metabolism need a kickstart? This metabolic conditioning class combines upper body resistance training with core work to make you a lean, metabolizing machine. Congrats! Your body just learned how to burn more calories in only 40 minutes.
Wednesday: Sweat- Core/Conditioning
Want to break a sweat that makes a difference? Get your heart pumping in this High-Intensity Interval class that will leave you breathless in the best way. Way to go! Don't forget to capture that post-workout glow in our halo photo booth!
Thursday: Shred- Lower Body/Core
Remember hopscotch, jump rope, and jumping on your bed as a kid? Plyometrics are the grown-up version of jump training, and they maximize your power. Combined with agility training, lower-body resistance, and core fitness, the plyo moves in this class will increase explosiveness and get you ripped!
Friday: Shape- Upper Body/Core
Intense circuits of compound exercises with emphasis on technique and form ensure your upper body will undergo a total transition. Whether you want to tone up triceps, bulk out biceps, or perfect your pecs, this class will shift your shape with a totally toned-up torso.
Saturday: Warrior- Total Body Conditioning
Warrior class is the perfect mix of High-Intensity Intervals and core work that targets total weight loss. This class will bring out the warrior in you with a workout so powerful you'll feel like you can do anything! It's tough, but fun- you won't believe how fast the class flies by!
Sunday: Warrior- Total Body Conditioning
We know weekends are the spice of life… the thing that gets you through a long week at work. That's why we offer our Warrior class on Saturdays and Sundays so you can fit everything into your weekend. Pump out this quick 40-minute total body workout, and leave proudly, with plenty of time to relax.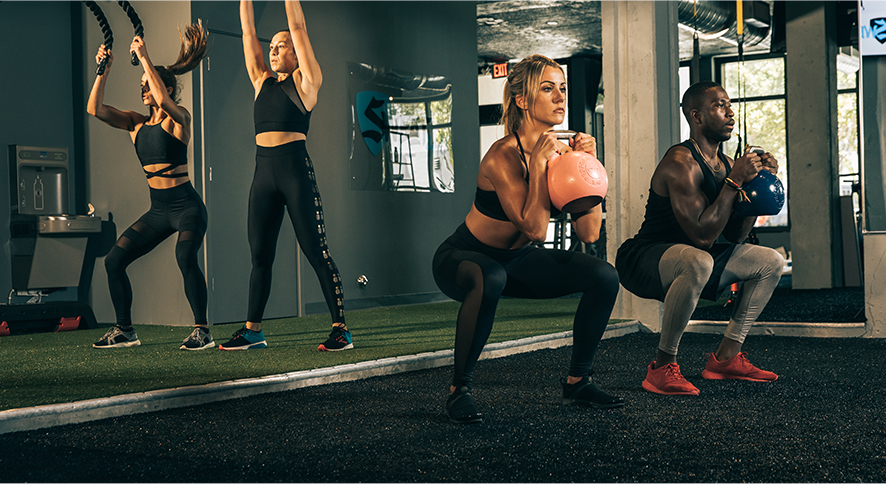 Why Sweat440's Sweat Class Schedule Works
What Other Gym Schedules Lack:
Most gym schedules, only offer a class once or twice a day.
Most gym schedules, require advance registration.
Most gym schedules, are always full, so members can't work out.
Most gym schedules, charge for classes you have to miss.
Most gym schedules, offer generic classes that don't yield results.
What Sweat440's Schedule Provides:
Our gym schedule offers the same class several times a day, so you can't miss.
Our gym schedule doesn't require you to book months in advance.
Our gym schedule has classes every 10 minutes, so you can always jump in.
Our gym schedule never charges for classes you miss or run late to #never late.
Our gym schedule offers the most effective workout, in just 40 minutes, 7 days a week.
Membership at many gyms doesn't guarantee results, or even a spot in a class. Why pay to belong to a gym that doesn't make room for you? Sweat440 was designed with members in mind, and we'll never turn you away. Contact us today to see why our schedule makes all the difference.