5 Simple Strategies to Keep You Motivated at the Gym
At some point in our fitness journey, we've all experienced it – that surge of motivation when we first join the gym, only for it to slowly diminish as time progresses. Maintaining gym motivation isn't always smooth sailing; it often involves riding the waves of highs and lows. However, it is integral to achieving your fitness objectives. A consistent workout regime is a cornerstone of any successful fitness journey. But, how do you retain that enthusiasm? How can every gym visit be as electrifying as the first? The secret lies in having the right mindset and strategy. In this guide, we delve into five straightforward yet potent strategies to keep your gym motivation ignited. These tips cater to fitness novices and veterans alike who might be dealing with a motivational slump. Let's unveil the ways to sustain your gym enthusiasm, making your workouts more fulfilling and pleasurable.
1. Set Realistic Goals 
The inaugural step towards sustaining motivation is to set realistic fitness goals. Goals provide a clear path, a purpose towards which you strive. However, it's paramount that these goals align with your fitness abilities and are attainable. Unattainable or nebulous goals can culminate in disappointment, leading to a motivation dip. If you're contemplating losing 20 pounds in a month or bench pressing 200 pounds on day one, you're setting yourself up for potential frustration. Instead, establish SMART goals – Specific, Measurable, Achievable, Relevant, and Time-bound. For instance, strive to run a mile non-stop within six weeks or commit to three SWEAT440 classes per week for a month. These goals are not only reachable but trackable, giving you a palpable sense of progress and accomplishment, thereby fueling motivation.
2. Find a Workout Buddy 
A workout companion could be the motivational boost you need. Sharing your fitness voyage with someone makes workouts more amusing and less daunting. A workout buddy offers support, ensures accountability, and can invoke your competitive spirit, prompting you to push your limits. Whether it's a friend, a relative, or a fellow SWEAT440 member, a workout buddy can significantly amplify your motivation. SWEAT440 fosters a communal ambiance, enabling everyone from rookies to fitness enthusiasts to collaborate, inspire, and propel each other toward their fitness milestones. Fitness, after all, is more delightful when experienced together!
3. Switch Up Your Routine
Performing identical workouts daily can prompt boredom and stagnation, both mentally and physically. To retain excitement and challenge, it's advisable to regularly alternate your routine. This strategy not only wards off monotony but also ensures comprehensive fitness by targeting different muscle groups. SWEAT440's high-intensity interval training (HIIT) classes are conceived to keep workouts diverse and engaging. With varying stations and a fusion of strength and cardio exercises, each workout is unique. This diversity keeps you intrigued, makes workouts enjoyable, and aids in motivation maintenance.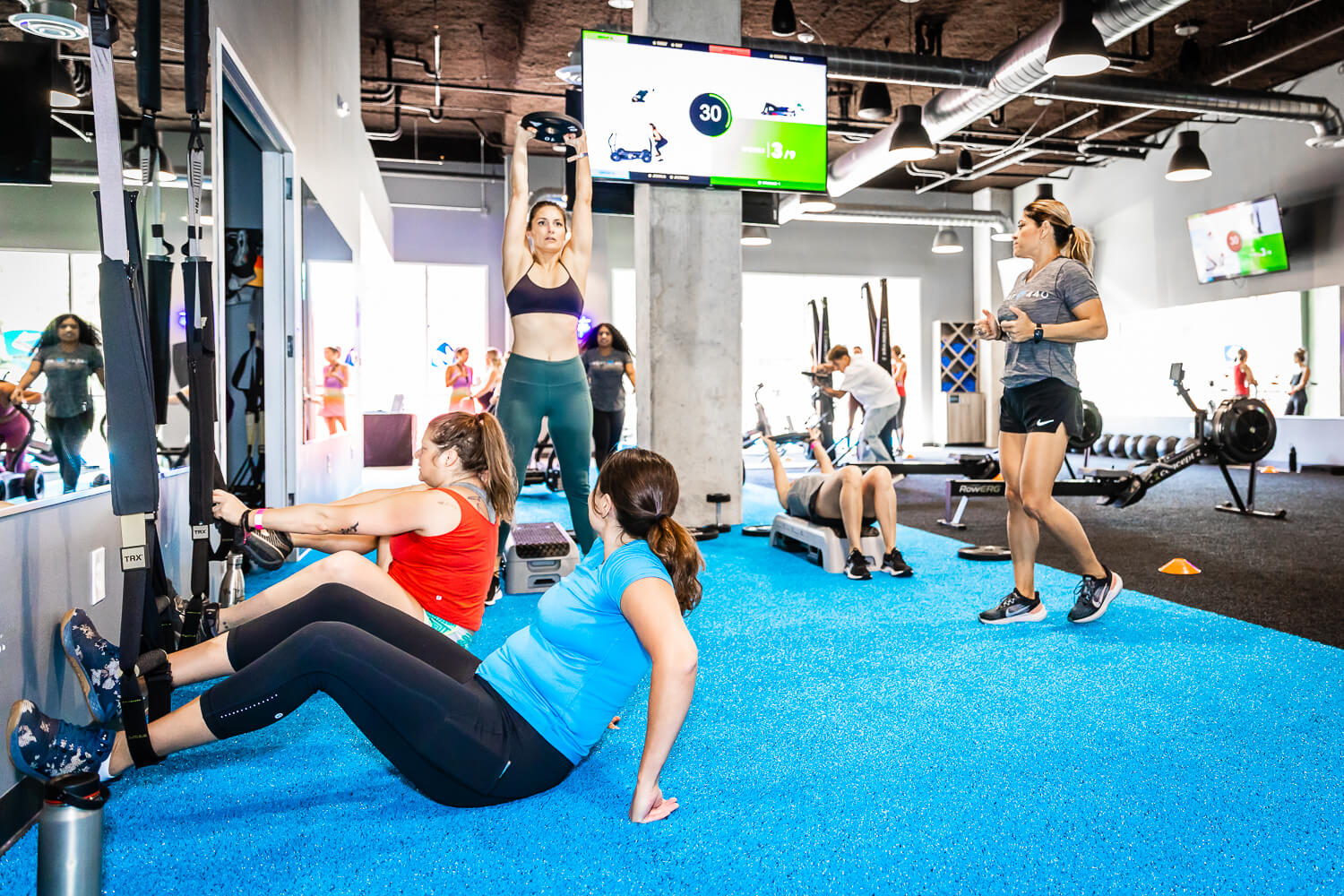 4. Reward Yourself 
Positive reinforcement can significantly enhance motivation. Implement a system where you reward yourself for achieving your fitness targets. This doesn't need to be lavish – it could be a movie night, a new workout outfit, or a healthy indulgence. Rewards can serve as a potent motivator to adhere to your gym routine and strive towards your objectives. However, ensure the rewards align with your fitness objectives. Rewarding a week of workouts with a binge-eating session might not align well. Choose rewards that celebrate your achievements and spur you on.
5. Track Your Progress 
Monitoring your progress is a robust motivator. Observing your fitness growth prompts you to keep going. Maintain a workout log or utilize fitness apps to track your workouts, monitor progress, and notice improvements over time. SWEAT440's team of professional trainers can also aid in tracking your progress and tailoring your workouts as per your evolving fitness level and objectives. Witnessing your strength augment, your endurance enhance, or your body transform can be incredibly motivating. Remember, every small progression is a step toward your ultimate fitness objective.
Maintaining motivation during your fitness journey is critical to attaining your goals, and choosing the right gym can substantially impact this. With the right gym, workouts become more than just routines—they transform into a lifestyle. SWEAT440, with its unique approach and community-centric environment, is committed to keeping your motivation soaring.
Our Gables location, conveniently located at 301 Altara Ave, Coral Gables, Florida, is the ideal setting to initiate or rekindle your fitness journey. Easily accessible from areas around Coral Gables, this location is a gathering place for fitness enthusiasts from various backgrounds. With Google Maps, finding us and commencing your fitness journey is a cinch.
Why procrastinate? Set your fitness goals, find your workout buddy, vary your routine, reward your accomplishments, and track your progress at SWEAT440 Gables. Our high-intensity, 40-minute classes that commence every 10 minutes, ensure you're #NeverLate. Join the #440Squad today, experience the SWEAT440 difference, and remember – your gains reflect your efforts!
Begin your fitness journey today with SWEAT440 Gables, where your motivation is met with our dedication. Cheers to a motivated, rewarding fitness journey at SWEAT440!
Set Realistic Goals 

Find a Workout Buddy 

Switch Up Your Routine

Reward Yourself 

Track Your Progress 
Specific

Measurable

Achievable

Relevant

Time-bound