Get Beach-Ready with Sweat440's South Beach Workout Classes
​The beach is calling- are you ready to hit the sand? South Florida residents get to enjoy the beach year-round, which means swimsuit season is always around the corner. While that might add pressure, it also adds energy, confidence, and peace of mind when you keep up with your fitness. In colder climates, some gym-goers try to cram a year's worth of fitness into January and February, with lackluster results. But exercising throughout the year is a wise and healthy endeavor. Staying fit is easier than undoing months of poor health, so get a jump on your South Beach body today! 
South Beach offers plenty of workout classes, but they don't all produce results. Before you drop your hard-earned cash into a useless gym, check out user reviews. Some gyms are known for gimmicks and scams, or overcharging and under-delivering. Sweat440 has 4 locations near Miami that consistently get 5-star reviews. We offer the only method scientifically proven to burn the most calories in every single one of our classes.
Why Sweat440 Ranks #1 for South Beach Workout Classes
Sweat440 provides a diverse 40-minute workout through high-intensity interval training (HIIT). Our classes are divided into 4 10-minute stations with 3 exercises each. The exercises are performed for 45 seconds with 15 seconds to rest in between. Each sequence is repeated 3 times, with a 1-minute break between stations. Sound simple enough? The formula is simple, but the workout and physical results are out of this world! We utilize scientific methods to reach your body's VO2 max- or maximum oxygen output. That means you burn the most calories possible, and you continue to burn them after your workout.
You could spend all day in another gym, but all you need is 40 minutes at Sweat440. Don't waste time on waiting lists or waiting for machines, when you could be enjoying the sun, sand, and sea air. Sweat440 kicks your workout into the optimal mode, so you can get in and get out to Miami Beach. Don't forget to snap a post-workout selfie in our photo booth on the way out! You're looking fit- and you have the glow to prove it! If you haven't tried Sweat440 yet, what are you waiting for? Come try your first week for free, and see why we're ranked #1 on Yelp! Here's how we stack up against other South Beach workout classes. Hint- there's no competition!
How Sweat440 Beats Other South Beach Workout Classes
Do You Like Yoga?
Yoga is soothing, but it lacks key components of beach body fitness. In order to blast fat and torch calories, it requires varied intervals of speed and motion to initiate different muscle fibers. If you want to tone abs and trim thighs, you need compound cardio like sleds and battle ropes to get your heart pumping while increasing strength. And for those looking to build muscle, there's only so much you can do with body resistance like yoga. In fact, many yoga studios have closed for false claims. To prep your pecs and buff your biceps for the beach, you need weight like the dumbbells, kettlebells, and slam balls Sweat440 employs.  
Do You Like Boot Camps?
Boot camps are pretty outdated. Turns out, you don't need someone to yell at you or demand things you aren't capable of in order to get fit. At Sweat440, we motivate you with upbeat music, positivity, and high-fives. Research shows people are more inspired to stick with fitness when they're shown positive reinforcement by their coaches. Boot camps often discourage people from coming back, or prevent attendance by causing injuries. At Sweat440, our members can't wait to come back!Our classes start every 10 minutes, because we want to make fitness convenient for you. We offer the best workout in South Beach, but we don't belittle you in the process.
Do You Like Affordable, Convenient, Effective Classes?
Sweat440 offers classes every 10 minutes, and they repeat throughout the day, so you never have to miss a class. We focus on different body parts every day of the week, so we are the only gym you ever need. We incorporate flexibility and intensity and cardio, but we provide a far superior workout, at a more affordable price. And we don't make you sign a contract or book classes way in advance. You can try our classes for free, and book whenever you like. We have locations throughout South Florida, so fitness is just a few steps away!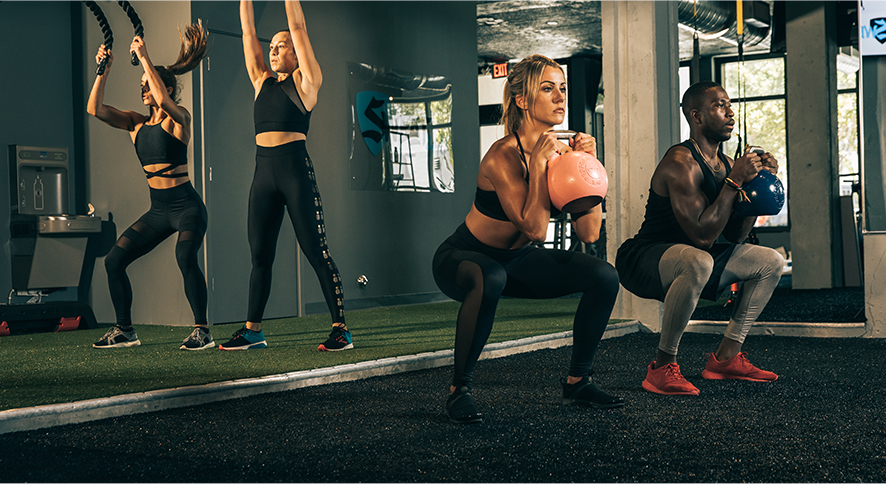 The Best South Beach Workout Classes Near You
Sweat440 Gyms Near South Beach:
Miami Beach–

1916 Bay Rd., Miami Beach, FL 33139

Coral Gables

– 301 Altara Ave., Suite 111, Coral Gables, FL 33146

Brickell

– 25 9th St., Suite G100, Miami, FL 33130

Doral

– 8395 NW 53rd St., Doral, FL 33166
For Core Work- Try Sweat Core/Conditioning
For Upper Body- Try Shred- Upper Body/Core or Shape- Upper Body/Core
For Lower Body– Try Shape- Lower Body/Core or Shred- LowerBody/Core
For Total Body– Try Warrior Total Body Conditioning