Best Gyms for College Students: South 40 Gym vs. Sweat440
If you're a college student, you likely have access to a campus recreation center like South 40 Gym at Washington University. Maybe you had grand plans to hit the gym daily and get your best body when you started college or graduate school. How's that working out? Campus fitness centers seem convenient, but in reality, they're often a nuisance, and also a disappointment. While South 40 Gym and Sweat440 sound similar, they offer completely different amenities to university students. That's why savvy students at schools like University of Miami, NYU, and McGill University are joining the innovative Sweat440 gym for superior fitness results.
The Downsides of College Campus Gyms
Location– It's right there on campus, how hard can it be to get to your university rec center? The truth is, it's harder than you think. If you are an undergrad student, campus housing may be a long way from the gym. Many colleges don't allow first year students to park on campus. So, that hour you have to squeeze in a workout? You'll spend it getting to and from the gym. Kind of knocks the wind out of your sails- especially if it's snowing or raining outside.
Crowds– Once you're there, there's no guarantee you'll get a spot on a treadmill or the set of weights that you need. Campus gyms are notoriously crowded, and students often don't heed the etiquette of using cardio equipment for 30 minutes at a time or cleaning machines after use. Many college gyms have the vibe of people clustered around socializing, or checking out the scenery, rather than getting in a good workout.
No Instruction– Many campus gyms don't offer fitness classes, personal training, or instruction. So, you have to figure out the equipment and your fitness plan on your own. There is an increased risk of injury, dehydration, overexertion, and frustration when students work out without expert guidance. When you're surrounded by other college coeds, you're likely to lift more than you should, or run a little too fast to impress your peers. That college student cramming for a biology exam while "running the front desk" isn't likely to notice people overdoing it, let alone know how to help.
Commuting– Many students also commute to college, which means having to lug gym clothes to class and stay late to work out at a campus gym. For those with families, jobs, or remote parking spots, it's not an appealing option. It's also less likely that you will do it, given the choice to head home before evening rush hour.
Intimidation– For other students, the idea of bumping into a classmate, a professor, or a crush while sweating your face off creates anxiety. Some like to get in, slay their workout, and get out, without worrying who they will see. Gyms can be intimidating, and perhaps nowhere more than a college campus gym where students flaunt their physiques. On a more serious note, campus gyms can be a dangerous place for students, particularly at night. That intimidation can lead to gym avoidance- and studies show that physical activity is directly linked to academic performance in college. Don't let intimidation harm your health and your grades. Sweat440 offers something completely different.
The Upsides of Sweat440 for College Students
Convenience– Sweat440 currently has several locations near college campuses in New York, Florida, and Canada. And we're expanding to more college towns near you! We're right around the corner from hundreds of colleges, as well as neighborhoods you commute from, and we have hours that fit your schedule.
Affordability– Right now, you get one week free at Sweat440, and you can take advantage of low founder's rates! We don't lock you into a contract or charge for classes you miss like other gyms. And we have multiple membership options, so you can buy one class at a time or buy in bulk- whatever works for your budget.
Class Availability– Our high-intensity interval training (HIIT) classes start every 10 minutes, so forget about getting bumped off a machine or left on a waiting list. You can come whenever you get a break in your day- before class, after class, or on the weekends. No need to rush, at Sweat440, you are #neverlate. We help you prioritize fitness while balancing your busy schedule.
Personalized Training Included– Each of our classes includes personalized training by our certified instructors, so you always know what to do. Our animated demos at each station keep you from using poor form or risking injury. You don't have to go it alone; we circulate through every class, motivating, encouraging, and helping you reach your goals.
Proven Results– Whether you're trying to avoid the "freshman 15," train for a fraternity fun-run, or get beach-ready for spring break, don't waste hours at a campus gym where results are highly variable. At Sweat440, we pack a powerful workout into 40 quick minutes, so you get ripped, shaped, and shredded in record time. Our perfect blend of compound cardio and resistance burns more calories in minutes than you can burn in hours anywhere else. Check out our 5-star reviews to see why our HIIT is legit.
Non-Intimidating– Each of Sweat440's classes are designed for all fitness levels. We welcome everyone into our positive environment, where high-fives and upbeat music permeate the scene. You work to your own ability with professional guidance, so you are never in over your head. Our gyms are staffed around the clock, so you are never alone or unsafe while you work out. We love welcoming new members, and we can't wait to meet you!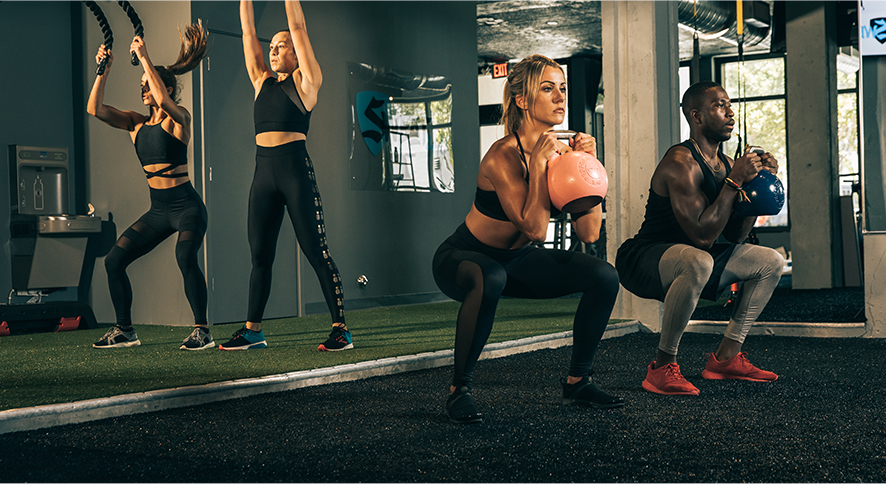 Is Sweat440 Near Your University?
Sweat440 Locations Near You:
Sweat440 Classes Near You:
Monday- Shape – Lower Body
Tuesday- Shred – Upper Body/Core
Wednesday- Sweat – Core/Conditioning
Thursday- Shred – Lower Body/Core
Friday- Shape – Upper Body/Core
Saturday-Warrior – Total Body Conditioning
Sunday- Warrior – Total Body Conditioning