Soul Cycle is selling something- are you buying it? Are you buying into the lingo like, "sanctuary," "therapy," "warriors," "renegades," and "rock stars?" More importantly, are you buying into it with your actual money? Word to the wise- you're being scammed. What Soul Cycle is selling is false hope- not science, fact, fitness, or proven results. In fact, fitness experts call Soul Cycle a "cult,"  an "obsession," and even, "dangerous." It's so deceitful that even its founders bailed on the concept. The original co-founder left to start Flywheel because she was so disillusioned with Soul Cycle. Then the remaining co-founders left the company, removing their names from the erroneous brand, now majority-owned by Equinox.
How Soul Cycle is Deceiving You
Soul Cycle sells you a feeling- with scented candles, dim lighting, and the promise of enlightenment and the removal of toxic energy. They call you a warrior and staff their classes with instructors with acting chops and charisma, rather than fitness expertise, to further sell you on their premise. They promise to get you in shape, and the classes produce enough sweat to trick you into believing it. But do they deliver on their promises? No, they don't.
Soul Cycle Makes You Sweaty, Not Fit
Soul Cycle heats their classrooms to induce sweat to make you feel like you're burning more calories than you are. Imagine sitting at a sunny baseball game having beer and pizza- are you sweaty? Sure. Are you burning calories? Not so much. Making you sweat is not the same as making you fit. So, don't be fooled by a thermostat.
In reality, cycling is one of the most common workouts to cause plateau, since your muscles remember the monotonous pedaling motion. Many Soul Cycle members get discouraged by how much they sweat in proportion to how many pounds they actually lose. It's also easy to get complacent in a workout that's always the same. It takes a variety of equipment and movement to keep you from falling into a rut.
Experts agree, Soul Cycle's concept of upper body exercise and dancing while cycling is not only counterintuitive, it's actually dangerous. The combo of misaligned movements actually detracts from the power output of either effort. And the weights used for the upper body are not heavy enough to build muscular strength and size, because they don't activate the fast-twitch muscle fibers. But, more importantly, the multiple opposing forces at play when you dance, do "push-ups," or lower and raise yourself on a bike cause injury to knees, lumbar disks, muscles, and connective tissues.
Soul Cycle Is Staffed by Performers, Not Trainers or Therapists
No matter how confident your Soul Cycle instructor sounds when they talk about removing toxicity or turning you into a legend, they are just trained performers. The company has been open about how they hire entertaining instructors, favoring personality and physique over actual expertise.
Their therapeutic claims are patently false and widely criticized. For example, toxic people can't be removed from your life through your sweat glands. And exercise boosts adrenaline, but it doesn't fix your marriage, land you a job, or make you legendary. What Soul Cycle sells is false hope that you will achieve a better life by buying the shoes, apparel, bikes, or SuperSoul status, none of which actually guarantee results.
Soul Cycle Membership Doesn't Guarantee Classes
If you join Soul Cycle, beware, you may be a member, but that doesn't mean you get to ride. Classes open for booking on Mondays at noon, so if you miss the window, you're out of luck. On their own website, they mention how people are stuck on waiting lists for months and don't get to choose their favorite class time. Their solution? Sell you something additional.
Soul Cycle added SuperSoul, a concierge service that books classes up to 6 weeks in advance, in line with their elitist mentality. Before you shell out the bigger bucks, take note, that still doesn't guarantee a spot in the class. In fact, the website states that SuperSoul gets you priority access to waiting lists. In other words, you can pay tons of money, and still just sit on a list. The other "low-level" members have to book those wait-list spots months in advance, without even knowing what their schedule will be. Either way, if you can't make it to class, they charge you anyway.
Soul Cycle Sells Stuff Not Success
If you like buying pricey cycling shoes, a bike you might never ride, expensive workout clothes, a spot on a waiting list, or overpriced water, you can do that with Soul Cycle. But that money doesn't buy the body you're after, it just adds to the owner's bank account. With "instructors" that don't hold exercise science or fitness degrees, there are no guarantees to your success.
Soul Cycle is all about branding and making money. Their inventory of clothing, bags, journals, bikes, and accessories keeps growing as people buy into the "tribal" mindset. They dangle their classes just out of reach, so you pay up to make the cut. The irony is, the classes they mask as elite actually deliver an inferior workout. And the gear you buy might never get worn in a class, if you're stuck on a list.
Why Sweat 440 Is Good for Your Heart and Soul
What Sweat 440 Doesn't Do:
Sweat440 doesn't pretend to be a therapist or motivational speaker selling a false promise for a high monthly fee. We don't sign you up and then lock you out of all the good classes. We don't use a flawed method that's not backed by any scientific evidence. We don't encourage exercise proven to cause injury. We don't make you sweat by heating our gyms and packing people in too tightly.
We don't hire performers with no ability to generate results. We don't strap our instructors to bikes in dark rooms where they can't see how the classmates are doing. We don't sell you extra stuff in order to make our classes more accessible. We don't cater to the wealthy or celebrities to make our classes look better. We don't place beginners in the back of a dark room where they get confused.
We don't offer limited classes or make you sign up at one narrow time slot. We don't intimidate our classmates with yelling, fake mantras, or gear and equipment they don't understand. We don't charge for classes you miss or make you book months in advance. We don't provide boring, repetitive classes with only one form of cardio.
What Sweat 440 Does:
In short, we succeed as a gym because we don't subscribe to any of the nonsense Soul Cycle is selling. We offer 40-minute powerful HIIT workouts that vary each day and utilize diverse high-tech equipment. Our certified trainers circulate through every class, offering personalized instruction. Our compound cardio circuits build muscle while blasting calories and fat, and we show equal love to the upper and lower body. We implement proprietary high-intensity intervals that increase your VO2 max for a workout that delivers the best results.
Our classes start every 10 minutes, so our members can always find a spot in class. Each class is designed for all fitness levels, so you aren't limited to a certain class time. Our animated demos and educated coaches assist beginners and push elite athletes beyond their imagination. Sweat 440's HIIT classes are great for body and soul, and research shows they're good for your heart, even for people in cardiac rehab.
When you break a sweat at Sweat 440, it's because you just toned, shaped, and shredded your physique, and you did it in only 40 minutes. That's why our members leave 5-star reviews, and can't get enough of Sweat 440. Come see why our founders stand by our gym. We're all heart and soul, not smoke and mirrors.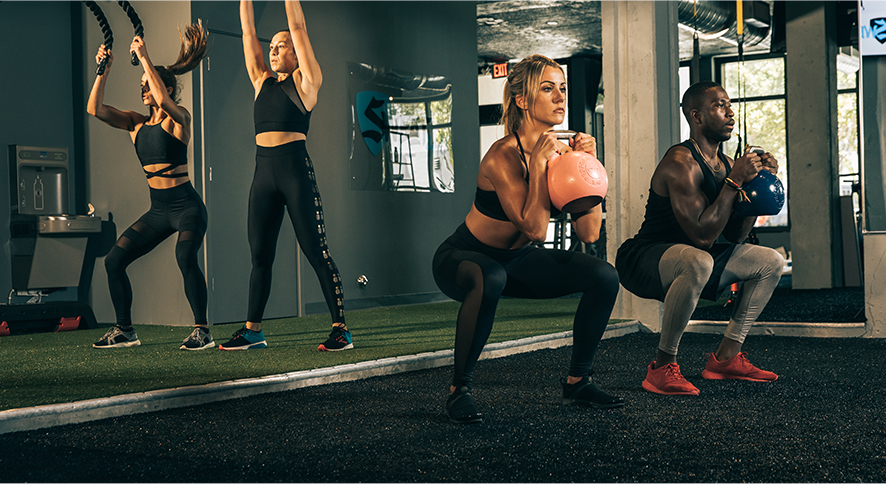 Why You Should Join Sweat 440
The Benefits to Your Soul:
We are trustworthy and transparent in our mission to put members first.
We make fitness affordable to reduce financial stress.
We have classes to accommodate every schedule without charging extra.
We don't make you anxiously login at a certain time to claim classes.
We have no air of elitism or exclusion- all members are valued and welcome.
We don't shove beginners in the back of the class to fend for themselves.
The Benefits to Your Heart:
Our HIIT classes get blood pumping at intervals to strengthen your heart.
Our VO2 max workouts send more oxygen to your heart.
Our compound cardio circuits increase cardiovascular endurance.
Our certified instructors monitor exertion levels to protect your heart.
Our varied intensity maxes your calorie burn without taxing your heart.
Our upbeat music and positive classes fill your heart with pride and joy.
Soul Cycle is in the business of selling branded stuff and deceptive ideas. Sweat 440 is in the business of making fitness accessible and productive for everyone. We offer affordable pricing and multiple membership options with no contracts. Try us for free today!