The Psychology of Free First Class Fitness: How It Motivates You to Keep Going
At SWEAT440 NODA, we are staunch advocates for making fitness accessible, stimulating, and, above all, productive. We have honed a unique approach – the concept of a complimentary inaugural fitness session. In this write-up, we'll delve into the psychological aspects of this innovative idea and its potential as a compelling catalyst on your wellness expedition. Unveil the advantages of our high-intensity interval training, seasoned fitness guides, flexible workout sessions, and the encouraging #Neverlate 440Squad. Gear up to unleash your capabilities and reach your fitness aspirations with SWEAT440!
The Power of Free: Breaking Barriers and Boosting Motivation
Attempting something novel often involves facing mental and fiscal obstacles, which can impede our enthusiasm to take the pioneering stride. This is where the impact of complimentary comes to the rescue. Offering a no-cost first session at SWEAT440, our goal is to shatter these deterrents, giving individuals a chance to enjoy the rewards of high-octane training without any upfront commitment.
The psychology entrenched in free is fascinating. It alleviates the anxiety of squandering money on an untried concept and permits individuals to approach a fresh fitness regimen with an open heart. This proposition of a complimentary inaugural fitness session amplifies enthusiasm by tackling the financial and mental impediments that frequently limit us.
At SWEAT440, we trust in the metamorphic ability of our workout sessions, and we aspire to share this experience far and wide. Our complimentary first-class deal is crafted to fan the flame of interest within you, nurturing a lifelong dedication to wellness. By overcoming obstacles and providing a risk-free chance to explore our high-intensity training, we embolden individuals to confidently embark on their journey toward fitness goals.
HIIT Workouts: Igniting Your Inner Fire
High-intensity interval training has witnessed a significant surge in popularity lately, and it's easy to see why. These sessions involve cycles of rigorous exercises punctuated by brief periods of respite. The allure of HIIT rests in its efficiency to optimize calorie expenditure, fortifying cardiovascular health, and stimulating metabolism within a compact timeframe. At SWEAT440, HIIT forms the backbone of our workout schedule. By fueling your internal blaze with intense and varied workouts, we ensure you remain engaged, invigorated, and constantly pushing your boundaries.
Fitness Coaches: Navigating and Motivating Your Wellness Expedition
Venturing into a fitness regimen can be daunting, particularly without adequate direction. This is where the proficiency of a fitness coach proves essential. At SWEAT440, our seasoned fitness coaches are committed to aiding you in accomplishing your fitness ambitions. They offer customized attention, designed workout blueprints, and unwavering support to maintain your motivation and accountability. The direction and inspiration derived from these fitness guide not only augment your exercise experience but also elevate your likelihood of achieving enduring triumphs.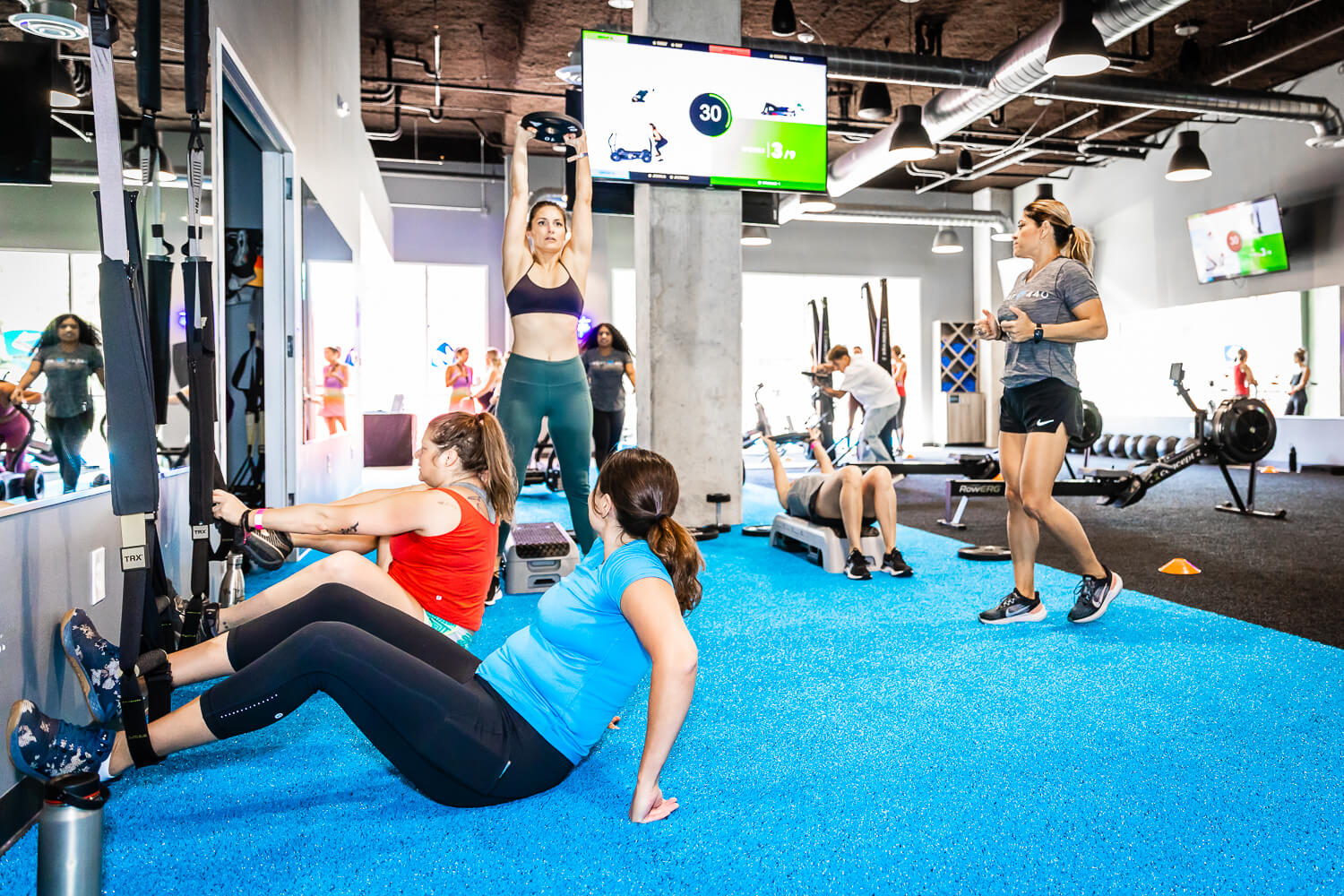 Convenient Workout Classes Near You: Fitting Fitness into Your Busy Life
We understand that finding time for exercise can be a major challenge in today's fast-paced world. Juggling work, family, and other responsibilities often leaves little room for prioritizing fitness. That's why, at SWEAT440, we have designed our workout classes with convenience in mind.
We aim to make fitting fitness into your busy life as seamless as possible. With classes starting every 10 minutes, you have the flexibility to choose a workout time that suits your schedule. You no longer have to wait for specific class times or feel rushed to make it on time. We provide the convenience you need to prioritize your fitness without compromising other aspects of your life.
Whether you're an early bird who wants to squeeze in a workout before work, a busy parent looking for a midday boost, or a night owl who prefers an evening session, SWEAT440 has got you covered. Our convenient workout class schedule ensures that you can find a time that works best for you.
By eliminating the time constraints and offering flexibility, we aim to remove one of the major barriers to regular exercise. With SWEAT440, you no longer have to sacrifice your fitness goals for a packed schedule. We believe that fitting fitness into your busy life should be hassle-free and achievable, allowing you to stay motivated and consistent on your fitness journey.
Join the 440 Squad: Building a Supportive Fitness Community
At SWEAT440, we understand the importance of having a supportive community on your fitness journey. That's why we've built the 440 Squad, a vibrant and inclusive fitness community that welcomes individuals of all fitness levels.
Joining the 440 Squad means becoming part of a team that supports, motivates, and inspires one another. It's about fostering a sense of camaraderie, where everyone is working towards their own goals while also cheering on their fellow squad members.
Being part of the 440 Squad not only provides you with a network of like-minded individuals but also holds you accountable for your fitness commitments. The supportive environment at SWEAT440 encourages you to push beyond your limits and achieve results you never thought possible. Whether you're a beginner seeking guidance or an experienced fitness enthusiast looking for a new challenge, the 440 Squad is there to support you every step of the way.
A supportive community can make all the difference in your fitness journey. The 440 Squad is more than just a group of people; it's a tight-knit fitness family that celebrates successes, conquers challenges and creates lasting connections. Join us today and experience the power of a supportive fitness community at SWEAT440.
Unlock Your Potential with Free First Class Fitness at SWEAT440
Now that you understand the psychology behind free first-class fitness, it's time to unlock your potential and embark on a fitness journey that will transform your life. SWEAT440 offers the perfect platform to kick-start your fitness goals.
With our high-intensity workouts, experienced personal trainers, convenient workout classes, and supportive 440 Squad, you have everything you need to achieve success. Our free first-class offer allows you to experience the power of our workouts without any initial commitment, allowing you to witness the results firsthand.
Don't let hesitation or barriers hold you back. Take advantage of our free first class and discover the motivation, energy, and sense of community that awaits you at SWEAT440. Join us today and unlock your potential for a healthier, fitter, and happier you.
Visit SWEAT440 by clicking the link below to find the nearest studio: SWEAT440 Google Maps Location
Join the 440 Squad and discover the true power of high-intensity training. Remember, you get what you sweat!
Keep Your Fitness Journey Going
Nurture motivation

Holds you accountable

Have fun

Never the same workout

Meet new people
Health Benefits

Social and Emotional Benefits

Friendly Environment

Consistency and Commitment

Confidence Boost