Last year, Peloton issued its initial public offering (IPO), asking $29 per share. While growth for 2019 marked a 110% increase from 2018, what investors should know, is Peloton's losses were multiplied by 500%. If you buy a Peloton bike, or subscribe to their service, you are, in essence, an investor. What's taking them down? Lack of forethought and discretion. Their bikes offer a limited workout, which they attempted to fix by adding treadmills that cost twice as much. When that failed, they threw in all kinds of things like yoga and workouts you can do without their equipment. None have picked up steam, and instead have diluted their image.
To compound matters, their holiday ads were tone-deaf, causing a drop in value that they haven't overcome. Expert investors call Peloton a "short," or a stock investors bet on to fail, likening it to GoPro which has fallen 95% since its high in 2014. Now, Peloton is trying on multiple hats to stay in the ring, but the model is terribly flawed. Why buy a $2,500 bike and $4,500 treadmill, when you can get both, plus personalized training, camaraderie, and variety in an affordable gym near you like Sweat440? Consumers are more savvy than that. Don't fall for the shifting and shrouded identity Peloton puts forth- stick with a gym that is rooted in science and backed by thousands of 5-star reviews.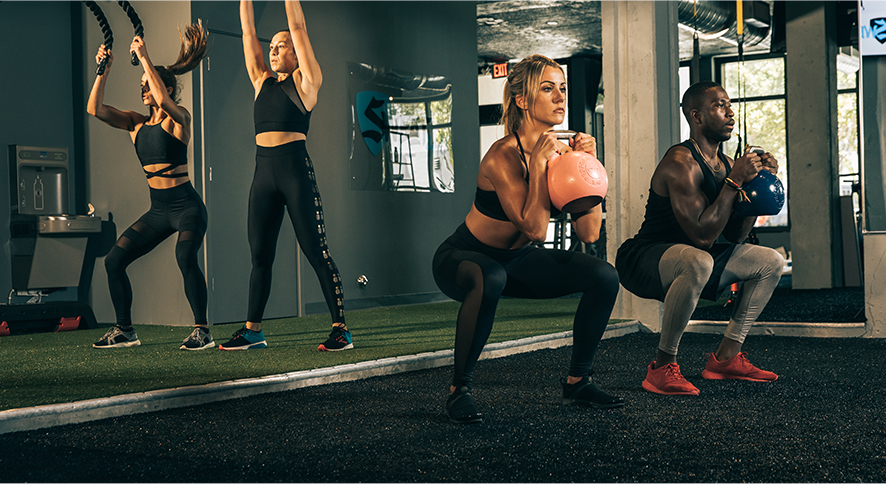 Why Peloton is Having an Identity Crisis
Identity #1– The tech-enabled cycling concept was their first foray into fitness, giving cyclists the opportunity to work out from the comfort of home. The opportunity was quite costly, however, requiring an expensive bike and monthly memberships, without the perks of a fitness center, tech guru, or maintenance team when the bike and its touchscreen malfunctioned. While interesting at first, it quickly became clear that both the bikes and the streaming service had issues, one of them being monotony.
Identity# 2– Peloton lacked the enthusiasm garnered from live classmates, personalized instruction, and a variety of workout equipment. Only a few could attend their limited brick and mortar locations, and many grew tired of the concept. Less expensive bikes and cycling gyms started threatening their livelihood. So, Peloton threw a new and pricier piece of equipment into the mix with a treadmill at twice the price. Not many people have the budget or floorspace for both units, so sales performance was lackluster.
Identity #3– Peloton tried to shed the bike company identity by adding yoga, bootcamp, running, meditation, strength and cardio to the mix. This just further diluted their image- which was once linked to a unique concept. To complicate things, many users started to access these workouts by watching them on a screen on their phone, rather than buying the equipment. But many complained that it was too hard to see the workout while running outside, or looking down at the small screen from a bike or treadmill. Others started building their own versions of Peloton bikes from cheaper parts they found online.
Identity #4– Pounded with criticism for a December 2019 ad viewed as sexist and dystopian,  Peloton struggled to find footing, and suffered setbacks they haven't corrected. Now, they hope to stay afloat by opening multiple studios, which is in direct contrast with their original mission. It's no wonder investors doubt their longevity and question whether the brand even knows who they are: a hardware company, an app company, a fitness brand, or a gym. This identity crisis is the reason many forecast its failure.
Why Sweat440's Identity is Rooted in Science and Medicine
Unlike the fads Peloton tries to follow, Sweat440 is backed by abundant empirical evidence. Our high-intensity interval training (HIIT) method is proven by countless studies, from exercise scientists and medical researchers alike. In fact, the American Heart Association deems our HIIT method as not only safe, but also the most beneficial for all participants, including those in cardiac rehabilitation. We utilize technology where appropriate, with our state-of-the-art equipment, and animated demos, but we don't leave you alone to figure it out. 
Cycling alone, or with a digital trainer will never yield the same safety, persistence, or outcome that personalized training provides. Even in Peloton's studios, the trainers are strapped to a bike and can't circulate to provide customized feedback. And the best workout implements multiple types of equipment for varied intervals of intensity, rather than an hour on a bike. If you like cycling, you can do that at Sweat440, but it's interspersed with multiple exercises in 10-minute stations for a workout that defies your body's ability to be complacent. You can't coast in our classes, and that's a good thing, since you're paying to get results.
Sweat440's identity was fully formed by our founding trainers who strive to provide affordable, convenient, effective workouts for people at every level of fitness. We don't sell overpriced equipment or impersonal training, we just give you the best workout in town. Our identity is rooted not only in science and medicine, but also in our commitment to put members first. That's why we offer classes that start every 10 minutes, in multiple locations, so there's always a spot for you.
The Value of Proven Identity
Why Peloton is Backpedaling
Peloton tried to be a bike company, then…
Peloton tried to be a tech company, then…
Peloton tried to be a treadmill company, then…
Peloton tried to be a fitness brand, then…
Peloton tried to offer every type of fitness…
Peloton tried to become a physical gym, then…
Peloton suffered a crisis in identity and market value.
Why Sweat440 is Soaring
Sweat440 used a scientifically proven method, then..
Sweat440 delivered lasting results, then…
Sweat440's members kept coming back for more, then…
Sweat440 got only 5-star reviews, then…
Sweat440's gyms kept growing, then…
Sweat440 became available to more people, then….
Sweat440 proved its identity as the best workout on the planet.
Peloton is having growing pains, and projections suggest the growth will soon come to a screeching halt. If you want to achieve your fitness goals, avoid the brand who can't even figure out who they are. Come to Sweat440 for personalized training in an uplifting environment where our rooted identity allows us to focus solely on you.