Free Group Fitness Classes at a Nearby Gym in South Beach
How's your gym routine going? Are you in need of a little inspiration, motivation, or excitement? Logging hours on a treadmill alone or spinning your wheels in a cycling class gets old fast. It also leads to disappointment since you won't get the results you want. In order to love your gym routine, you need the right formula. First, you need qualified trainers. Second, you need an effective method. And third, you need enthusiasm so you can stick with the program. The best way to find that enthusiasm is through the energy of group fitness classes. At Sweat440's nearby gym in South Beach, we check all the boxes to rev up your gym routine and keep you coming back for more! Better yet, you can try our group fitness classes for free!
How Group Fitness Classes Improve Your Fitness
Multiple studies show that group fitness classes improve exercise consistency. When you work out in a group, you're compelled to show up, since your classmates keep you accountable. You're also more likely to give it your all in the presence of your peers. When you work out alone, it's easier to skip that last set, or scroll through Instagram while you slowly pedal your bike. But in a fitness class, you're motivated to try your best. The rewards include better self-esteem, and a greater sense of accomplishment, in addition to a better body!
Plus, a fitness class provides that extra boost of adrenaline and incentive right when you need it. Had a long day at work? Kids kept you up at night? Your classmates provide the energy and enthusiasm you need to crush one more set. You can feed off the willpower of others when your own is lacking. You'll also reach fitness goals together, which is an amazing feeling. After all, when you slay a 40-minute HIIT workout, reach your weight loss goal, or squat a new personal record, it's awesome to have a team to cheer on your success!
Group fitness also brings the necessary ingredient that solo workouts lack– fun!! Each fitness class at our nearby gym in South Beach is fueled by upbeat music, positivity, high-fives, and diverse exercises. We rotate you through 4 stations with 3 sets of 12 different exercises. There's barely time to catch your breath, let alone get bored! At Sweat440, you'll always look forward to hitting the gym, rather than dreading it or doing it out of obligation. There's a reason Miami Beach gives Sweat440 5-star reviews– we offer the best workout on the beach, and also the most fun you'll ever have at the gym!
What Our South Beach Group Fitness Classes Include
You can try a fitness class at Sweat440 for free, any time of day! Our classes start every 10 minutes, so there's one for everybody's schedule. Here's what to expect in our nearby gym in South Beach.
The Ultimate HIIT Workout- Each of our classes is a HIIT class that provides a full body workout. We use varied intervals of intensity to target your VO2 Max, which burns the most possible calories. For each 45-seconds of intense exercise, you get 15 seconds to catch your breath. This variation means you'll burn the most fat, while also building muscle.
Free Certified Personal Trainers-Every one of our classes is led by certified trainers who offer individualized instruction throughout the class. Unlike spin, yoga, or pilates instructors, our teachers circulate throughout the class correcting form, offering assistance, and providing alternate exercises as needed. Sweat440 is the only nearby gym in South Beach where this expert instruction is free in every class.
40 Minutes of Fat-Blasting, Muscle-Defining Fun-Our instructors use the HIIT method to provide a killer full-body workout in just 40 minutes. You'll burn twice the calories in half the time in our group fitness classes. And you'll keep burning calories long after the workout, thanks to our compound cardio intervals. You'll love coming for the results, but also for the fun! Our awesome playlist, encouraging members, and fast paced stations ensure you'll forget how hard you're working. Our classes fly by but deliver incomparable results!
A Variety of State of the Art Equipment- Tired of your treadmill? Come give our Versa Climbers, Ski Ergs, Assault Bikes, and TRX a try! Our state of the art equipment includes machines designed to build muscle as well as they burn calories. They each target multiple muscle groups, unlike traditional equipment. Our equipment uses a full range of motion so you can tone your thighs while sculpting your biceps, all in one class. We even have animated demonstrations on video screens at each exercise station, and a selfie station to capture your post-workout glow!
A New Class Every Day-Our South Beach classes repeat all day long, so you aren't pinned to a certain time slot. Can't make the 8:00 am? No worries, pop in at 8:10! Each day, you'll get a full-body workout, but with emphasis on certain areas. Our classes are different each day of the week, so you get a variety to choose from. We have both indoor and outdoor classes with the highest safety measures in place to prioritize your health. Sweat440's group fitness classes are the only workout you'll ever need, not to mention, the only one you'll ever want! Try a free fitness class today at our nearby gym in South Beach in the heart of Miami Beach, and you'll be a fan for life!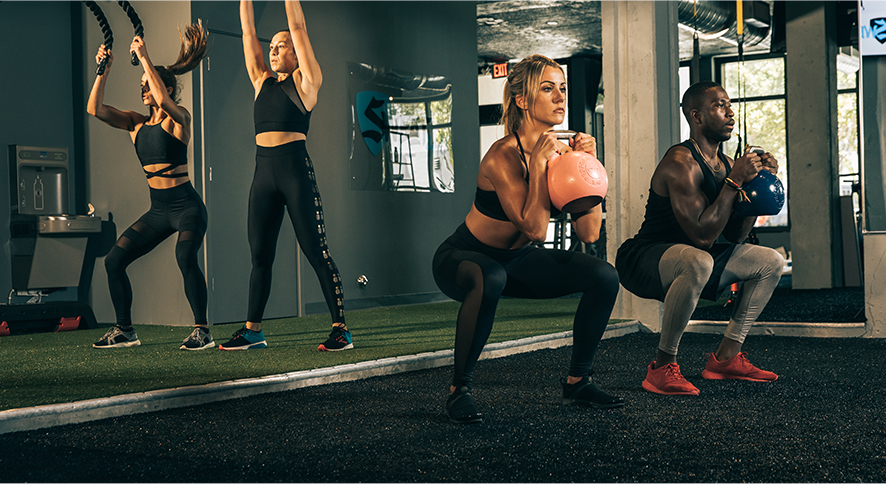 Free Fitness Classes at Our Nearby Gym in South Beach
Sweat440's Free Fitness Class Lineup:
Monday: SHAPE- Lower Body
Tuesday: SHRED- Upper Body/Core
Wednesday: SWEAT- Core/Conditioning
Thursday: SHRED- Lower Body/Core
Friday: SHAPE- Upper Body/Core
Saturday: WARRIOR- Total Body Conditioning
Sunday: WARRIOR- Total Body Conditioning
Free Group Fitness Classes Near Miami Beach:
Sweat440 Miami Beach– 1916 Bay Rd.
Outdoor SOBE Classes– 1825 West Ave.
Sweat440 Brickell– 25 SW 9th St., Suite G100
Sweat440 Kendall– 4923 SW 152nd Ave.
Sweat440 Palm Beach– 3201 N. Miami Ave., Suite 10
Sweat440 Brickell– 25 SW 9th St., Suite G100
Sweat440 Downtown Doral– 8403 NW 53rd St.
Sweat440 Coral Gables– 301 Altara Ave., Suite 111