3 Reasons to Join a Nearby Gym in Manhattan During COVID-19
It's hard to believe that COVID-19 has kept us confined, in many ways, for over 6 months now! We are so grateful to everyone in New York City who has worked tirelessly to facilitate a new (hopefully temporary) way of life. From doctors and nurses, to food delivery drivers, to shipping companies, so many have toiled endlessly to accommodate NYC's new circumstances. To all of our Sweat440 members serving so selflessly, we thank you! As we finally see a bit of light at the end of the tunnel, we hope you all achieve some much-deserved rest!
For others of us, COVID-19 has been less about frantically working, and more about worrying when we'll be able to work again. Adding to the stress that all of us felt was the fact that our favorite way to relieve stress, hitting the gym, was not an option! Whether COVID-19 had you stressed by your inability to work, or stressed by your overwhelming workload, one common burden was the inability to sweat out that stress together at Sweat440!
That's why we're so thrilled to share that Sweat440 is now open, or in the process of reopening, in several locations, including our Chelsea gym near Union Square, and our FIDI gym near the Brooklyn Bridge! As anxious as you are to get in the gym, you may also be anxious about whether it's safe. So, take a look at 3 reasons why joining a gym is in your best interest, even during COVID-19. But choose your gym wisely, so that these benefits hold true. While we can vouch for the safety precautions at Sweat440, many gyms won't take your safety as seriously.​
3 Reasons to Join a New York City Gym During COVID-19
1. Your Physical Health
During a pandemic, it's easy to only focus on the newest health scare: COVID-19. But in reality, there are many things that threatened our health long before the virus struck, and will increase in risk over time. Things like high blood pressure, heart disease, diabetes, obesity, lung disease, osteoporosis, and cancer unfortunately still loom in the world that is currently consumed with COVID-19. If you neglect your physical fitness, you increase the odds of developing those health issues.
In addition, the stress we've all felt during COVID-19 increases the risk of developing several of these conditions. So, if you are not a high-risk individual (call your doctor for certainty), it's essential to remain physically active, particularly since there is not a definitive end to the virus in sight. Your health, as well as your fitness goals, are still incredibly important. So, choose the gym that allows you to pursue both safely. With free personal training in every class at Sweat440, you don't have to worry about other gym members behaving safely; our trainers will always ensure it.
2. Your Mental Health
Those who struggled with mental health prior to the pandemic have now absorbed a tremendous blow to their mental state. And many who weren't struggling with anxiety, depression, panic disorders, hypochondria, or OCD have now developed a new mental illness. Studies show that mental health issues caused by COVID-19 are on a historic rise, with PTSD, suicide, and substance abuse skyrocketing.
So what does exercise have to do with that? Quite a bit. Countless studies have proven exercise to decrease both the incidence and impact of mental illness. And a group class, like a HIIT class at Sweat440, provides the additional benefits of camaraderie, accountability, encouragement, and visibility which dramatically improve those statistics. It's important to partner with a gym like Sweat440 that takes your safety seriously, using the highest levels of sanitization and social distancing so you can exercise without anxiety. Achieving fitness goals is extra empowering during this time and gives us a sense of control in uncertain times. Try a small group class at Sweat440 with free personal training for stress-free fitness.
3. Your Sense of Connection
Are you working from home? Are your kids learning from home? Are you eating take-out at home? Are you FaceTiming your friends at home? While we're all grateful for shelter, we could all use a change of scenery! Zoom, Instagram, Twitter, Facebook, text, email, Snapchat… in some ways, we're grateful for all the ways we've been able to connect during this isolating phase. But in other ways, we're all a bit ready to toss our electronics in the Hudson River!
It's important for our mental health, as well as our sense of community, purpose, and normalcy to start reconnecting in person. Fortunately, at Sweat440, you can do so safely! We limit each group class size, mark our floors clearly for social distancing, and eliminate lingering before and after each class. We require PPE and temperature checks for our staff, use hospital-grade sanitizing practices, and always have sanitizers within reach of you at all times.
Sweat440 was already practicing social distancing naturally before COVD-19, since our gyms are designed to allow individual exercise space at each station. We initially did this to provide our members with a comfortable workout space, but it's now extra beneficial to our health. While we employ the safest protocols, we still enjoy the camaraderie of classmates, the enthusiasm of personal training, and the thrill of reaching our fitness goals together!
Come connect with us safely for a much-needed dose of community and normalcy at Sweat440. We have a nearby gym in Manhattan close to where you live, so you can get a quick dose of connection, in between those endless Zoom meetings! Your first class is on us! We can't wait to see you!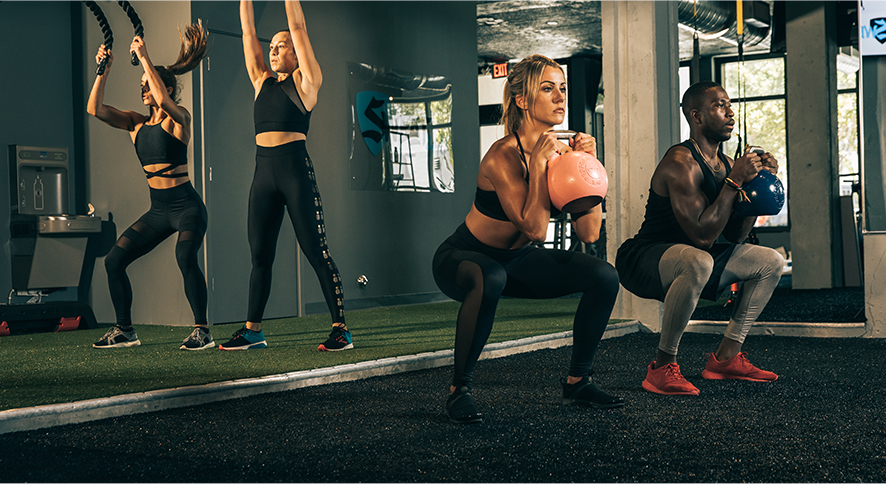 Sweat440: The Nearby Gym in Manhattan That Prioritizes Health
Where to Reach Fitness Goals Safely
Sweat440 in the Financial District
Located near the Fulton St. & Wall St. Stations
80 John St.
New York, NY 10038
(917) 383-1050
Sweat440 in Chelsea/the Flatiron District
Located near the Madison & Union Square Parks
600 6th Ave.
New York, NY 10011
(646) 495-1676
How Sweat440 Provides a Safer Group Class
PPE and fever checks for all staff
Hospital grade sanitizer
Social distancing floor markings
Small class sizes
Personal training for safety oversight
Rotate people out every 10 minutes
Individual exercise stations
Sanitizers at all stations
Workout pods for safety
Constant sanitizing + deep cleans 2x/day
Suspension of showers, lockers, towels