8 Reasons to Join a Nearby Gym on Jean Talon During COVID-19
1. Gyms Are Cleaner Than Ever
Prior to COVID-19, Sweat440 took sanitizing very seriously, keeping our gyms spotless for members to enjoy. But now, we've taken cleanliness to the highest level, using antimicrobial disinfectant fogging procedures and Protexus electrostatic sprayers, and wiping down all equipment and surfaces after each use in our gym on Jean Talon. Come try a free class to see just how clean a gym can be! We've placed social distancing guides on the floors and walls and we provide members with an individual spray bottle and cloth to clean their equipment. While you should avoid certain gyms during a pandemic (those that smell like an old locker room and have dirty equipment and no adherence to CDC guidelines), choosing a state of the art gym like Sweat440 means your fitness center is cleaner than ever.
2. Staff Surveillance Is Higher Than Ever
Each of our HIIT classes is small in size and led by a trainer for instruction, as well as oversight. We've always prioritized our members' safety during their workouts. But now, we've increased our surveillance to include making sure that classmates are adequately spaced and that each machine and piece of equipment is cleaned after it's used. We make sure that all aspects of COVID-19 safety are covered, in addition to keeping you safe from injury or overexertion.
3. Safe Socializing Is More Important Than Ever
While we need to do it safely, gathering with others is more important than ever before. After a long and stressful year, it's more apparent than ever how much we need our friends. By joining Sweat440's nearby gym on Jean Talon, you're able to socialize safely. We've reduced class sizes even further and we assign everyone to a workout pod so they can exercise safely. However, we still pack the class with plenty of energy, optimism, and a team mentality to help you blast through our awesome workouts. Exercising together is always more effective, and also way more fun! Break out of those sweats and come break a sweat with friends safely at Sweat440!
4. Stress Levels Are Higher Than Ever
How has the pandemic impacted you? Was your job affected? Did you lose a friend or a loved one to the disease? Are you managing children at home while trying to work from home? Did you have to cancel meaningful milestones like weddings, graduations, or family vacations? No one has sailed through this year easily, and stress levels are higher than normal. Head to Sweat440 for a needed dose of those feel-good endorphins we've all been missing this year. While exercising won't erase all of your troubles, it will strengthen your body and mind to face whatever comes your way. Exercise reduces levels of stress hormones like cortisol and adrenaline while stimulating the production of chemicals that relieve pain and elevate your mood.
5. Isolation Is Greater Than Ever
Maybe you're forced to stay home more than usual because of government regulations. Perhaps your job is now at home, or your kids are schooling from home. Maybe the fact that everything was closed for a while prevented you from leaving the house. While staying home was safest for a time, it caused lengthy isolation. Going to the gym will break you out of that lonely pattern and also shake you out of a rut, if you've found yourself in one. The law of inertia says that a body at rest tends to stay at rest, so pop into our gym to get yourself moving. Chances are, you'll be inspired to head to the market or walk through the park on your way home too.
6. Fitness Is More Essential Than Ever
Certain things were neglected this year so we could focus on the most pressing matters. Was fitness one of the things you let go of, so that you could tend to everything else? If so, now's the time to reclaim that important part of your life to safeguard your health. When you're at home, it's easy for other things to grab your attention: the kids, the pets, the laundry, the dishes, the television, your phone… joining Sweat440 guarantees that your workout will be uninterrupted. You deserve that! Plus, when you work out, you have more energy for that never-ending to-do list!
7. Loved Ones Need You More Than Ever
What was pandemic life like for you? Were your kids tugging at your arm while you tried to email your clients? Were your spouse and kids all sharing one table with you while you tried to work? Were your parents or grandparents anxious about or infected with the virus? Our "dependents" needed us more than ever this year, which led to more time for virtual bonding, but also less time for ourselves. Re-committing to your fitness is important for your own health and sanity, but also to boost your health so you can be there for those who need you.
8. Motivation Might Be Lower Than Ever
This was a year of unknowns that left most of us feeling like we had no control over the situation. When we're overwhelmed, it's easy to lose motivation or to feel exhausted by even the slightest effort. However, when we have a goal in mind, it gives us more purpose, and a reason to keep setting one foot in front of the other. Joining our nearby gym on Jean Talon, near the Jean Talon No. 5000 bus stop, is an easy way to take one step toward fitness. Just get yourself in the door, and we'll take care of the rest! Our classes are so packed with positivity that you'll leave feeling so much better!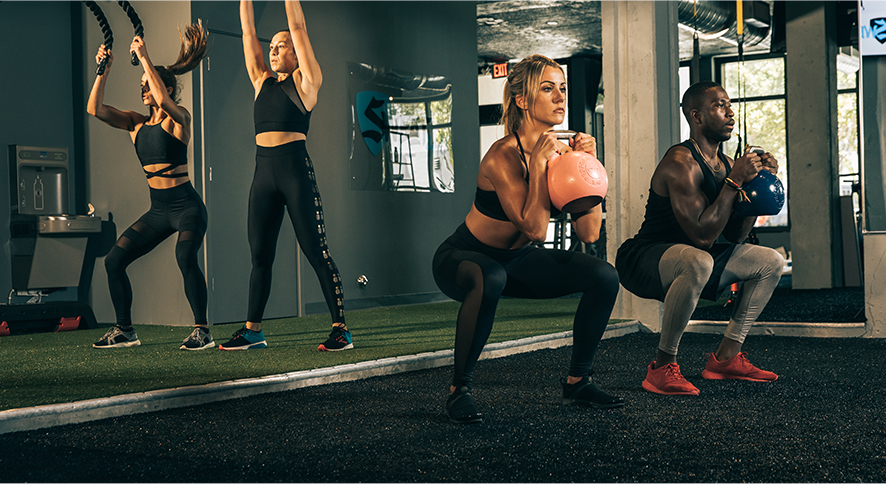 Try a Free Class at Sweat440's Nearby Gym on Jean Talon
8 Reasons to Join Our Gym Today!
Gyms Are Cleaner Than Ever
Staff Surveillance Is Higher Than Ever
Safe Socializing Is More Essential Than Ever
Stress Levels Are Higher Than Ever
Isolation is Greater Than Ever
Fitness Is More Important Than Ever
Loved Ones Need You More Than Ever
Motivation Might Be Lower Than Ever
7 Classes to Try at Sweat440 Montréal:
SHAPE- Upper Body/Core
SHAPE- Lower Body
SHRED- Upper Body/Core
SHRED- Lower Body/Core
SWEAT- Core/Conditioning
WARRIOR- Total Body Conditioning
OUTDOOR- Total Body Workout