Free Personal Training at a Nearby Gym in Gables
You probably know that personal trainers produce better results than working out alone. So, you probably wish you could hire a personal trainer! But for many gym-goers, personal training is out of the question, either because of the cost, the trainer's availability, or their own unpredictable schedule. Sweat440 sees personal training as an essential tool for everyone's optimal fitness. That's why we offer it for free at our nearby gym in Gables! Our gyms were founded by personal trainers who seek to make training not only accessible, but included in every group fitness class.
Why Sweat440 Offers Free Personal Trainers
Sweat440's co-founders, Cody Patrick and Matthew Miller, are highly sought-after personal trainers themselves. They listened intently to their client's needs and wishes for years, which prompted them to open Sweat440. They understand that personal training can be expensive and can also lack flexibility. If you have to miss your appointment, you can't reschedule, since someone else has the next time slot.  
But they also know first-hand how effective personal training is at delivering results. Their clients loved the motivation, education, and diverse workouts they provided, as well as the accountability, expertise, and encouragement. A certified personal trainer is equipped to identify a client's capabilities and potential and lead them safely and quickly to their goals. Working out alone is less effective, more frustrating, and less enjoyable, not to mention more dangerous than working with personal trainers.
So, they developed the perfect solution to amplify every member's fitness. Each of the group fitness classes at Sweat440 includes free personal training in small group settings for individual instruction. Since our fitness classes start every 10 minutes, you don't have to wait for an opening in a trainer's schedule or miss your workout completely if you're running late. You simply stop into the next class that works for you! Free training is just one perk of our fitness club that's designed to meet members' needs.
What Free Personal Training at Nearby Gym in Gables Includes
If you think free personal training is awesome, you'll also love our other member-centric perks! We offer free group fitness classes for newcomers and no contracts, so you can try personal training in a fitness class with no obligation to join. Take a look at what you get with our personal trainers.
Individual Instruction- Our trainers circulate through each small group fitness class to ensure that you're in top form. They offer individual accommodations for each exercise as needed, as well as motivation to safely reach your fitness goals. One of the greatest benefits to personal training is making sure you don't overdo it, but also that you're working at the right pace and intensity to see results.
Safety & Assistance-Gym safety has always been the top priority at Sweat440, but even more so in light of COVID-19. Our personal trainers ensure that machines are being sanitized after each use, and that patrons are maintaining proper social distance. They divide you into workout pods to provide ample space for a safe workout. They're also experts at reading body language to keep you safe from injury or overexertion.
Encouragement- Whether you're at the beginning of a weight loss journey, trying to lose those last 5 pounds, or training for a marathon, our personal trainers are pumped to encourage you. The atmosphere of positivity in our nearby gym in Gables will fuel your workouts with a can-do energy. Our trainers are experts at keeping workouts diverse, varied, and exciting, so you forget how hard you're working. They'll keep you motivated on those days when Netflix is calling you to lay on the sofa. Best of all, they'll power you through a 40-minute calorie-crusher so you have time to chill as well.
Maximized Potential-Do you have fitness goals in mind? Do you think you know what you're capable of? Our personal trainers will see your true potential, and it's likely better than you imagined! With their expertise, you'll achieve your best body in half the time it would take at another nearby gym in Gables. Since they combine their years of expertise with the best HIIT methods, they waste no time maximizing your full body potential. Don't settle for mediocre results. Get the body you never thought possible at Sweat440 in Coral Gables.
The Most Flexible Schedule-Free personal training is amazing on its own, but Sweat440 pairs it with the most flexible schedule of any certified personal trainer. Our classes start every 10 minutes, and each one includes free personal training. You get a full body workout no matter what time you show up. Each day, our fitness classes are different, so that means you have access to free personal training 7 days a week! Most personal trainers only provide one or two sessions to each client per week. But at Sweat440's fitness club, personal training is available around the clock, every day of the week. Stop into our Coral Gables gym today, near Merrick Manor, for a free group fitness class with a certified personal trainer!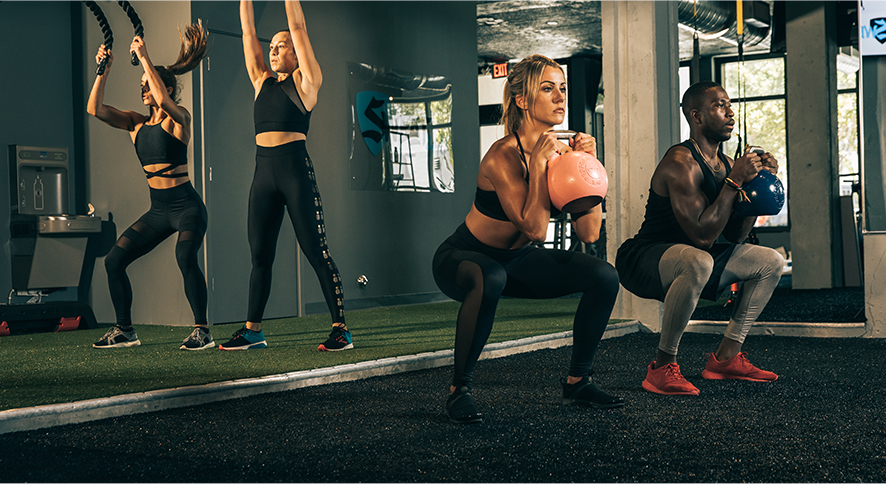 How to Get Free Personal Training at Nearby Gym in Gables
Stop into a Sweat440 Fitness Club:
Sweat440 Coral Gables– 301 Altara Ave., Suite 111
Sweat440 Brickell– 25 SW 9th St., Suite G100
Sweat440 Miami Beach– 1916 Bay Rd.
Sweat440 Kendall– 4923 SW 152nd Ave.
Sweat440 Palm Beach– 3201 N. Miami Ave., Suite 10
Sweat440 Downtown Doral– 8403 NW 53rd St.
Call or Sign up for Fitness Classes Online:
Coral Gables– (305) 600-4144
Brickell– (305) 882-9514
Miami Beach– (305) 770-6212