Nearby Gym in Financial District Has All You Need to Succeed
Are you looking for a gym that checks all the boxes? State-of-the-art equipment, enthusiastic classes, excellent trainers, convenient hours, and affordable rates? Does it feel like a lost cause? That's because you haven't tried Sweat440 yet! Our innovative gyms check all the boxes, including boxes you haven't even thought of! Our gyms are designed to make fitness affordable, efficient, and effective. We put members in charge of their fitness with flexible memberships, no contracts, and the best schedule in NYC! Here's why Sweat440 is the nearby gym in the Financial District with everything you need to succeed!
​1. Superior COVID-19 Precautions
Our gyms use the highest safety measures to ensure a healthy workout. From PPE and touchless temperature checks for staff, to hospital-grade sanitizers, we take cleanliness seriously! Our gyms are deep cleaned twice a day, and high-touch points are sanitized constantly. We conduct antimicrobial disinfectant defogging frequently and currently prohibit the use of our showers, towels, lockers, and water fountains, except to refill bottles. Our class sizes are smaller, with clearly marked social distancing space and assigned workout pods. Sanitizer is within your reach at each station, and all of our classes are overseen by trainers who ensure safety compliance.    
2. Unbeatable Schedule
Are you tired of rushing to get to a class, only to get locked out? Are you sick of being on waiting lists for classes or treadmills? Is your favorite class only offered at a time that doesn't work for you? Sweat440 crosses all those problems off the list with our incomparable schedule. Our classes start every 10 minutes, and repeat all day long, so you never miss a class! We keep our classes small and offer them repeatedly, so you're not crowded out of your favorite timeslot. If you're running late, simply hop into the next class. You won't be charged for a class you miss, we'll simply fit you into the next one!
3. Complimentary Group Classes
Want to try a group fitness class but not sure if it's for you? No problem! Everyone at Sweat440 gets a free class to see if it's a fit. And unlike other gyms, we don't just offer one specific class for free. You can choose from any of our classes, any time of day. Bring a friend, and you both get to try it for free! Our trainers assist throughout every class, so you'll be welcomed, not lost in the crowd. Group fitness has tremendous benefits, including incentive, accountability, and enjoyment!
4. Free Expert Training
While your first class is free, personal training is free in EVERY class! Most gyms charge a fortune for trainers who have limited openings in their schedule. This makes personal training impossible for most members. But Sweat440 knows how important individualized instruction is for fitness success. In fact, our founders are trainers themselves! That's why we include personal training for free in every small group class!
5. Innovative Equipment
Our state-of-the-art technology makes fitness safer, more effective, and exciting! Our Ski Ergs, Assault Bikes, and Versa Climbers provide a total body workout in half the time. Our rowers, sleds, sliders, slam balls, kettlebells, and dumbbells ensure you'll build muscle while burning fat. And our animated demonstrations on screens at each station keep you in perfect form. Our innovation isn't just effective, it keeps fitness fun! Our selfie station and scheduling app make workouts more rewarding.
6. Most Efficient HIIT Method
You can waste time jogging on a treadmill and doing bicep curls at another gym, but Sweat440 implements the most efficient fitness method you'll find! Our high-intensity interval training (HIIT) classes pack a powerful punch in just 40 minutes. Our compound cardio stations maximize calorie burn while simultaneously maximizing muscle definition. We use 45-second intervals of intense exercise, interspersed with 15 seconds of rest, so you can crush it for the entire workout. In 4 10-minute stations, we complete 3 sets of 12 different exercises. Your body won't have a chance to get bored or complacent; we keep you on your toes! Many gyms claim to teach HIIT, but we are HIIT specialists, teaching it all day, every day!
7. Total Membership Flexibility
Have you tried another nearby gym in the financial district and found they expect a costly commitment? Many gyms require membership fees, initiation fees, cancellation fees, class fees, trainer fees, locker fees, parking fees, the list goes on and on! And most will require you to sign a yearly contract that's nearly impossible to get out of. At Sweat440, we don't use contracts, and we offer several membership options. Buy as little as one class at a time, or buy as many as you like, and save even more! You can cancel anytime, and you don't have to give a 90-day notice like most gyms require.
Sweat440 is your gym, and we want your membership to feel like an invitation, not an ironclad contract. Try a free class today and see why Sweat440's nearby gym in the financial district has everything you need to succeed! We're right near the Wall Street Station, so stop by and give us a try!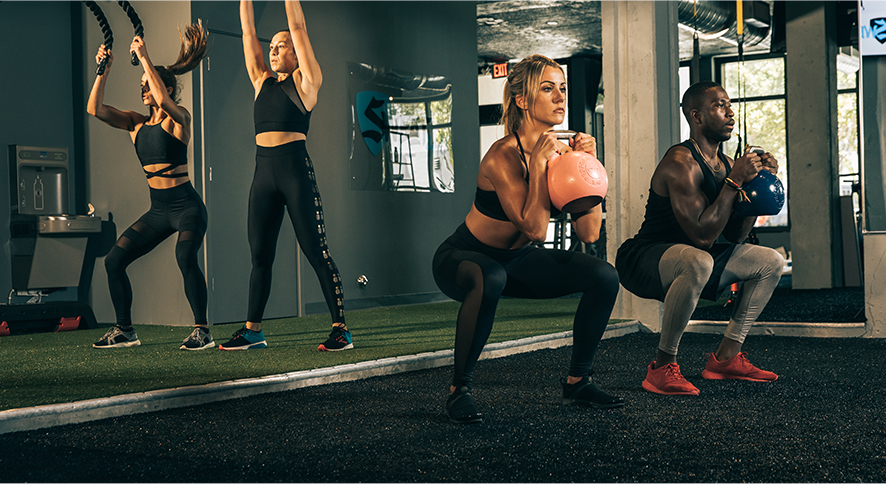 Try Sweat440's Nearby Gym in Financial District Free Today!
Our Gyms Check All the Boxes
Superior COVID-19 precautions
Unbeatable schedule
Complimentary group classes
Free expert training
Innovative equipment
Most efficient HIIT method
Total membership flexibility
Our Gyms Near the Financial District
80 John St.
New York, NY 10038
600 6th Ave.
New York, NY 10011