​8 Reasons Everyone Loves This Nearby Gym in Coral Gables
If you're looking for a new gym to join, you're probably asking friends for recommendations or checking reviews online. But even the most well-known cycling gyms, yoga studios, and big chain gyms often have lackluster reviews. What's more, their members don't stick around for long. But Sweat440 consistently receives 5-star reviews and boasts the happiest members in Coral Gables. Want to know why? Check out what's missing at the typical nearby gym in Coral Gables, and learn why Sweat440 is anything but typical! Here are 8 reasons you're going to love our unique fitness club!
1. Sweat440 Lacks the Overcrowded Vibes
Unlike the typical nearby gym in Coral Gables, Sweat440 is popular without being overcrowded. That's because we schedule our classes every 10 minutes. You can bump into your friends if you want, but you don't have to rub shoulders with strangers or get squeezed out of classes or stuck on an epic waitlist. We have multiple fitness club locations so we can accommodate all of our members in Coral Gables without an overcrowded atmosphere.
2. Sweat440 Fits Your Schedule
Since our classes start every 10 minutes, you don't have to worry about getting stuck in traffic in Coral Gables or spending extra time perfecting your tan at South Beach. Our schedule is designed to work with everyone's schedule, to take the stress out of making it to class. At Sweat440, you're #neverlate, since you can jump into the next class when you arrive. Whether you like to work out in the early morning, or spend early mornings sleeping off Miami's nightlife, we're ready to work whenever you get here.
3. Sweat440 Has Free Fitness Classes for Everyone
Tired of things you sign up for that you can never get out of? Whether it's a subscription, leadership position, or gym membership, no one likes to feel stuck in something that doesn't suit them. That's why Sweat440 offers free classes for every newcomer, so you can see what we're all about! We already know you'll be back for more, but we let you decide that for yourself!
4. Sweat440 Doesn't Use Contracts
Yep, you read that right. No contracts, no initiation fees, cancellation fees, or mysterious hidden fees. Simply buy one class at a time, buy 10 at a time, or whatever amount you prefer. Cancel at any time without penalties or crazy hoops to jump through to end your membership. Sweat440 even has locations worldwide, so we can help you find a new gym if you move. Our members come because they love our gyms, not because they're stuck in a contract!
5. Sweat440 Has Free Personal Training
At Sweat440, personal training is included for free in every class! No need to shell out big bucks, or be tied to a certain time slot to work with a personal trainer. No matter which of our fitness classes you attend, you'll get free instruction from a certified personal trainer. Our trainers are experts at hitting your fitness goal faster than trainers at any nearby gym in Coral Gables.
6. Sweat440 Maximizes Strength Training & Weight Loss
Sweat440 knows that everyone has different fitness goals, and our fitness classes are designed to suit everyone. Whether you're into strength training and weight training, or calorie blasting and fat shredding, our HIIT classes are just what you need. Our compound cardio stations infuse strength training with cardio to double your efforts for quicker results. Through our varied intervals of intensity, you target your VO2 Max, which means your body keeps burning calories and replenishing muscle, long after the workout is done.
7. Sweat440 Has Luxury Perks Without Attitude
Some fitness clubs offer luxury perks, but they come with a ridiculous price tag and an air of elitism. The typical nearby gym in Coral Gables with luxury amenities charges extra for every perk. Not to mention, your contract and annual fees mean you pay for those perks, whether or not you use them. At Sweat440, we include all the amenities of boutique fitness at a fraction of the price. From video demonstrations at each station, to showers, lockers, and a selfie station, our gym has all you need to de-stress. But, we're also a welcoming community, excited to meet new members and celebrate accomplishments of people at all fitness levels.
8. Sweat440's Fitness Club is Right Nearby
Let's face it, convenience is one thing that often deters our fitness. If an hour of rush-hour traffic stands between you and your gym, you might decide to skip the workout. But Sweat440 has multiple convenient locations to accommodate your life. Our Coral Gables gym is right near your home, work, and errands, like the Shops at Merrick Park. And we also have locations in Miami Beach, Brickell, Kendall, Palm Beach, and Doral to suit your busy lifestyle. If you're looking to join a gym, do yourself a favor and check out Sweat440 in Coral Gables. With just one free class, you'll see why we're the nearby gym Coral Gables ranks #1!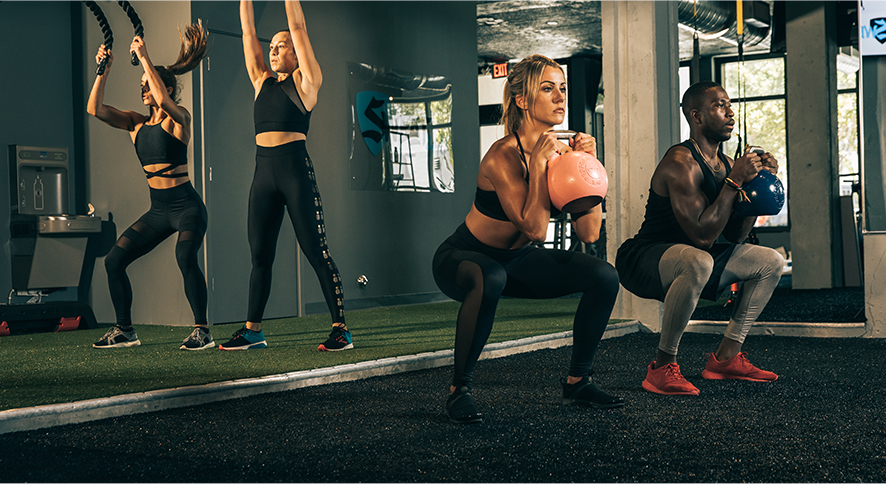 Try the #1 Nearby Gym in Coral Gables for Free Today!
Free group fitness classes
Free personal training
No contracts
Superior HIIT method
Flexible schedules
No overcrowding
Convenient locations
Free perks like showers & lockers
State-of-the-art luxury without attitude
Free Training and Classes Offered:
Sweat440 Coral Gables
Sweat440 Brickell
Sweat440 Kendall
Sweat440 Miami Beach
Sweat440 Downtown Doral
Sweat440 Palm Beach
Outdoor classes in SOBE
Outdoor classes in Doral
Plus locations in TX, NY, Canada